Cow protection beyond religion, 'pious gau rakshaks' needn't fear govt: Bhagwat
Updated on Sep 30, 2017 02:47 PM IST
Speaking on the issue of cow vigilantism, the RSS chief condemned the killings by gau rakshaks but said it was unfair to link all cow protectors and cow activity to such violence.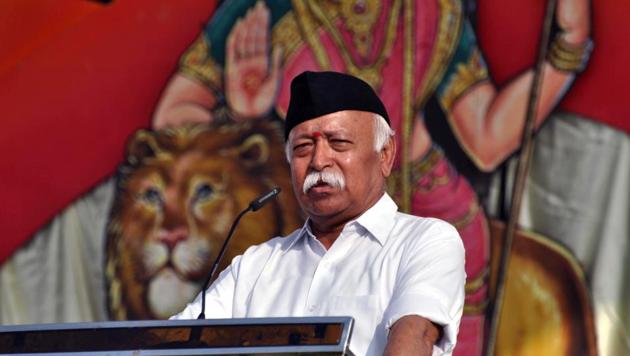 Hindustan Times, New Delhi |
HT Correspondent
Rashtriya Swayamsevak Sangh chief Mohan Bhagwat backed on Saturday "activists" working for protection of cows from smuggling and slaughter, saying that it was "amply clear" that they have not been involved in acts of violence.
"It is unfair to link the cow protectors or entire activity of cow protection with violent incidences or communal feelings without knowing or neglecting the facts," RSS chief Mohan Bhagwat said in a speech to mark the Hindu festival of Dussehra on Saturday, making a distinction between "pious" activists and "criminals involved in violent activities".
Read the full text of the speech here
The cow is a sacred animal for Hindus and vigilante groups that claim to be working to stop its smuggling and killing have been behind a string of attacks in recent years, some of them leading to deaths. The attacks have coincided with the growing strength of Prime Minister Narendra Modi's Bharatiya Janata Party, the political arm of the RSS.
Most of the victims, such Rajasthan's Pehlu Khan and Uttar Pradesh's Akhlaq have been from the minority Muslim community.
Bhagwat said a "nefarious campaign" was underway against cow-protection and urged people "who are piously involved in the activity" to not "worry or get distracted with the well intentioned statements by highly placed persons in the Government or remarks made by the Supreme Court".
The RSS chief did not take any names but his comment seems to allude to Prime Minister Modi's condemnation of so-called gau rakshaks in July and the Supreme Court's directions last week to states to ensure such vigilantes did not become a law unto themselves.
"People who are criminals and involved in violent activities should be bothered about that."
The Sangh chief said protection of cows cuts across religions. "Many followers of Muslim faith are also involved in the activity of cow protection, cow promotion and management of gaushalas. Some of them told me that the nefarious campaign going on against the cow-protection unnecessarily creates tension among the people of different religions."
He urged the government and administration to stay away from "misinterpretation" and ensure that "innocents are not troubled" during crackdowns on vigilantes.
"The legal and virtuous work of cow-protection and cow-promotion will go on in the interest of the people and will increase in coming days. It will also be the apt answer to the situation," he said.