Modi warns cow vigilantes, says killing people in the name of gau bhakti not acceptable
Updated on Jul 15, 2017 01:21 PM IST
Prime Minister Narendra Modi invokes Mahatma Gandhi, says "let's create an India our freedom fighters would be proud of".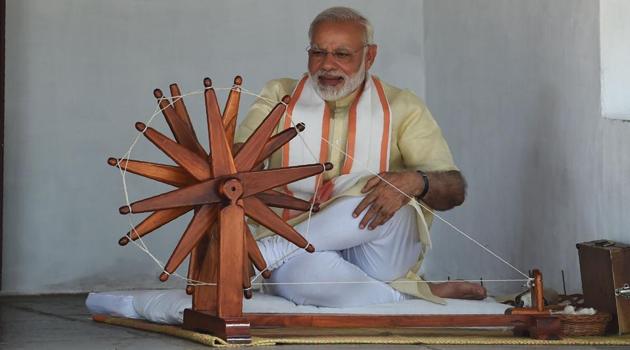 Prime Minister Narendra Modi on Thursday condemned a rise in deadly mob attacks on cattle traders, beef eaters and dairy farmers, saying killing people in the name of protecting cows is unacceptable.
Modi's remarks come on a day a man in Jharkhand was allegedly beaten to death and his vehicle set on fire as he was believed to be carrying beef.
Delivering a speech to mark the centenary of the Sabarmati ashram in Ahmedabad and 150th birth anniversary of Shrimad Rajchandraji, a guru to Mahatma Gandhi, the prime minister said unleashing violence against others went against the ideals of the Father of the Nation.
"Killing people in the name of 'gau bhakti' is not acceptable. This is not something Mahatma Gandhi would approve," he said.
"Let's all work together. Let's create the India of Mahatma Gandhi's dreams. Let's create an India our freedom fighters would be proud of," said Modi. "No person in this nation has the right to take the law in his or her own hands."
The Prime Minister's remarks come against the backdrop of growing incidents of cow vigilantism. Last week, a Muslim youth was killed on board a Mathura-bound train by people who taunted his family and repeatedly called them "anti-nationals" and "beef eaters".
"Violence never has and never will solve any problem. As a society, there is no place for violence," Modi said.
The prime minister's comments in Ahmedabad came a day after protests in several cities against the recent violence targeting Muslims. Thousands of people carrying placards reading "Not in my name" sang songs and lit candles in several cities, including New Delhi, Mumbai, Bangalore, Hyderabad and London. Hundreds, including film actors, rallied in the pouring rain in Mumbai.
Holding placards that read: "Break the Silence", "No Place for Islamophobia" and "Shed Hate not Blood" among others, the protesters had said they had gathered to send out a message that there is a need to unite for a cause
At the ashram, Modi invoked Vinoba Bhave to condemn violence and expressed his "pain and unhappiness" over the "current atmosphere" of violence ".
"Constitution teaches us its (cow protection's) importance. But do we get the right to kill a human (to save cow)? Is this how we worship cow? Is this cow protection? This cannot be the path of Bapu. Vinoba Bhave's life doesn't convey to us this message."
This is the second time in two years that the prime minister has spoken out against self-styled gau rakshaks. At an event in New Delhi last year, Modi had said self-styled cow vigilantes made him angry and called some of them anti-social.
Reports of violence unleashed by cow protectors have poured in from across India – from Jammu and Kashmir's Udhampur and Gujarat's Una to Odisha's Bhubaneswar. In April, a Muslim dairy farmer was lynched by gau rakshaks in Rajasthan's Alwar.
Ninety-seven percent of the attacks have been reported after Modi came to power in 2014 and 86% of the victims are Muslims, an analysis by Indiaspend showed.
Personalise your news feed. Follow trending topics