86% killed in cow-related violence since 2010 are Muslim, 97% attacks after Modi govt came to power
IndiaSpend |
Delna Abraham and Ojaswi Rao
Jul 16, 2017 07:21 AM IST
As many as 124 people were also injured in the cow-related attacks and more than half (52%) of these attacks were based on rumours.
Muslims were the target of 51% of violence centred on bovine issues over nearly eight years (2010 to 2017) and comprised 86% of 28 Indians killed in 63 incidents, according to an IndiaSpend content analysis of the English media.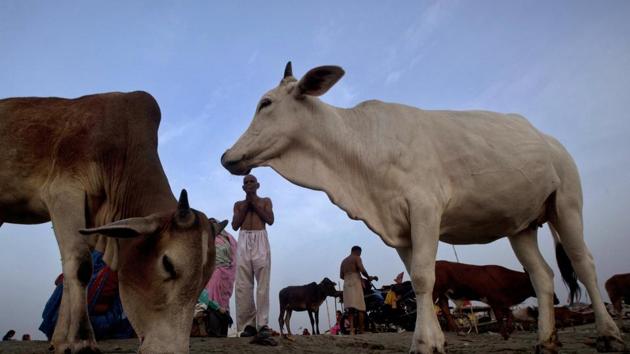 As many of 97% of these attacks were reported after Prime Minister Narendra Modi's government came to power in May 2014, and about half the cow-related violence – 32 of 63 cases – were from states governed by the Bharatiya Janata Party (BJP) when the attacks were reported, revealed our analysis of violence recorded until June 25, 2017.
Of the 28 Indians who died over the seven-year period, 24 were Muslim, or 86%. As many as 124 people were also injured in these attacks. More than half (52%) of these attacks were based on rumours, our analysis found.
National or state crime data do not distinguish general violence from cow-related attacks and lynchings, so the IndiaSpend database is the first such statistical perspective to a growing national debate over such violence.
2017 on track to be worst-ever year for cow-related violence
In the first six months of 2017, 20 cow-terror attacks were reported–more than 75% of the 2016 figure, which was the worst year for such violence since 2010.
The attacks include mob lynching, attacks by vigilantes, murder and attempt to murder, harassment, assault and gang-rape. In two attacks, the victims/survivors were chained, stripped and beaten, while in two others, the victims were hanged.
These attacks – sometimes collectively referred to as gautankwad, a portmanteau of the Hindi words for cow and terrorism, on social media – were reported from 19 of 29 Indian states, with Uttar Pradesh (10), Haryana (9), Gujarat (6), Karnataka (6), Madhya Pradesh (4), Delhi (4) and Rajasthan (4) reporting the highest number of cases.
No more than 21% (13 of 63) of the cases were reported from southern or eastern states (including Bengal and Odisha), but almost half (six of 13) were from Karnataka. The only incident reported in the northeast was the murder of two men in Assam on 30 April, 2017.
About half the cases of cow-related violence – 32 of 63 – were from states governed by the BJP at the time; 8 were run by the Congress, and the rest by other parties, including the Samajwadi Party (Uttar Pradesh), People's Democratic Party (Jammu & Kashmir) and Aam Aadmi Party (Delhi).
Note: Data as of June 25, 2017. Compiled by IndiaSpend from media reportage. Incomplete information was cross-checked with local police or reporters. Click here for the list. (Rupnagar in Punjab reported two incidents, one on March 28, 2016 and another on July 31, 2016. The map indicates only first incident, the list mentions details of second incident.)
"Lynching does not find mention in the Indian Penal Code. No particular law has been passed to deal with lynching," India Today noted on June 25, 2017. "Absence of a codified law to deal with mob violence or lynching makes it difficult to deliver justice in the cases of riots. However, Section 223(a) of the Code of Criminal Procedure, 1973 says that persons or a mob involved in the same offence in the same act can be tried together. But, this has not proved to have given enough legal teeth to (the) justice delivery system."
In a fifth of the cases, police registered cases against victims/survivors
Of the 63 attacks over eight years, 61 (96.8%) occurred, as we said, after Modi's government came to power (2014-2017), with 2016 reporting the most attacks: 25. In the first six months of 2017, 20 attacks were reported–more than 75% of the 2016 figure.
In 5% of the attacks, there was no report of attackers being arrested. In 13 attacks (21%), the police registered cases against the victims/survivors.
In 23 attacks, the attackers were mobs or groups of people who belonged to Hindu groups, such as the Vishwa Hindu Parishad, Bajrang Dal and local Gau Rakshak Samitis.
During the period under consideration – 2010 to 2017– the first such attack occurred on June 10, 2012, in Joga town in Mansa district, Punjab, "after carcasses of about 25 cows were found" near a factory, as the Hindu reported the next day.
"Led by activists of the Vishwa Hindu Parishad and the Gowshala Sangh, villagers gathered in the morning and broke into the premises of the factory…The mob went on the rampage damaging the factory and setting ablaze the houses of at least two of those running the unit, Ajaib Singh and Mewa Singh," the report said. Four persons were injured and three arrests were made in the case.
In August 2016, in Mewat, Haryana, a woman and her 14-year-old minor cousin were allegedly gang-raped after being accused of eating beef. Two other relatives were murdered. The woman later denied eating beef. Four men were arrested and charged with rape and murder.
In June 2016, Gurgaon Bajrang Dal convener and a Gau Raksha Dal (cow protection group) volunteer were injured when men transporting cows opened fire. Abhishek Gaur and Harpal Singh, the gau rakshaks, chased a vehicle in which smugglers were allegedly transporting beef. A case of attempt to murder was filed against the unidentified smugglers.
In January 2016, Maharashtra amended its 2015 beef ban law – banning people from possessing the meat of cows, bulls and bullocks, slaughtered within or outside the state. However, serving beef in restaurants across the state was allowed. Two cow-terrorism attacks were reported from the state, India's richest by gross domestic product, in 2017.
Andhra Pradesh, Assam, Himachal Pradesh, Kerala, Odisha, Tamil Nadu and Bihar reported one attack each.
On May 30, 2017, a PhD scholar in Indian Institute of Technology, Madras, was at one of the vegetarian messes on campus, when he was attacked–allegedly for eating beef. An FIR was registered against the alleged attacker, while the scholar was booked based on a complaint by the alleged attacker who termed the incident a 'minor scuffle'.
Rumours spawned 52% of the attacks
Of the 63 attacks since 2010, 33 (52.4%) were based on rumours, according to our analysis of media reports.
On April 1, 2017, 55-year-old Pehlu Khan, a resident of Haryana, was beaten by cow vigilantes in Rajasthan's Alwar district. He succumbed to his injuries in a hospital two days later.
Azmat (age 22), who was with Pehlu Khan, said that they were returning from a Saturday fair in Jaipur, where they bought two cows and had all the valid documents, as the Indian Express reported on April 5, 2017.
Read | Leather to meat, how BJP's beef crackdown is devastating Dalits and Muslims
A group of people affiliated with Vishwa Hindu Parishad and Bajrang Dal stopped four vehicles, near Jaguwas crossing on National Highway eight, and alleged that they were illegally transporting bovines.
On hearing a Hindu name, the attackers allowed the driver, Arjun, to run away and attacked five people in the vehicles including Pehlu Khan, according to reporting by Scroll.in. All five were beaten and severely injured, the Indian Express reported.
On June 11, 2017, despite having a no-objection certificate (NOC) and official permission from police and other authorities, officials of the animal husbandry department of Tamil Nadu's government were attacked by cow vigilantes in Rajasthan for transporting cows in five trucks. They were rescued by the local police. A case was registered against 50 attackers and four were arrested. Seven policemen were charged with dereliction of duty, the Indian Express reported on June 12, 2017.
Delna Abraham and Ojaswi Rao are interns at IndiaSpend.
(Published in arrangement with IndiaSpend)
(Indiaspend.org is a data-driven, public-interest journalism non-profit/FactChecker.in is fact-checking initiative, scrutinising for veracity and context statements made by individuals and organisations in public life.)
Exciting news! Hindustan Times is now on WhatsApp Channels
Subscribe today by clicking the link and stay updated with the latest news!"
Click here!
Get
Latest India News
along with
Latest News
and
Top Headlines
from India and around the world