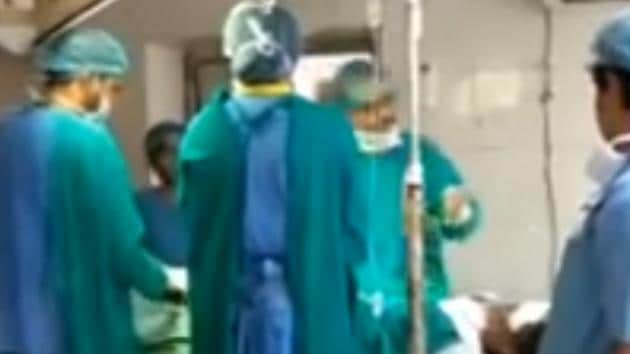 'Delay in surgery enraged me': Doctor shown fighting with colleague inside OT
The Rajasthan high court has ordered a probe into the verbal spat between the doctors inside the operation theatre in a Jodhpur government hospital
UPDATED ON AUG 31, 2017 05:01 PM IST
A senior government doctor who was filmed inside an operation theatre allegedly having a spat with a colleague in Jodhpur said on Thursday he lost his cool because of lax arrangements during an emergency.
Obstetric surgeon Ashok Nanival told HT that anaesthetists did not begin management for a good 15-20 minutes even though a woman patient, identified as Anita, needed an immediate C-section.
"She was not my patient but as a surgeon I could not tolerate the delay in her management because I know in such critical cases, every second counts…this enraged me," he told Hindustan Times over the phone.
A video of the spat between Nanival and professor of anaesthesia Mathura Lal Tak went viral on Tuesday and even prompted the Rajasthan high court to order a probe. Tak couldn't be immediately contacted for comment.

The video purportedly shows Nanival and Tak locked in a bitter verbal duel over what appears to be an ego clash while a woman lies on the operating table. The woman was later identified as Naseem Bano, who delivered a healthy baby.
However, Anita lost her newborn child. A probe committee is finding out if this death was connected to the doctors' spat.
The 36-year-old Nanival, who has been working in Umaid hospital for five years, alleged that two professors of aneasthesia present in the operation theatre provoked him and asked one of their third year postgraduate students to record the spat on their mobile phone. Both Nanival and Tak have been removed from their positions in the hospital.
Nanival said he performed caesarean section on Naseem Bano who delivered a healthy baby. When he was finishing the earlier surgery, a resident doctor of gyaecology department brought the woman into the theatre. "As a surgeon, I could sense the emergency. There was foetal distress and the woman needed to be operated upon immediately," he said.
Close