Doctors fight in operation theatre in Jodhpur hospital, woman loses newborn
Hindustan Times, Jodhpur/Jaipur |
Rakesh Goswami and Dinesh Bothra
Aug 31, 2017 12:27 AM IST
The video purportedly showed the two doctors in Jodhpur's Umaid Hospital shouting at each other and sparring over what appears to be an ego clash.
The Rajasthan high court took cognizance on Wednesday of a video purportedly shot in a Jodhpur government hospital that shows two senior doctors quarrelling and using filthy language inside the operating theatre during a caesarean section.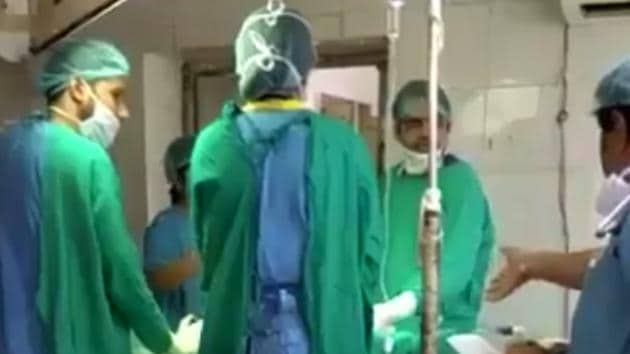 The spat triggered allegations that their patient, identified as Anita, lost her newborn because of medical negligence. The court too sought to know if that was the case.
The secretary of the Rajasthan Legal Services Authority told the court that a woman named Naseem Bano was on the operating table when the video was shot. She delivered a healthy girl.
Anita was also in the operating theatre for a C-section and her newborn, also a girl, died after birth.
The official said a detailed inquiry would reveal if the two doctors' row had a role in the infant's death.
They were apparently bickering over the newborn girl's falling pulse rate.
Attired in green medical overalls, face masks and gloves, gynaecologist Ashok Nainwal and anaesthetist Mathura Lal Tak were seen shouting at each other in the cell phone clip shot by the nursing staff of Umaid Hospital.
"You stay within your limits," Nainwal is heard in the video.
After trading abuses, one of the doctors allegedly walked out of the operating theatre.
Hospital superintendent Ranjana Desai said the woman was brought in a critical condition and immediately wheeled into the operating theatre, but her baby could not be saved.
"We are yet to ascertain if the newborn's death was because of the spat. The cause of death is severe birth asphyxia," she said.
Anita was admitted to the hospital on Tuesday morning.
"We recorded statements of everyone present in the OT during the spat and preparing a report to submit to the principal," the hospital superintendent said.
According to Amilal Bhat, principal of SN Medical College that runs the hospital, assistant professor Nainwal was suspended and professor Tak's service file was sent to the personnel department in Jaipur on the government's direction.
"An inquiry committee has also been constituted to probe the matter," he said.
The two doctors couldn't be contacted for comments.
The high court took suo motu cognizance of the case after the video was extensively shared.
It ordered the district collector to include the Jodhpur metropolitan chief judicial magistrate in the inquiry committee formed by the state government. The court asked for a report by September 4.
Heated exchanges during tense moments in operating theatres are not unheard of.
But the Jodhpur case surfaced when public anger is running high because of the Uttar Pradesh hospital tragedy. More than 60 children died in four days since August 9 after a private company withdrew oxygen supply over a payment dispute with BRD Medical College in Gorakhpur.
(The copy has been updated to reflect that the patient whose doctors got into a spat, delivered a healthy baby. A second woman undergoing a C-section in the same room lost her baby.)