Have made up mind, won't contest 2019 polls, says Sushma Swaraj
Sushma Swaraj cited health reasons for not contesting the 2019 Lok Sabha elections.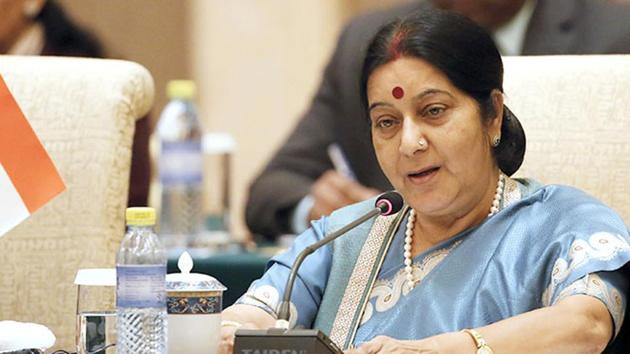 Updated on Nov 20, 2018 10:59 PM IST
External affairs minister Sushma Swaraj, 66, announced on Tuesday that she will not contest the 2019 Lok Sabha elections – a statement that took many by surprise more for its timing than its content.
That Swaraj may not fight a direct election after undergoing a kidney transplant in December 2016 was an open secret within the Bharatiya Janata Party (BJP), but she revealed the news at a press conference in Indore in the middle of the assembly election campaign in Madhya Pradesh.
"It is the party which decides, but I have made up my mind not to contest the next (Lok Sabha) elections," Swaraj said, adding that she had conveyed her decision to the party leadership due to health reasons. Swaraj has mostly stayed away from campaigning, and limited her public interaction and travel since last year. There was no immediate response from the party on her announcement.
"Only she can explain the decision, and the timing," a BJP office-bearer in New Delhi said.
Swaraj , the BJP's most prominent woman leader, is a four-time Lok Sabha MP, and has been member of the Rajya Sabha for three terms. She won from Vidisha for the second time in a row in 2014.
That time, she defeated the Congress candidate by a margin of over 400,000 votes.
Swaraj entered the Haryana assembly in 1977, and became a minister in the state cabinet at the age of 25. She is a former chief minister of Delhi and has been part of every BJP government at the Centre.
Her challenge to Congress president Sonia Gandhi from Bellary in 1999 is one of the most discussed electoral battles of recent times, which Gandhi won by 56,000 votes.
"Madam [Sushma Swaraj] - Thank you very much for your decision not to contest any more elections. I remember there came a time when even Milkha Singh stopped running," her husband Swaraj Kaushal, a former governor of Mizoram, said in a series of tweets after her announcement.
Swaraj's announcement to not fight the next elections does not mean an end of her illustrious political career, said a senior BJP leader said who asked not to be named.
"She has merely announced that she is not going to fight next election. Doors of the Rajya Sabha are always open for her," the leader said. "She is an experienced leader, and the party needs her for many crucial jobs that she will handle in future."
Former Prime Minister Manmohan Singh and Santiuse Kujur will vacate their Rajya Sabha seats from Assam in June next year – immediately after the Lok Sabha elections – and Swaraj may get one of those seats. The BJP now rules Assam with its ally Asom Gana Parishad and can easily secure one of these two seats.
Close Story
Personalise your news feed. Follow trending topics