Tej Pratap threatens to 'skin' PM Modi after Lalu's Z+ security is withdrawn
Hindustan Times, Patna |
, Patna
B Vijay Murty and Alok Mohit
Nov 28, 2017 09:19 AM IST
RJD leaders across the state are smarting over the Union government's decision to pare back the security of Lalu Prasad Yadav
Rashtriya Janata Dal (RJD) leader Tej Pratap Yadav threatened to "skin" Prime Minister Narendra Modi in an angry reaction on Monday to the Union government's decision to downgrade the security cover of his father Lalu Prasad.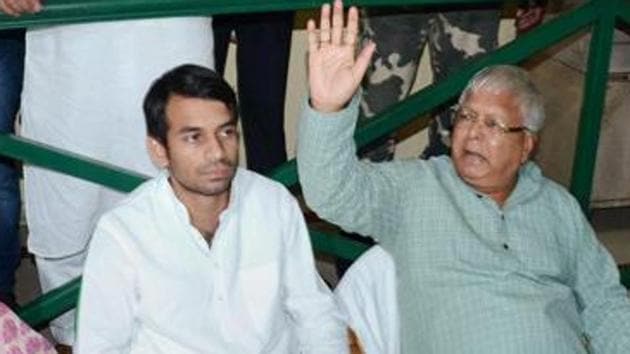 "Laluji ko maarne ki saazish ho rahi hai. Hum chup nahi baithenge, Narendra Modi ji ka khaal udhedva lenge (a conspiracy is being hatched to kill Laluji. We will not stay silent. We will skin Narendra Modiji)," Tej Pratap, Lalu's eldest son, told reporters at the state assembly, drawing sharp reactions from the ruling bench members.
The Union ministry of home affairs announced on November 23 a reduction of the security cover of several people, including Bihar's three top politicians: Lalu Prasad, another ex-Bihar chief minister Jitan Ram Manjhi, and Sharad Yadav.
On his son's threat, RJD chief Lalu Prasad said: "If a son comes to know that his father is being conspired against, his security is being revoked, he will react. I don't approve of this. I have spoken to him to not speak anything like that again."
RJD leaders across state are angry at the decision, and the Yadav family is leading the response.
Reacting to Tej Pratap's statement, Janata Dal (United) spokesperson Ajay Alok said since the Prime Minister has been threatened, both the state and Centre's security agencies should take cognisance and initiate punitive actions.
Bihar BJP vice-president Devesh Kumar condemned Tej Pratap's statement in strong words. He said the kind of politics RJD practised; it is highly deplorable.
"Although there is a generational shift, the narrative and the language of political discourse remains the same. They always speak the language of violence and practise unwholesome politics. We deplore such politics as we believe in the language of peace and development. We will not allow any element to derail the discourse of development."
Prasad currently has Z+ category security, which has been pared back to Z. The MHA has also withdrawn the National Security Guard cover with immediate effect in wake of the reduced security threat perception.
Manjhi's Z+ category protection has also been withdrawn.
RJD leader Bhai Birendra said he would raise the matter of Prasad's security in the state assembly. "If anything happens to our leader, we will spare none," he said.
Tej Pratap had earlier threatened to disrupt the wedding of Bihar deputy chief minister Sushil Kumar Modi's son.
News channels had beamed the video footage showing Tej Pratap delivering a speech in Aurangabad district, where he said, "I have been invited by Sushil Modi to attend the wedding of his son. If I go there, I will expose him in public."
"Uske ghar mein ghus kar maarenge, us shaadi mein vahin sabha karenge, tod phod karenge (will thrash him inside his house, hold a public meeting at the marriage venue and vandalise things)," he was heard saying in the video.
Following Tej Pratap's comments, Sushil Kumar Modi changed the venue of his son's wedding from Shakha Maidan in Rajendra Nagar to veterinary college ground (near Patna airport) for security reasons.
Lalu, however, denied that his son would do such things.
-------------------------------------------------
BLURB
The Union ministry of home affairs announced on November 23 a reduction of the security cover of several people, including Bihar's three top politicians: Lalu Prasad, another ex-Bihar chief minister Jitan Ram Manjhi, and Sharad Yadav