Lalu's son Tej Pratap threatens to 'thrash' Bihar Dy CM Sushil Modi, torch his house
Nov 22, 2017 11:07 PM IST
"I will thrash him at his own house and set things on fire during his son's wedding, in order to expose his ill-gotten wealth", Tej Pratap allegedly said about Modi, at a public meeting at Aurangabad (Bihar).
RJD chief Lalu Prasad's elder son Tej Pratap Yadav allegedly threatened to assault Bihar deputy chief minister Sushil Kumar Modi and vowed to set his house on fire at his son's wedding on December 3.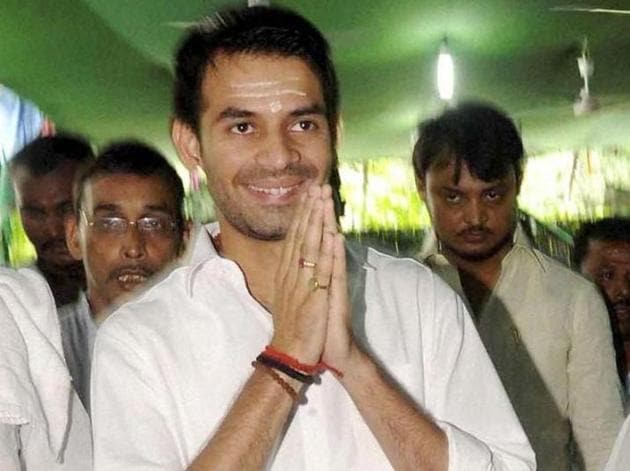 The remarks triggered uproar after television news channel on Wednesday showed the RJD leader uttering the threat at a public meeting in Aurangabad in south-central Bihar.
"I will thrash him at his own house and set things on fire at his son's wedding to expose his ill-gotten wealth," Tej Pratap is heard saying in the news clips.
The ruling BJP-JD(U) alliance called former state health minister Tej Pratap's rant an example of the RJD degrading the political discourse.
Tej Pratap and members of the RJD's first family are angry with Modi for making a series of accusation over several months against Lalu Prasad and his relatives, alleging that they had acquired unexplained wealth.
He said: "Modi has invited me to his son's wedding. He has called me to insult us. If I go, I will disrupt the wedding … My fight with Modi is on and I know how to win it."
Tej Pratap's comments come a day after Rabri Devi, his mother and former Bihar chief minister, issued threats against Prime Minister Narendra Modi, reported new agency ANI.
"BJP claims that if anyone will raise finger against Prime Minisiter Modi, then they break that finger and chop the hands. If they do so, will the people of Bihar and the country spare them? There are numbers of people here, who will slit his throat and chop his hands," Rabri Devi said.
Tej Pratap said the RJD's rivalry with Modi was old and he would not tolerate any unwarranted statement against his family from his rivals, including other BJP leaders.
RJD student cell chief Akash Yadav, a close aide of Tej Pratap, accused the media of distorting the leader's comments. "He only said he would expose how Modi had amassed ill-gotten wealth, if he visits his son's wedding. Nothing else," he said.
Akash said Tej Pratap's statement, made on November 19, was being highlighted just to divert attention from a controversial statement made earlier this week by BJP state president Nityanand Rai.
Rai has been in the eye of storm for his purported statement that people would break the limbs of those opposing Prime Minister Narendra Modi. Rai later said he was misquoted.