Highlights | How does BJP see international conspiracy in questioning Rafale deal: Kapil Sibal
Sep 25, 2018 07:27 PM IST
The Congress on Tuesday continued its onslaught against the Centre over the Rafale deal, alleging irregularities in awarding contracts for manufacture of the fighter jets.Former French President Francois Hollande's contradictory statements have only made the matter murkier.Congress president Rahul Gandhi had earlier in the day said the disclosures with regard to the deal were just the beginning and more revelations will emerge in the coming days. Here are the highlights.
4:35pm IST
Asking for price, not technology: Sibal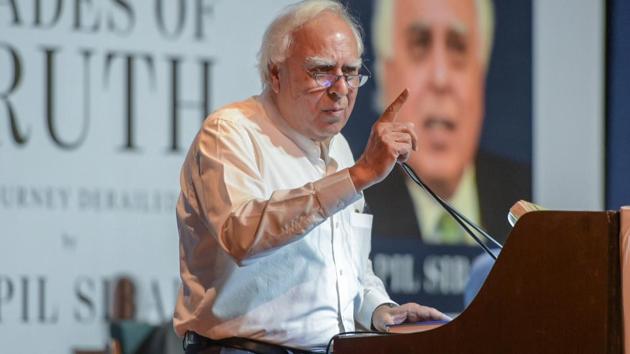 Why did they take decision on Rafale deal on April 10? We are only asking for the price, not the technology: Sibal
4:32pm IST
Govt not in a position to buy all 126 Rafales: Sibal
126 Rafales must be bought for the country's security, but the govt can't afford to buy the rest because they already overspent on the initial lot. BJP compromised on national security: Sibal
4:30pm IST
BJP won't introduce Lokpal: Sibal
BJP doesn't want to introduce Lokpal because its strength will then be reduced in the House: Sibal
4:24pm IST
No one was aware of Rafale deal: Sibal
On April 8, 2015, the foreign secretary of India said the Rafale deal wasn't on the table during PM's visit to France on April 10, 2015. But the PM announced about the 36 Rafale aircrafts deal, while none of them were aware: Kapil Sibal
4:22pm IST
Cong questions Reliance
On March 28, 2015,Reliance Defence Ltd was incorporated. On March 25, 2015, Eric Trappier said that contract with HAL was finalised.On March 11, 2015, HAL and Dassault said parts of Rafale manufactured by them will be guaranteed by respective companies: Kapil Sibal
4:15pm IST
Where is the international conspiracy: Sibal
We wanted Rafale deal to go through, which would generate thousands of jobs. I want to ask Nirmala Sitharaman where did she come across international conspiracy: Kapil Sibal.
4:12pm IST
Rafale deal to favour Reliance: Sibal
On April 24, Reliance Aerostructure Limited was formed days after Rafale deal was announced. Therefore, both Modi and Reliance knew what the other was up to. Only HAL didn't know: Kapil Sibal, Congress leader
4:10pm IST
Amount paid in Swiss bank accounts: BJP
Amount was paid to two Swiss bank accounts on two dates in 2010: Sambit Patra
4:05pm IST
Cong wants to see Rafale deal fails: BJP
Congress did not get commission in Rafale deal, so it wants to ensure the deal fails: Sambit Patra, BJP spokesperson
3:45pm IST
Why was Ambani given Rafale contract: Rahul
Prime Minister Narendra Modi could not look me in the eye when I asked him why Anil Ambani was given a contract despite being under Rs 45,000 crore debt: Congress president Rahul Gandhi on Rafale deal.