Maha crisis highlights: CM Thackeray arrives at his family home 'Matoshree'
Jun 23, 2022 12:00 AM IST
The BJP and the Shiv Sena used to be allies until 2019 when after contesting the Maharashtra Assembly elections together both parted ways over the issue of the chief ministerial post.
Maharashtra political crisis: Amid the intensifying political crisis in Maharashtra, chief minister Uddhav Thackeray said he was keeping the resignation letter ready, but urged the rebel MLAs to come and tell him on his face that they did not have the trust in him. Thackeray, who addressed the state through Facebook, said Shiv Sena will never leave the Hindutva and that is what Balasaheb Thackeray had taught us. Read more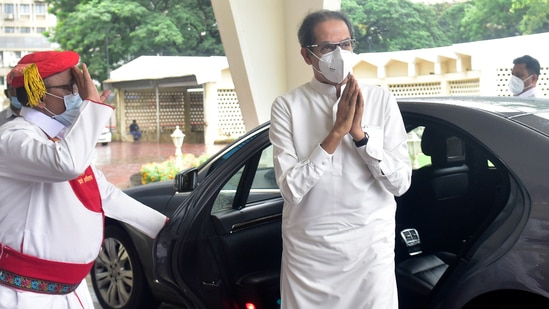 READ MORE: Loss, defeat, stalemate? How the Maharashtra crisis could unfold
Stating that he is not afraid of any challenge as long as the common Shiv Sainiks are with him, Thackeray said what upset him was the fact that it was not the Congress or NCP that lost trust in him.
READ MORE: Who is Eknath shinde? Shiv Sena strongman at centre of Maha political crisis
There had been a strong buzz that Thackeray, who tested positive for Covid-19 earlier in the day, might put in his papers as the deepening turmoil following the flight of rebel Sena leader Eknath Shinde with more than 30 legislators to Assam where the BJP is in power. The rebel camp had left Maharashtra a day ago for another BJP-ruled state, Gujarat, where it stayed for about a day in Surat.
Follow all the updates here:
Jun 22, 2022 10:40 PM IST

Watch: CM Uddhav Thackeray arrives at his family home 'Matoshree'

Jun 22, 2022 09:54 PM IST

CM Uddhav Thackeray leaves official residence, Varsha, moves back to family home Matoshree

Jun 22, 2022 09:07 PM IST

Watch: Eknath Shinde with other MLAs at a hotel in Guwahati

Jun 22, 2022 09:01 PM IST

'Uddhav Thackeray is Maharashtra chief minister & will remain the CM': Sanjay Raut

Jun 22, 2022 08:38 PM IST

Eknath Shinde tweets essential to leave 'unnatural alliance' for survival of Sena

Eknath Shinde tweeted, "In the last two and a half years, the MVA government benefited only the constituent parties (Congress, NCP), and the Shiv Sainiks were overwhelmed.

He added, "It is essential to get out of the unnatural alliance for the survival of the party and Shiv Sainiks. Decisions need to be taken now in the interest of Maharashtra."

Jun 22, 2022 08:26 PM IST

Sena workers' show of support for Uddhav Thackeray outside Versha bungalow of CM

Jun 22, 2022 08:12 PM IST

No Shiv Sena MLA in touch with us, says BJP leader Raosaheb Patil Danve after meeting with Devendra Fadnavis

Jun 22, 2022 07:39 PM IST

Meeting between Uddhav Thackeray, Sharad Pawar ends

The meeting between Maharashtra chief minister Uddhav Thackeray, NCP chief Sharad Pawar, and Supriya Sule concludes at the CM's residence in Mumbai, ANI reported.

Jun 22, 2022 06:49 PM IST

Will fight: Priyanka Chaturvedi, Sanjay Raut's message after Uddhav's address

Shiv Sena MPs Sanjay Raut and Priyanka Chaturvedi on Wednesday tweeted messages of fighting back after Maharashtra chief minister Uddhav Thackeray's live address amid the political crisis. Read here

Jun 22, 2022 06:33 PM IST

Sharad Pawar, Supriya Sule and Jitendra Awhad arrive at the residence of Uddhav Thackeray

Jun 22, 2022 06:16 PM IST

Take my letter to govt I have Covid, can't go - Thackeray's swipe at rebel MLAs

"My resignation letter is ready. I will hand it over to the leaders who have disappeared - or have been made to disappear. They can take it to Raj Bhawan. I cannot go because I have tested positive for Covid-19," said Uddhav Thackeray.

Jun 22, 2022 06:01 PM IST

Have nothing to worry till the Shiv Sainiks are with me: Uddhav Thackeray

I am not afraid of any challenge as long as the common shiv sainiks are with me, said Maharashtra CM Uddhav Thackeray.

Jun 22, 2022 05:59 PM IST

Will quit if public, MLAs want: CM Thackeray

Under-fire Uddhav Thackeray also threw down a challenge to the rebel MLAs, demanding they tell him - in as many words - that he must step down as chief minister. "If any MLA wants me to not continue as the CM, I am ready to take all my belongings from Varsha (the Maha CM's official residence) to Matoshri (the Thackeray family home)," he said. Read more

Jun 22, 2022 05:54 PM IST

If any MLA doesn't want me, will resign, says Thackeray

If any MLA wants me to not continue as the CM, I am ready to take all my belongings from Versha Bungalow (official residence of the CM) to Matoshri, says Maharashtra CM Uddhav Thackeray.

Jun 22, 2022 05:50 PM IST

Some MLAs said they were taken forcibly: CM Thackeray

Addressing the state via Facebook Live as the crisis engulfs his government, Uddhav Thackeray said some of the MLAs who had fled to Gujarat and then Assam under the leadership of Eknath Shinde had been taken forcibly. Earlier today at least two Sena MLAs - Kailas Patel and Nitin Deshmukh - said they had 'escaped' from the rebel group and returned to the party fold.

Jun 22, 2022 05:33 PM IST

Eknath Shinde to brief media today evening in Guwahati

Rebel minister and Shiv Sena leader Eknath Shinde to brief media today evening in Guwahati, Assam, ANI reported.

Jun 22, 2022 05:01 PM IST

'Was given some injections forcibly': Nitin Deshmukh on how he was 'kidnapped'

Shiv Sena MLA Nitin Deshmukh surfaced dramatically at Nagpur airport on Wednesday with a sensational claim that he was not only 'kidnapped' but was also admitted to a hospital in Surat with a fake claim that he had suffered from a heart attack -- all to keep him in the rebel camp of Eknath Shinde. Read full report here

Jun 22, 2022 04:41 PM IST

CM Uddhav Thackeray to address state shortly

Chief minister Uddhav Thackeray will address the state through Facebook Live at 5 pm. He is expected to speak on the ongoing political development in Maharashtra. Read more

Jun 22, 2022 04:34 PM IST

34 rebel Sena MLAs write to governor and deputy speaker, pick Shinde as their leader

The Maharashtra political crisis escalated further as 34 MLAs wrote to the governor extending support to Shiv Sena rebel Eknath Shinde. The MLAs, who are in Guwahati, wrote to governor Bhagat Singh Koshyari that Eknath Shinde would remain the legislative party leader of the Shiv Sena.

Jun 22, 2022 04:06 PM IST

Maharashtra BJP chief arrives in Gujarat's Surat

Maharashtra BJP chief Chandrakant Patil arrived in Surat, Gujarat on a chartered flight. He is likely to reach Assam's Guwahati along with 4 MLAs.

Jun 22, 2022 03:46 PM IST

Bharat Gogavale appointed chief representative of Shiv Sena legislature group, tweets Eknath Shinde

After Shiv Sena's ultimatum to attend meeting of party chief Uddhav Thackeray, Eknath Shinde in a tweet said that they have appointed Bharat Gogavale as chief whip.

Jun 22, 2022 03:36 PM IST

Rebel Shinde says 46 MLAs with them, warns 'numbers will rise'

Rebel minister and Shiv Sena leader Eknath Shinde has alleged that as many as 46 MLAs are now with him and the "number will rise in the time to come". Read full report here

Jun 22, 2022 03:17 PM IST

'Kaziranga is a good place to visit, see nature': Raut on Sena MLAs in Guwahati

"Kaziranga is a good place to visit. The area is also receiving good rainfall. Those who want to see nature can go there", Shiv Sena leader Sanjay Raut told ANI when asked about Maharashtra MLAs camping in Guwahati, Assam.

Jun 22, 2022 03:07 PM IST

'No political discussions were held': Congress leader after state cabinet meeting

Jun 22, 2022 02:55 PM IST

No difficulties, everything will be alright, says Balasaheb Thorat

Jun 22, 2022 02:40 PM IST

Shiv Sena MLA returns says was 'dragged' to Surat

Shiv Sena MLA Nitin Deshmukh has disclosed his ordeal in Surat while being part of the rebel group of the party saying he was forcefully taken to the Gujarat city and was mistreated. The Balapur MLA in Akola district clarified that he is with the chief minister Uddhav Thackeray, and not with the rebel group. Read more

Jun 22, 2022 02:35 PM IST

Shiv Sena issues ultimatum to all party MLAs, says return by 5 pm or get sacked

Shiv Sena has issued letters to legislators giving them an ultimatum, asking them to attend an urgent meeting convened by party chief Uddhav Thackeray at CM residence Varsha at 5pm. Failing to attend the meeting, it'll be considered that the said MLA has decided to quit the party voluntarily, the letter signed by Sena chief whip Sunil Prabhu. Read more

Jun 22, 2022 02:27 PM IST

No talks with Shiv Sena right now: Eknath Shinde dismisses Sanjay Raut's claims

As far as the current political situation is concerned, I'd say that we are Balasaheb Thackeray's Shiv Sainiks and will continue to be Shiv Sainiks. As of now, we are not holding any talks with Shiv Sena or CM. We have not decided on the future course of action, Eknath Shinde told news agency ANI.

Jun 22, 2022 02:23 PM IST

Shiv Sena's Raut drops big hint, hometown backing for Shinde

Outside the residents house of ShivSena minister and leader Eknath Shinde in Thane, some Shiv Sainiks are seen carrying banners in their support.. (Praful Gangurde/HT)

Jun 22, 2022 01:55 PM IST

Cabinet meeting begins, Uddhav Thackeray attending virtually

The cabinet meeting of the Maharashtra government began at 1 pm, chief minister Uddhav Thackeray is attending the meeting virtually since he has tested positive for Covid.

Jun 22, 2022 12:50 PM IST

Maharashtra CM Uddhav Thackeray tests Covid positive

Maharashtra CM Uddhav Thackeray tests Covid positive, state Congress chief Nana Patole and confirms. Earlier today, the Governor of Maharashtra also tested positive for Covid-19.

Jun 22, 2022 12:44 PM IST

Sena workers in Aurangabad protest against Eknath Shinde

Jun 22, 2022 12:30 PM IST

Horse-trading while economy is weakening: Rajasthan CM Gehlot

Jun 22, 2022 12:24 PM IST

Politics has come down to kidnaping of public representatives: Akhilesh Yadav

Jun 22, 2022 11:51 AM IST

Sanjay Raut hints at the dissolution of Maharashtra Legislative Assembly

Shiv Sena's Sanjay Raut hints at the dissolution of Maharashtra Legislative Assembly amid the current political crisis in the state. He tweets, "The ongoing political crisis in Maharashtra is heading to the dissolution of Vidhan Sabha."

Jun 22, 2022 11:28 AM IST

The rise of such politics sets a dangerous precedent for the future: Kamal Nath

Jun 22, 2022 10:50 AM IST

Shinde an old friend, says Sanjay Raut as crisis unfolds

Eknath Shinde is our very old party member, he is our friend, we've worked together for decades. It's neither easy for him nor for us to leave each other. I had a conversation with him for an hour this morning & the party chief was intimated about it: Shiv Sena leader Sanjay Raut

Jun 22, 2022 10:42 AM IST

Upset with NCP, Cong, not Sena leadership, say rebel Maha MLAs: Report

Rebel Shiv Sena MLAs camped out in BJP-ruled Assam under the leadership of Eknath Shinde have 'no complaints' against their party's leadership but are upset with allies Congress and the Nationalist Congress Party, Sandipan Bhumare, one of the breakaway legislators, told a TV news channel on Tuesday.

Jun 22, 2022 10:31 AM IST

Sanjay Raut says he confident that MLAs will return

We are confident that Eknath Shinde and the legislators will return to us. We are in touch with them, said Sanjay Raut Shiv Sena MP.

Jun 22, 2022 10:31 AM IST

Maha ministers reach Sharad Pawar's residence

Maharashtra Minister Balasaheb Patil also arrives at the residence of NCP chief Sharad Pawar in Mumbai.

Jun 22, 2022 10:25 AM IST

Maha Home Minister reaches NCP chief Pawar's residence

Maharastra Home Minister Dilip Walse Patil arrives at the residence of NCP chief Sharad Pawar in Mumbai.

Jun 22, 2022 10:08 AM IST

The Shiv Sena MLA who 'escaped' from rebel camp, walked 5 km to Uddhav Thackeray

Shiv Sena legislator from Osmanabad Kailas Patil had a dramatic escape on Tuesday even as a host of party legislators led by Eknath Shinde made their way to Gujarat. Patil, one of the legislators part of the posse making its way to Surat, managed to get off near the Gujarat border check-post and eventually made his way party chief Uddhav Thackeray's residence in Bandra East.

Jun 22, 2022 09:52 AM IST

Upset with NCP, Cong, not Sena leadership, say rebel MLAs

Jun 22, 2022 09:24 AM IST

NCP chief Sharad Pawar, Congress leader Kamal Nath to meet CM Uddhav

NCP chief Sharad Pawar and senior Congress leader Kamal Nath to hold meeting with CM Uddhav Thackeray today to discuss the political crisis.

Jun 22, 2022 08:55 AM IST

MLAs signing a 'document' in Surat hotel last night | Video

Jun 22, 2022 08:49 AM IST

Shiv Sena's Eknath Shinde seen with party MLAs at a Surat hotel

Jun 22, 2022 07:54 AM IST

Maharashtra cabinet meeting scheduled for today at 1 pm, reports ANI

The Maharashtra government will hold a cabinet meeting today at 1 pm amid the ongoing political turmoil, news agency ANI reported.

Jun 22, 2022 07:40 AM IST

Cong deputes Kamal Nath as observer for Maha amid political developments

The Congress on Tuesday deputed its senior leader and former Madhya Pradesh Chief Minister Kamal Nath as All India Congress Committee (AICC) observer in the state.

"The Congress president has deputed Kamal Nath AICC observer in the wake of recent political developments in the state, with immediate effect," Congress said in an official statement.

Jun 22, 2022 07:39 AM IST

Rebel Sena MLAs arrives at Radisson Blu Hotel in Guwahati | Video

Topics

Story Saved