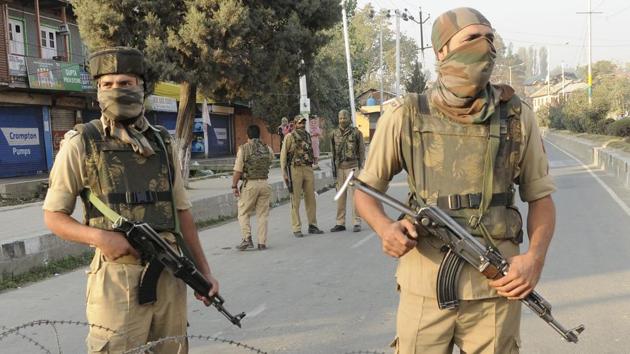 No evidence of IS presence in Kashmir, but have to investigate claim: Police
The Islamic State has claimed responsibility for the killing of constable Farooq Ahmed Yatoo in Srinagar's Soura locality on Sunday.
UPDATED ON FEB 27, 2018 10:25 PM IST
The Jammu and Kashmir police on Tuesday said although there is no evidence of the presence of the terror group Islamic State (IS) in Kashmir, its claim that it killed a policeman in Srinagar on Sunday has to be investigated.
"The claim (of the killing of the policeman) is on their (Islamic State's) website. There is no perceivable presence of the Islamic State on the ground in Kashmir but it (the claim) needs to be investigated further," director general of state police SP Vaid said over phone.
"It could be possible that an individual militant, influenced by the Islamic State, carried out the attack. We are investigating it. But there is no evidence to suggest any presence of the outfit in the Valley," he added.
Reportedly, the IS has said through its news platform, Amaq News Agency, that it successfully carried out the killing of constable Farooq Ahmed Yatoo in Soura locality of Srinagar on Sunday night. Yatoo, a native of Chadoora area of Budgam district, was posted as a guard at the residence of separatist leader Fazal Haq Qureshi.
The Centre too sought to downplay the issue of Islamic State's presence in Jammu and Kashmir, saying it has no existence in the Valley.
"There is no physical infrastructure or manpower of the IS in the Valley. It does not exist in the Valley," a home ministry spokesperson said in New Delhi.
This is the second time in the last three months that the IS has claimed, through its official mouthpiece, to carry out an attack in Kashmir. IN November last year, IS claimed an attack in Zakura on the outskirts of Srinagar in which a policeman and a militant were killed.
The DGP has said in the past, too, that the IS has "no footprint in Kashmir" as has the Union home ministry. After the IS' claim in November, Rajya Sabha was told in January that "nothing has been established on ground that the ISIS is operating in any part of Kashmir valley".
Minister of state for home Hansraj Ahir in his reply, however, had mentioned militant commander Zakir Musa's organisation, Ansar Gazwat-Ul-Hind (AGUH), which is said to be a branch of the Al-Qaeda in Kashmir. It was reportedly formed in July last year.
"Ansar Gazwat-Ul-Hind (AGUH) formed and led by Zakir Musa (former Hizbul-Mujahideen militant) has posted adverse materials on social media. There are reports that at present Zakir Musa has support of less than 10 militants," Ahir had said.
Even Kashmir's separatist leaders, including Syed Ali Shah Geelani, Mirwaiz Umar Farooq and Yasin Malik, had said last year that the "ongoing freedom struggle" in the state is "indigenous" and has "nothing to do with" global terrorist groups such as the IS or Al-Qaeda.
"Our movement has nothing to do with these world-level groups and practically they are non-existent in the state. There is no role for these groups in our movement," they had said in a statement.
(With PTI inputs)
Close