Over 110 declared foreigners sent to detention camps in Assam; families claim Indian citizens being harassed
May 10, 2019 11:58 AM IST
Police in Assam have sent more than 110 declared foreigners to detention camps in the last fortnight. Families of these people say that Indians are being harassed within the country.
Police in Assam have sent more than 110 declared foreigners to detention camps in the last fortnight as it looks for more than 72,000 such people, who remain untraceable, sources have said.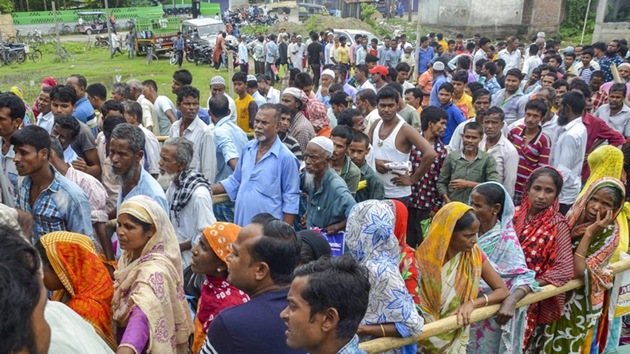 The state government has also directed that people who are absconding and declared foreigners must be booked by police, according to a letter sent to the Border Organisation of Assam police.
Stay tuned with breaking news on HT Channel on Facebook.
Join Now
It has also reached out to the office of the state coordinator of the National Register of Citizens (NRC) for details of around 11,000 declared foreigners who have been traced as they tried to enrol in the register, commissioner and secretary of the home and political department Ashutosh Agnihotri said.
"We reactivated the task force in April and since then the number of people who have been detained is higher in Lower Assam districts," an official familiar with the development said on condition of anonymity.
This rush by the police's special task force to detain declared foreigners comes in the backdrop of the Supreme Court hearing a petition on the abysmal condition of detention centres in Assam.
Also Read: Assam playing with us: Supreme Court on missing foreigners
Families of the some of those who have been picked up claim Indian citizens are being harassed.
The family of Tasar Ali, one of the 10 declared foreigners who has been apprehended in the last two days in Kokrajhar, claimed police refused to look at the opinion of the foreigners tribunal which declared him an Indian Citizen in 2012, the voters list naming his as a voter among other documents as they took him away.
His son Shafiqul Islam said the 84-year-old Ali was in tears and unwell when he visited him in detention on Wednesday.
"I could not stay there for more than five minutes. He wouldn't stop crying," Islam said adding how his father has all the documents and has been declared as an Indian citizen.
He had a copy of Ali's voters ID card, PAN card, his name and photo in the voters' list from 2019 among other documents.
Mukut Rabha, Kokrajhar's additional superintendent of police (border), said Ali was detained based on an opinion of the foreigners' tribunal in 2017 against one Tasan Ali from the same Simaltapu village.
"Both Tasar Ali and Tasan Ali are the same people, they have the same father's name and are from the same village," Rabha claimed, adding that the 2017 verdict declaring Ali as an illegal immigrant was pronounced ex parte.
"We were never served a notice if there was another case on the same charges," Islam said.
For Ali and others, it may mean indefinite detention as most of these declared foreigners like him claim to be Indians and thus not accepted by Bangladesh. Only four out of more than 1,03,000 declared foreigners have been repatriated to Bangladesh even as just around 900 are in detention.
Aman Wadud, a lawyer who has represented declared foreigners, said if the ultimate intention of detention is deportation, then the action is futile and claimed most of those declared foreigners are in fact Indians.
Also Read: Assam traffic cop stands on duty during storm, becomes social media star
"Almost every declared foreigner is a citizen of India. They have been declared a foreigner because of hyper-technical reasons like inaccuracies in age and name in documents. Even typographical error can cost you your citizenship," Wadud said.
"No country will accept these so-called foreigners just because they have been stripped of Indian citizenship," he added.
The actions, including reactivating the task force in districts, follows the deliberations of a joint committee formed by the Union ministry of home affairs. The committee monitors the progress of detection, detention, nationality verification and deportation of illegal migrants, including those declared as foreigners by foreigner tribunals, according to minutes of the meetings.
The committee formed in March includes officials of the home ministry, the ministry of external affairs and the state government.
It followed the ongoing hearings in the Supreme Court on a petition originally filed by activist Harsh Mander on the abysmal conditions of the detention centres in Assam which work out of six district jails.
Mander had recently claimed in the top court that the petition seems to have been turned on its head by the Chief Justice Ranjan Gogoi as he sought his recusal from the case, which was rejected by the bench and Mander removed as a petitioner.
"He (CJI) by his remarks and observations in a series of hearings, appears to use the same petition instead to seek detention of tens of thousands of more persons in these detention centres…" Mander told the court.
He also recounted oral observations made by CJI where he questioned why only 900 declared foreigners were in detention and so few have been deported and questioned the state government's proposal of the conditional release of some declared foreigners.
There are 100 foreigner tribunals active in Assam and the number is proposed to be have increased to 1,100 were those marked as suspected illegal immigrants either by the Border Organisation of Assam police or the local election officials have to prove they are Indian citizens.