Mortal remains of 39 Indians killed by IS in Iraq to be brought back to India today
Updated on Apr 02, 2018 12:00 AM IST
Earlier this month, external affairs minister Sushma Swaraj had informed Parliament of the death of the 39 Indians who were kidnapped in Iraq.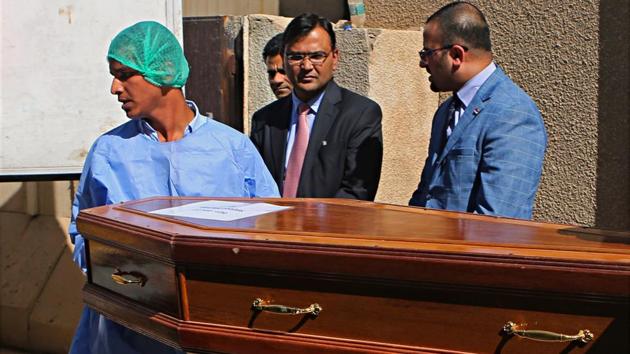 Minister of state for external affairs VK Singh left for Iraq on Sunday afternoon to bring back the remains of the 39 Indians killed in the strife-torn country, officials said.
Singh is scheduled to return on Monday. "The minister left at around 1pm from the Hindon airbase and is expected to return with the bodies tomorrow," an official said.
He flew in a C-17 plane — the largest cargo aircraft of the Indian Air Force. The government has decided that Singh will also travel to Amritsar, Patna and Kolkata to personally hand over the mortal remains to the families of the deceased.
Forty Indians were kidnapped by Islamic State (IS) terrorists near Mosul in Iraq in June 2014. One of them managed to escape captivity by posing as a Muslim from Bangladesh.
Last month, external affairs minister Sushma Swaraj informed Parliament about the abduction of Indians and the 39 deaths.
The statement, however, led to a political row as critics questioned her decision to inform the House before breaking the news to the victims' kin.
Sidhu to receive bodies of Punjab men
The mortal remains of the 39 Indian workers, including 27 from Punjab and four from Himachal Pradesh, will arrive at the Sri Guru Ram Das Jee International Airport on Monday.
Punjab local bodies minister Navjot Singh Sidhu will receive the mortal remains of the victims from the state and Himachal Pradesh at the local airport. Amritsar deputy commissioner Kamaldeep Singh Sangha is supervising the preparations by the customs department, police, airport authorities, and the immigration bureau.