'Show-stealer' in Pakistan, Navjot Singh Sidhu back home as Congress' new poster boy
Updated on Nov 30, 2018 12:11 PM IST
Cricketer-turned-politician Navjot Singh Sidhu was the show-stopper at the groundbreaking ceremony for Kartarpur corridor in Pakistan recently and none other than its prime minister Imran Khan called him the "man of the match".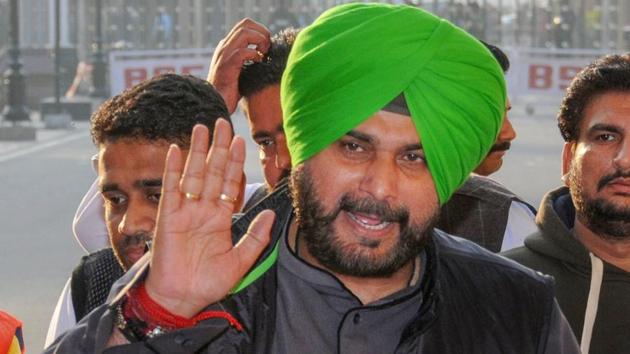 "Duniya mein sabse bara rog, kya kehenge log (the biggest affliction in this world is what will people think of you)". A Sidhuism often repeated by Navjot Singh Sidhu to brush off criticism as he plays a troubled innings in Punjab politics. There appears to be no love lost between him and chief minister Captain Amarinder Singh and he has no friends in the cabinet. The opposition BJP and Akali Dal have branded him a "traitor" for hugging Pakistan army chief, Qamar Javed Bajwa.
But a believer in astrology who flaunts rings studded with gemstones, Sidhu seems to have luck on his side.
The cricketer-turned-politician was the show-stopper at the groundbreaking ceremony for Kartarpur corridor in Pakistan on Wednesday and none other than its premier Imran Khan called him the "man of the match".
As he made a clean sweep of the laurels, Sidhu's political profile has changed from a state minister to ambassador of peace between two nations. He is now seen as a hero for Punjabis in India and abroad and a new poster boy for the Congress.
This when the Narendra Modi government had given the corridor a go-ahead and Amarinder had declined Pakistan's invite for the ceremony and snubbed his minister for doing otherwise. Sidhu's political fortunes had been turning for a while. As party's star campaigner in poll-bound states, he is getting the crowds and his posts and videos have electrified the social media presence of the Congress.
"I am hitting fours and sixers against Modi," he had said, swinging his hands like hitting a boundary, when asked about the campaign. His comedy show is off the air and his Sidhuisms have the voters, and the Congress, grinning ear to ear.
The popularity has made him important in party's scheme of things for Lok Sabha polls, more so as he enjoys the confidence of Congress president Rahul Gandhi and his sister Priyanka, who was instrumental in bringing him on board.
State Congress leaders believe it will also help him emerge from the shadows in Punjab politics, where he is still struggling to make a mark. Sidhu has not been allowed his way on reforms and his detractors say he has nothing to show as minister of an important department as local government as "he takes no decisions".
But even his staunchest critics now admit that as culture minister, his other portfolio, Sidhu has marked his innings in history by making Kartarpur corridor a reality. For now, Sidhu is soaking in the sun. He seems to love the attention he gets even from his detractors. "People come after you if you are important," he says.
He lights up while facing the cameras for short videos being posted on Twitter and Facebook by a team of Indian Youth Congress. "I am a one-take actor. And each video of mine is going viral," he adds. Sidhu surely does not need outsiders for publicity!
Personalise your news feed. Follow trending topics