At Kartarpur, Pak PM Imran Khan pitches for peace, dialogue and Navjot Singh Sidhu
Updated on Nov 28, 2018 07:38 PM IST
Coming out in Navjot Sidhu's defence, Imran Khan said that he had come to Pakistan with a message of love and friendship.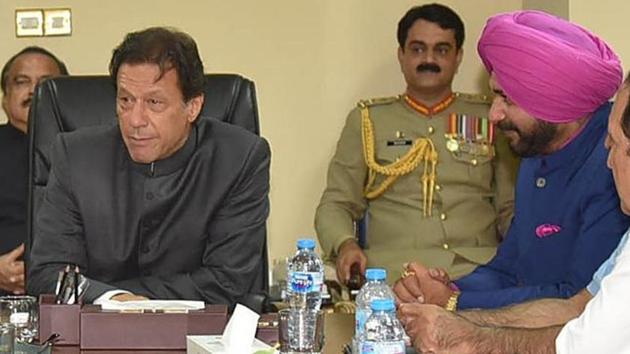 Back in Pakistan for the Kartarpur event, Punjab minister Navjot Singh Sidhu on Wednesday heaped praises on Prime Minister Imran Khan for building the corridor that he hoped, would bring the two countries closer. This was Sidhu's second visit to Pakistan in a little over three months and the cricketer-turned-politician had to face massive criticism for his last one, particularly for what he has since then described as a one-second hug by Pakistan's army chief Qamar Bajwa.
At Wednesday's event, it was Prime Minister Imran Khan's turn to eulogise his friend Sidhu who has fiercely supported calls for encouraging talks between the two countries. Just minutes earlier, Sidhu too had credited Imran Khan with having helped bridge the gap between the two countries and ending the 70-year-wait for the Sikhs of India.
Khan wondered why Sidhu, who advocated peace between the two countries, had been criticised for his previous visit. "Sidhu Saab, if you come and fight elections in Pakistan's Punjab, you will win hands down," Khan said.
Earlier, speaking about Sidhu's August visit to Pakistan for which he had received severe criticism from all quarters, Khan said he did not understand why Sidhu had to face such a reception back home in India. He said that Sidhu had come to Pakistan with a message of love and friendship. "Navjot Sidhu had come here with a message of frienship between two nuclear powered countries," Khan had said before talking about India-Pakistan ties.
Sidhu, a Congress leader and Punjab Cabinet minister, had visited Pakistan in August to attend the oath-taking ceremony of cricketer-turned-politician Imran Khan as prime minister of Pakistan. It was after this visit that the issue of the Kartarpur Corridor had come into focus.
During his spech, Khan echoed Sidhu when he said that both countries needed to come together and resolve their issues. "To think that two nuclear powered countries can go to war against each other is foolish. Who will win? No one will win. We'll both lose. What is the alternative then? Friendship is the alternative," Khan said.
Khan praised Sidhu for his quick wit and affability and once again called for a resolution of issues between both the neighbouring countries. "It should not be that we have to wait for Navjot Sidhu to become India's prime minister before we can have friendship between the two countries," Khan said.
Earlier, in his poetic speech that was laced with religious couplets, Sidhu had praised Khan saying that he would be remembered in history.
"Bloodshed must end, pain must end, peace must return…We have paid a big price, someone has to douse this fire. This corridor is full of promise, it will bring the two countries close," he said.
Sidhu said his parents used to see Gurdwara Kartarpur Sahib, which is just 4 km from the Gurdaspur border, from a distance and return with tears in their eyes as they could go no further. "My friend Imran Khan has wiped the tears of lakhs of Sikhs," he added.
Located on the banks of River Ravi in Narowal district, Gurdwara Kartarpur Sahib is only 3-4 km within Pakistan from the border with India.
The village was settled by Baba Guru Nanak in 1521 and is famous for its white-domed Gurdwara Kartarpur Darbar Sahib. Kartarpur is where Baba Guru Nanak settled after his travels as a missionary. He lived there for 18 years until his death in 1539.
Gurdwara Kartarpur Sahib was built by Maharaja Bhupindar Singh of Patiala, between 1921 and 1929.
Earlier, Prime Minister Narendra Modi had likened the decision by the two countries to the fall of the Berlin Wall, indicating that the project may ease simmering tension between the two countries.
Personalise your news feed. Follow trending topics