The 58-year-old cricketer-turned-politician will perform the job from his barrack only because of security reasons, a jail official said.

Updated on May 26, 2022 03:14 PM IST
The medical board has advised a high fibre, low carbohydrate and low fat diet — primarily comprising fruits and vegetables and avoiding desi ghee and butter — for Navjot Sidhu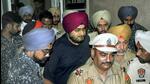 Updated on May 26, 2022 02:29 PM IST
Sidhu will not get any special meal in jail but if a doctor advises any special meal, he can buy it from the jail canteen or cook himself, a prison department official said.


Published on May 21, 2022 07:54 AM IST
Navjot Singh Sidhu who has been sentenced to a year's imprisonment in connection to a 34-year-old road rage case wanted some time before he surrenders as he needs to address some medical issues.


Published on May 20, 2022 10:47 AM IST
Punjab Congress leader Navjot Singh Sidhu was let off in 2018 in the road rage incident with a mere fine of ₹1,000. The Supreme Court enhanced Sidhu's punishment on a plea filed by the family members of Gurnam Singh, who had died in the incident.

Published on May 19, 2022 08:50 PM IST