Speaking at a gathering in Rupal which falls under his Lok Sabha constituency of Gandhinagar, Amit Shah said: "Such incidents of violence occurred back then. Twice, the Lord [Jagannath]'s chariot [for the yatra] was taken away."

The Supreme Court has rightly called out the former BJP spokesperson for being "single-handedly responsible for igniting emotions across the country", the Congress said.

Karnataka, Madhya Pradesh, Goa, Uttarakhand, Arunachal, Manipur, Meghalaya and then Maharashtra – Congress said people's mandate is being bulldozed again and again.

Asserting that the Ashok Gehlot government in Rajasthan was fully aware of its "Rajdharma", Congress media department chairman Pawan Khera said, "The Congress government is bound by the Constitution and every government should work within the ambit of the statute."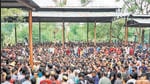 Chief minister Ashok Gehlot held an all-party meeting which condemned the murder and asserted that such acts have no place in a civilised society. The parties, including the opposition BJP, also demanded strict punishment for those involved in the crime, an official statement said.