Two army soldiers found shot dead in rented house in Patna
Updated on Sep 25, 2017 08:31 PM IST
The deceased men were friends. Police suspect the soldiers opened fire and killed each other following an altercation.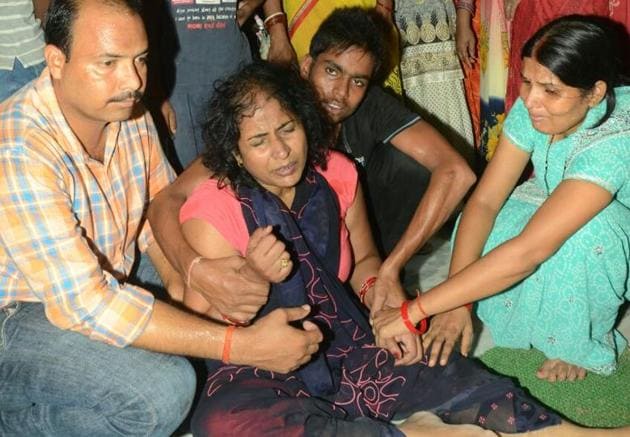 The bodies of two soldiers of the Indian Army were found at a rented house on the outskirts of Patna near the Danapur Cantonment area late on Sunday evening, police said on Monday.
The Patna Police recovered the bodies from a private house at Judges's Colony near the Danapur Cantonment on Monday morning. The two were shot from close range, the police said.
The dead soldiers have been identified as Santosh Kumar Singh, 30, and Rinkesh Kumar Singh, 22.
Rinkesh worked in the records section of the Bihar Regiment Centre (BRC) in Danapur. Santosh, a soldier with the first Bihar Regiment, an infantry regiment of the army, was posted in Arunachal Pradesh.
His wife lived in Patna in a two-room rented accommodation. Santosh, a resident of Chakia village under Masrakh police station of Saran district, had come to visit his wife for Dussehra. His wife and father had left the house for their native village two days ago.
Rinkesh, a bachelor and Santosh's friend, lived at the army barrack in Danapur.
Their bodies were found by Rinkesh's sister, Pinky, and her husband Manoj, who came Santosh's house to look for her brother. Pinky received a call from the army barrack, seeking to know from her about Rinkesh's whereabouts after he did not sign the entry register at the barrack the previous evening.
Pinky said she found Rinkesh's body near the bathroom and that of Santosh close by. The licensed rifle of Santosh was found on his body.
House owner Rajendra Singh, who immediately informed the local police, said four to five people visited Santosh on Sunday evening. Neither the neighbours nor house owner claimed to have heard any gunshot.
Police suspect the soldiers opened fire and killed each other following an altercation.
"We will be able to confirm if it is a murder or a suicide only after the forensic team examines the two bodies," city superintendent of police (west) Rabindra Kumar said.
However, army officials negated the police's version.
"If anyone were to kill oneself with a 315 rifle, the face and head would bear the brunt of the injury," an army official said.
A team led by chief records officer Lt Col Balkrishnan along with army intelligence officers reached the spot. Later, BRC Commandant Brig M Natrajan also visited the scene of the crime.