Voter ID haul to sting video: Five controversies of Karnataka elections
What's an election without controversies? Karnataka elections were no stranger to controversies that made headlines.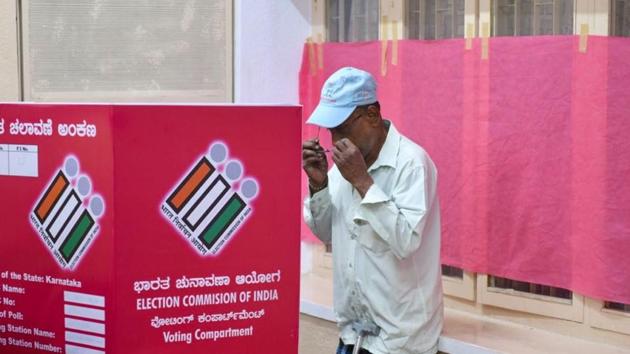 Updated on May 15, 2018 07:36 AM IST
Hindustan Times, New Delhi | By HT Correspondent
What's an election without controversies? Karnataka elections were no stranger to controversies that made headlines.
While internal politicking and ticket allocation triggered its fair share of controversies, allegations of corruption and fake voter ID cards were also brought up. Congress and BJP traded political jibes on everything, from historical figures to debating skills.
Also read: Track the Karnataka election results on our live blog and interactive maps that provide real-time data and analysis
As we await Karnataka election results on May 15, here is a recap of five controversies that dominated the election campaign:
The 15-minute debate challenge
During the Karnataka election campaign, prime minister Narendra Modi took a dig at Rahul Gandhi, challenging him to speak for 15 minutes without looking at any paper. "For 15 minutes, without taking a paper in your hand, can you please talk about the achievements of your government in Karnataka. You can speak in any language as you please- English, Hindi or your mother's mothertongue," Modi said.
This prompted Karnataka chief minister to respond with a counter-challenge. "Dear PM @narendramodi ji, I challenge you to speak about the achievements of B S Yeddyurappa's Govt in Karnataka for 15 minutes by looking at a paper. Sincerely Siddaramaiah," Siddaramaiah tweeted.
PM Modi's 'history' lesson
At one of his campaign rallies in Karnataka, Prime Minister Modi attacked the Congress and India's first prime minister Jawaharlal Nehru for 'mistreating' two of India's army chiefs, Field Marshall Cariappa and General Thimayya.
The Congress hit back, pointing out historical inaccuracies in Modi's statements. "Modi ji, Better start reading from a paper to brush up your knowledge of history. From 'Nalanda' to 'MRS Srisena, From 'Mohanlal' to today's stark gaffe about Gen Thimayya," Congress communications in-charge Randeep Surjewala responded on Twitter.
Tipu Sultan also made an appearance in the election campaign, with Modi criticizing the Karnataka government for celebrating Tipu jayanati. BJP president Amit Shah added to the controversy, saying that the Congress and Pakistan think alike as they both honour Tipu. Karnataka chief minister Siddaramaiah responded to Shah's comment, saying the BJP was desperate to rake up Tipu Sultan and Pakistan.
Over 9,746 voter IDs found in RR Nagar
Three days before Karnataka cast its vote, 9,746 'fake' voter ID cards were recovered from a flat in Rajarajeshwari Nagar constituency, leading both the Congress and the BJP to level charges against each other. The state's chief electoral officer Sanjiv Kumar told reporters that an FIR had been registered and an investigation was underway, but as per the preliminary verification the ID cards are of actual electors and appear to be genuine.
Election in the constituency was deferred to May 28.
Yeddyurappa's s son denied BJP ticket
For a while it seemed that the Varuna constituency would play out as a battle of the 'first sons' with Yeddyurappa's son BY Vijayendra set to contest against Siddaramaiah's son Yatindra. Vijayendra had even started campaigning in the constituency, strengthening the rumours, but the seat went to BJP leader Thothadappa Basavaraju.
Vijayendra's supporters protested the decision, but both father and son said that they accept the party's decision.
SC denies Janardhan Reddy permission to campaign in Ballari
The apex court rejected controversial mining baron Gali Janardhan Reddy's appeal to visit Ballari and campaign for his younger brother Gali Somashekhara Reddy, who is contesting the Karnataka elections from the seat as a candidate for the Bharatiya Janata Party (BJP).
Janardhan Reddy is on bail and cannot visit Ballari (formerly Bellary), the court said. He is an accused in an illegal mining case and has been arrested twice, once in 2011 and then again in 2015. He was granted bail by the Supreme Court in 2015.
Video surfaces of BJP's Sriramulu allegedly offering bribe
The Congress petitioned the Election Commission to disqualify BJP candidate B Sriramulu over a video that allegedly shows him trying to a bribe a relative of a former chief justice of India to get a favourable verdict in the illegal mining case against the Reddy brothers.
The sting video, which dates back to 2010, purportedly shows conversations between Sriramalu, a former CJI's son-in-law and Reddy. BJP president Amit Shah dismissed the video as sham.
Close Story