Gauri Lankesh murder: Family's difference of opinion only long-standing political split
Gauri and Kavitha continued to have differences of opinion with brother Indrajit on several issues. Even after the murder, Kavitha disagrees with Indrajit's suspicion of Naxal links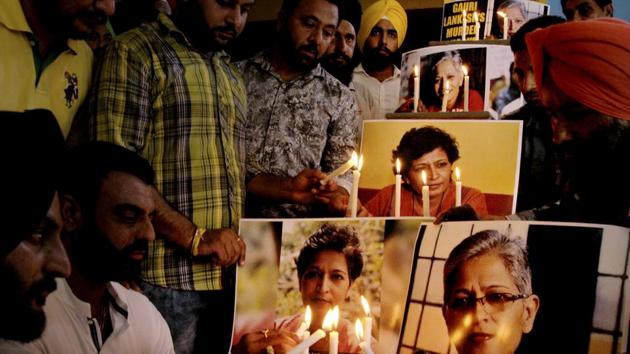 Updated on Sep 09, 2017 12:36 PM IST
GRIST Media |
Preethi Nagaraj
Within days of the death of journalist-activist Gauri Lankesh, the narrative about who is behind her murder is showing signs of mutating. Most observers, commentators, and even the Karnataka home minister have made statements drawing parallels between Lankesh's murder and that of rationalist MM Kalburgi's, allegedly by rightwing Hindutva groups in 2015. But, suspicions are now being deflected towards Maoists quite unexpectedly and by an unexpected source.
On September 6, Gauri Lankesh's brother, Indrajit Lankesh (filmmaker and editor of Lankesh Patrike) told NDTV that "she was receiving hate mails and hate letters" from Naxalites because "she succeeded in bringing a couple of them from Naxalism to the mainstream." His sister Kavitha Lankesh, however, disagrees. "I don't approve of my brother's airing [of] this opinion, that of suspecting Naxal links. Akka [older sister] was more in contact with us on a regular basis. We were close and we knew that someone was watching her as per what she told our mother on Sunday. That apart, I don't think we know much right now. It is for the investigating agencies to work on this and get her justice," she told Hindustan Times.
In one way, the divergence of opinion only reflects the long-standing political split in the Lankesh family. Middle sibling Kavitha, film producer and director, had always been close to her sister and they shared a roughly similar political ethos, one that was quite different from their brother's. Indrajit Lankesh, 40, is the youngest of the Lankesh siblings and, in July 2017, had talked of joining the BJP formally. He had said back then that he was inspired by PM Narendra Modi and compared BJP leader BS Yeddyurappa to the 12th century reformer Basavanna.
It was over a decade ago when the disagreements between the oldest and youngest siblings flared up dramatically. Gauri had come to Bangalore from Delhi in 2000 when her father P Lankesh died without a succession plan for the massively influential firebrand weekly Lankesh Patrike that he had started in 1980. Persuaded by the publisher Mani, Gauri plunged into work as the editor of the tabloid and Indrajit became the proprietor.
After a period of teething troubles, Gauri warmed to the job. She began working proactively on communal issues that were splitting Karnataka then, such as the dispute over Datta Peetha Abhiyana in Baba Budangiri. In 2005, she also went into the forests to interview charismatic Naxal leader and intellectual Saket Rajan who was killed in an encounter later that year. This story triggered the first of the siblings' major disagreements. When Gauri returned from her story on Rajan, Indrajit objected to what he felt was an overly compassionate portrayal of Naxals. Gauri didn't budge and Indrajit pulled the article from that edition. Their arguments then escalated wildly.
In 2005, both lodged police complaints against each other. Indrajit claimed that Gauri had stolen scanners, computers and printers from the premises of Lankesh Patrike. While Gauri made a counter-complaint that Indrajit had threatened her with a gun. With the intervention of well wishers, the siblings parted ways and the complaints were closed.
In the same year, Gauri founded her own tabloid Gauri Lankesh Patrike and Indrajit retained the original title, though he ran it from a new office. Gauri and sister Kavitha stayed in the original premises in the Basavanagudi neighbourhood where Lankesh Patrike was originally present. They bought Indrajit's share of the building by pooling in resources.
By now, Gauri was ready to eat, breathe and live her new publication through activism, political participation and strong involvement in local issues such as caste discrimination, Dalit politics, communalism and the Naxal movement in Karnataka. Jahnavi, a Kannada writer who associated with Gauri both through journalism and political causes, remembers, "Gauri was convent-educated and not a Kannada speaker. She'd initially think and speak only in English, but soon she metamorphosed into a total Kannada journalist and even got involved in many social issues that had to be addressed."
Gauri and Kavitha continued to have differences of opinion with Indrajit on several issues including, according to friends of the family, his decision to sell the land where their father had been buried. P Lankesh was first buried in one of their farms in Bangalore without rituals. That piece of property came to Indrajit when they divided the assets and he eventually sold that property without informing them, when the family had assumed he was going to keep the property, said the family friend. After many discussions that went nowhere, the sisters bought a place near Nelamangala and shifted the soil, under which their father was buried, to the new farm and made it his new resting place.
Over the years with the entry of the next generation, the feuding siblings met with each others' families occasionally. Gauri had no children, while Kavitha chose to be a single parent to her daughter Esha. Gauri and Indrajit's son Samarjit had a close relationship. Though the siblings continued to have an unsteady relationship, their children would often unite them. In some matters, they agreed. Gauri reserved her passion for politics while her siblings had an equally powerful engagement with Kannada cinema.
With Gauri's tragic murder, the family has been split once more. Except in urging the government to find out who killed their sister.
(Published in arrangement with GRIST Media)
Close Story