Journalist Gauri Lankesh, known critic of Hindu right-wing extremism, murdered
Sep 06, 2017 12:20 PM IST
The Karnataka Police is on the hunt to trace the killers of the senior Kannada journalist who was shot dead at her house in Bengaluru Tuesday evening.
The Karnataka Police is tracing the killers of senior Kannada journalist, Gauri Lankesh, a critic of Hindu extremism, who was shot dead at her house in Bengaluru on Tuesday evening.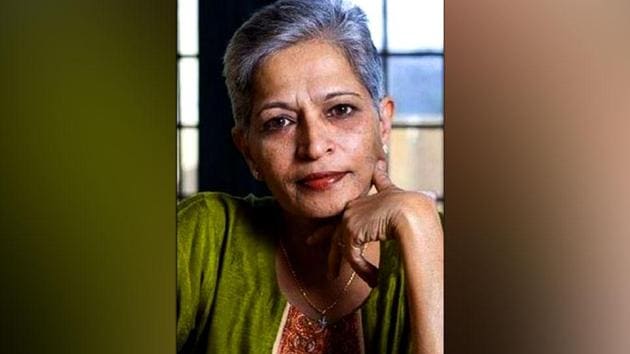 "The three special teams set up to crack the case are on the lookout for the suspected assailants. We are taking the movements of people and vehicles at check posts and inter-state borders," deputy commissioner of police (West) M N Anucheth told IANS in Bengaluru.
According to the police, at least three suspects were involved and Lankesh was found dead on her verandah around 8pm with bullet wounds to her head and chest. Television reports said seven bullets were fired at her and three hit her.
Lankesh, 55, was the daughter of famous poet-turned-journalist P Lankesh. She was the editor of Gauri Lankesh Patrike, writing often against Sangh organisations and communal violence in the country.
"This is not the death of a journalist, but the death of democracy and constitutional values. She had raised her voice against communal violence with us and we know that all our lives are in danger. But we did not expect this," said KL Ashok of the Karnataka-based Komu Souharda Vedike (Communal Harmony Forum), who worked closely with Lankesh.
Ashok said there "was no doubt" that Lankesh's killing was part of a larger conspiracy to kill rationalist ideas. "Narendra Dabholkar, Govind Pansare, MM Kalburgi and now Gauri Lankesh. They were all rationalist thinkers, and that is why they have been murdered," he added.
Read more: 54 attacks on journalists in 16 months, says report
In 2015, Left ideologue and Kannada author Prof MM Kalburgi was shot dead in a similar manner by an unidentified gunman at the doorstep of his home.
Bengaluru deputy commissioner of police MN Anucheth said, "It is too early to comment on the issue, we cannot reveal any further details at the moment."
Karnataka home minister Ramalinga Reddy said there were two CCTV cameras and three police teams were working on the case.
People began gathering outside her residence as news of her murder spread and protests started at the Corporation Circle in the heart of Bengaluru and near her home.
In November, Lankesh was convicted by a court for defaming two BJP leaders for articles published in her periodical in 2008. She was sentenced to six months in jail and asked to pay Rs. 10,000 penalty. Lankesh had been granted bail.
Journalists as well as several politicians condemned the killing.
Shortly after the murder, Karnataka chief minister Siddaramaiah expressed shock in posts on Twitter: "In fact, this is an assassination on democracy. In her passing, Karnataka has lost a strong progressive voice, and I have lost a friend".
Congress vice president Rahul Gandhi too spoke out against the murder.
In an interview she gave to Newslaundry in 2016, Lankesh expressed concerns over freedom of expression being under attack from right-wing trolls.
Read more: Reporting under duress: Journalists in India work amid increasing danger
She recounted the 2015 murder of Left ideologue and Kannada author Prof MM Kalburgi, who was shot dead in a similar manner by an unidentified gunman at the doorstep of his home
Two months after Kalburgi's murder, a young Dalit writer of a book critiquing the Hindu caste system was abducted and assaulted by goons in Karnataka. Writer Huchangi Prasad said his assaulters kept calling him a traitor.
Before Kalburgi, Maharashtra rationalist and communist leader Govind Pansare was shot along with his wife during a morning walk on February 16, 2015, near their home in Kolhapur. He died in hospital four days later.
The main suspect in the Pansare murder is allegedly associated with Sanatan Sanstha, a Hindu right-wing group.