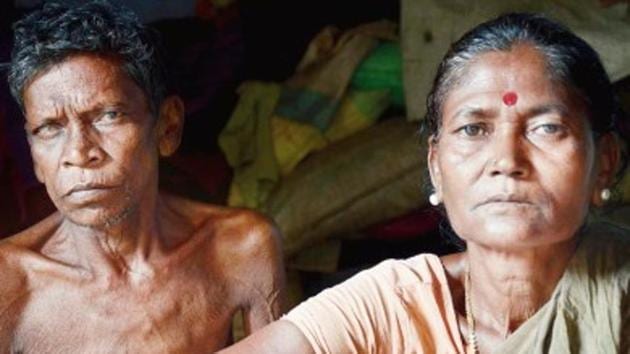 Couple sad after failing to file nomination for Bengal panchayat polls for the first time in 30 years
Ajay and Madhuri Bagdi live in Bengal's Birbhum district, where the ruling Trinamool Congress party won 100% of the zilla parishad seats, 84% of panchayat samitis and an equal share of gram panchayats without contest.
Hindustan Times | By Koushik Dutta
, Midnapore
PUBLISHED ON MAY 02, 2018 02:41 PM IST
Ajay Bagdi and Madhuri Bagdi are a sad couple. Undeterred by the forfeiture of deposits on every occasion, either the husband, or the wife, has been filing nomination for Bengal panchayat elections for 25 years. But intimidation by ruling Trinamool Congress supporters has discouraged them from contesting this year -- for the first time in three decades.
The Bagdis live in Dubrajpur area of West Bengal's Birbhum district where the ruling party has won all 42 seats of the zilla parishad (100%), 16 out of 19 panchayat samitis (84%) and 140 out of 167 gram panchayats (84%) without contest, leaving the state average of 34.2% seats behind by a long shot.
Read: Calcutta HC says division bench will take final call on date of Bengal rural polls
"We are getting old. What will happen if we are beaten up and limbs are broken? We don't have any child to look after us," said Ajay Bagdi, who is in his mid sixties.
"It's better to be safe than sorry," he said with a sigh.
Ajay Bagdi earns his living as a daily labourer. He has contested thrice so far, and his wife twice.
The Bagdis live in Hetampur gram panchayat, about 200 km from Kolkata. There are about 1,350 voters in the area.
Read: Bengal panchayat polls: Thanks to TMC, the process has turned into a travesty
In a microcosm, the couple captures the spirit of Indian democracy. Last time, Ajay Bagdi contested with the symbol of a mango. He won 45 votes.
Though they earn about Rs 3,000 a month, they used to pay the deposit of Rs 150 required for contesting at the gram panchayat level with a smile.
The Bagdis would manage to write about four to five graffiti, and would go around the village on foot pleading with the neighbours to vote for him. Often the neighbours would offer them a seat, tea and puffed rice and chat for some time. In 2013, Ajay Bagdi contested with the symbol of a mango. He got about 45 votes.
Read: Ahead of elections, Mamata Banerjee's TMC takes right turn to counter BJP in Bengal
"To win or lose is a part of life, and also elections. I wanted to contest this time too," said Madhuri, who is in her early fifties. "I am unwell, but still I wanted to visit the block development office to propose the name of my wife. But I could not muster enough courage after watching how blows rained on many candidates," said Bagdi.
This time the seat was reserved for women.
In 2013, there were six contestants in Hetampur gram panchayat, but this time Swantana Hazra of Trinamool Congress won without a contest. None else could file nomination.
"This seat is no exception. We are not been able to file a single nomination in 10 gram panchayats in Dubrajpur area. None dared to face the goons of the ruling party," remarked Ramkrishna Roy, BJP president of Birbhum district.
Trinamool leaders, however, trashed the allegations. "We have not prevented anyone for filing nomination. The opposition does not simply exist. If the woman really wanted to contest then she could easily file nomination papers," said Piyush Pandey, Trinamool Congress leader from Dubrajpur area.
"Democracy is in danger. The elderly couple is a proof how the rights of the common people has been trampled upon in these elections. They are not even able to contest and the ruling party is boasting of developments and upholding rights for the poor," said Sailen Mishra, the secretary of CPI(ML) in Birbhum district.
Close