Bengal panchayat polls: Thanks to TMC, the process has turned into a travesty
The rural polls are crucial for parties to assert their hold and power at the grassroots level. The run up to the polls have been marked by bitter acrimony and large-scale violence as the BJP tries to increase its footprint in Bengal and the TMC does whatever it can to hold on to the power it has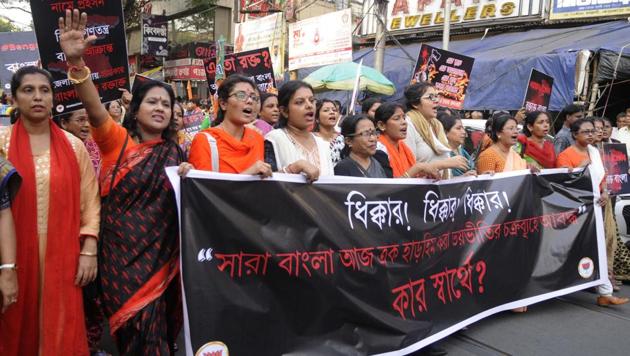 Published on Apr 30, 2018 07:27 PM IST
West Bengal's ruling party has achieved a unique feat. A fortnight before polling day, it has won more than one-third of the seats in the forthcoming rural polls. The Trinamool Congress (TMC) has won 34.2% of the 58,692 seats in the three-tier panchayat structure, setting an electoral record. After the withdrawal of nominations, the party won 34.56% of the seats at the gram panchayat level; 33.18% at the panchayat samiti level; and 24.6% at the zilla parishad tier. Chief minister Mamata Banerjee's party also won as many as four zilla parishads (district councils) out of 20.
The rural polls are crucial for parties to assert their hold and power at the grassroots level. The run up to the polls have been marked by bitter acrimony and large-scale violence as the BJP tries to increase its footprint in Bengal and the TMC does whatever it can to hold on to the power it has. Panchayats have been hailed as an optimum model for decentralising administration. In Bengal, it has also become a model for decentralisation of muscle power. Even before nominations began at 11 am on April 2, young men on motorcycles, armed with sticks and swords, were seen outside block development and sub divisional offices where nomination papers were to be submitted. The idea was to prevent opposition candidates from even filing nominations.
Over the next few days, every weapon of intimidation, from phone calls to crude bombs and firearms were freely deployed. The result: even the record of the formidable Left front — it won a maximum of 11% of the total seats uncontested in 2003 — paled before the Trinamool juggernaut. Usually, the percentage of seats won uncontested has been in single digits.
More may be in store on May 14, the day of polling. The state has 58,476 booths and just about 81,000 policemen, including about 6,500 government railway police and 12,000 police without firearms. The State Election Commission settled for single-day polling schedule after Ms Banerjee insisted that elections should be held before the Ramzan month (likely to begin on May 16). In 2013, the rural poll was held in five phases, all during the month when many Muslims fast between dawn and dusk.
The government is spending ₹360 crore on rural elections this year. That is without budgeting for the cost of millions of man-days. The cynical view is, the money could have been better spent — the estimated expenditure for the polls is almost 40% of the budgetary allocation of ₹905 crore for backward classes welfare. Worse, with a third of the seats won without a contest, the process has turned into a travesty.
Close Story