Mumbai FYJC admissions: Stick to the rules and you will be fine, say college principals
Updated on May 24, 2017 09:43 AM IST
Mumbai city news: College principals in Mumbai advise students to familiarise themselves with the changes in the admission process for FYJC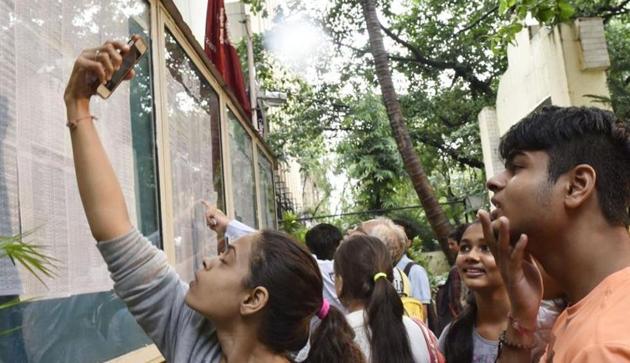 Hindustan Times |
, Mumbai
Puja Pednekar & Bhakti Makwana
Even as a new process will be rolled out for the upcoming first-year junior college (FYJC) admissions, 2017-18, college principals in Mumbai advise students to familiarise themselves with the changes well in advance, to prevent a repeat of last year's chaos.
Last year, the FYJC admissions, carried out through a centralised process, were marred by confusion, with students complaining of not getting seats in colleges of their choice, even after scoring higher than the cut-offs, among others. Even, an audit report released by the government blamed students for the chaos.
"The problem last year was that students did not read the rules properly, and made mistakes in filling out the option form," said Kavita Rege, principal, Sathaye College. She said that there will not be any confusion if students abide by the rules given out by colleges and government. "The admissions take place only through a merit basis," said Rege.
She said that from this year, students cannot even change colleges at random in class 12, as those admissions too have been centralised.
Colleges are awaiting the FYJC manual or booklet, which will contain all the rules and other details, to understand the new admission process. "The FYJC admissions booklet is quite comprehensive, it will help students in applying to colleges," said Vidyadhar Joshi, Vaze Ketkar College. "Most of the time, students get it wrong and end up blaming system errors. If students read the booklet properly, problems will rarely occur," added Joshi.
Students excelling in cultural activities will also get a double advantage this year with additional marks in SSC exams and 3% reservation.
The extra marks for students proficient in cultural quota were introduced this year through a government resolution (GR) issued on January 8, stating that they will be awarded 10 to 25 additional marks, in their Secondary School Certificate (SSC) exams.
Read Mumbai FYJC admissions: 13,000 more seats to be available this year
List your preferences of colleges judiciously, says deputy director of education
With the FYJC admission process undergoing a complete overhaul this year, BB Chavan, deputy director of education, Mumbai region, explains the rationale behind the changes, and how students can make the most of it.
Why has the FYJC admission process changed again this year, after it was revamped last year?
Students and parents were disgruntled with last year's admission process. Many complained that they did not get seats based on merit, while others pointed out flaws. On the basis of this feedback, the state decided that the process needs to be further improved, so a government resolution was issued in December last year, to make it more 'student-friendly'.
So how will the new admission process benefit students?
This time, we have changed the admission process keeping the students' needs in mind. Several changes such as fewer college options, scrapping the concept of provisional admissions and allowing admissions on predicted scores, are incorporated based on the feedback we received from parents, students, and colleges last year.
Does the new admission process guarantee students a seat in their college of choice?
Considering the competition in Mumbai, it is impossible to promise students a college of their choice. But if the students follow all the rules and regulations, then they are more likely to find a seat in one of their preferred colleges.
Students will be able to apply to fewer colleges this year. How will that help students?
One of the most important changes in the online admissions this year is that students will be able to apply for a minimum of one to a maximum of ten colleges. We have reduced the options after receiving complaints from students that they were forced to apply to colleges they were not really interested in because we had made it compulsory for them to fill 35 preferences in the option form.
Considering that over 700 colleges are participating in online admissions, can you suggest on what basis students should pick the ones they want to apply to?
Students need to be realistic while applying to colleges. The rule if thumb is to choose a college whose cut-off is 5% less than their score. They must fill the option form after carefully each and every choice. If you don't select colleges based on your merit, then you will be stuck with a college that might not be your top preference.
What is your advice to the FYJC aspirants seeking to apply for the coming admission process?
Please remember that all admissions to quota and general seats will be conducted online. So we request all FYJC aspirants to register in the online process. After the online admission process is over, colleges will not be allowed to admit students offline. Also, if students get their first preference in any of the admission rounds, it is mandatory for them to take admission there, or else they will be thrown out of the system. That's why it is important to list your college preferences judiciously.
Read: Mumbai's FYJC admissions to become 'student-friendly', but be careful, say experts