'Don't expect easy waivers': US warns Iran crude buyers including India
The latest American threat comes despite the Narendra Modi government conveying to the Trump administration that India is a fit case for a presidential waiver on deal with Russia and the sanctions on trade with Iran.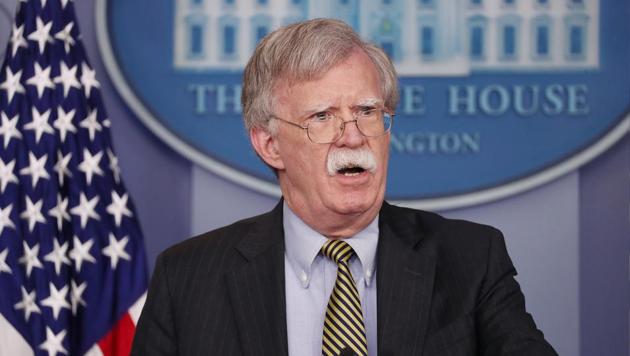 Updated on Oct 06, 2018 12:06 AM IST
Hindustan Times, Washington |
Yashwant Raj
A top Trump administration official on Thursday warned buyers of Iranian crude such as India that they should not expect easy and frequent waiver and exemptions from the second wave of US sanctions that kicks in on November 5, targeting Iranian oil, ports and banking sectors.
"This is not the Obama administration … is my message to them (the importers)," John Bolton, national security adviser to the US president, told reporters at a news briefing on the administration's new counterterrorism strategy to maintain maximum pressure on Iran.
The latest American threat comes despite the Narendra Modi government conveying to the Trump administration that India is a fit case for a presidential waiver from the provisions of Countering America's Adversaries Through Sanctions Act (CATSA) on Russia and the sanctions on trade with Iran.
"The frequency and the ease of getting waivers and exemptions is not going to be our policy," the NSA said.
The Obama administration had allowed large importers of Iranian crude such as India, Japan and South Korea to cut their purchases gradually and verifiably significantly every six months to avoid sanctions. The goal was to wean them away from Iranian oil and give them time to find alternate sources.
Referring to his warning to importers there will be fewer waivers and exemptions Bolton said he and other US officials have had meetings with senior Indian officials including his Indian counterpart Ajit Doval "where we made clear the views we have on trade with Iran".
Late last month, Iranian foreign minister Mohammad Javad Zarif claimed after a meeting with his Indian counterpart Sushma Swaraj at the UN that India is committed to buying Iranian oil and continuing the economic cooperation of the two countries.
India is the third largest buyer of crude oil from Iran, a long-time supplier with whom ties go much beyond. The strategic Chabahar port which Iran will soon handover to an Indian company for operation, not only gives India access to Afghanistan, where the Trump administration expects New Delhi to help in economic reconstruction, but also into the larger expanse of Central Asia.
India has said it plans to draw down its Iranian crude import to zero. But it has not received any public notice about consequences of missing the November 4 deadline.
India has been through this process before, having had to deal with sanctions imposed by the United Nations and reinforced by President Barack Obama leading to the signing of the Joint Comprehensive Plan of Action in 2015 which ended the sanctions in 2016.
Trump pulled the US out of it in a bid to force Tehran to sign a new agreement that will end its nuclear and ballistic missiles programmes in perpetuity, give up its "malign activity" in the region. Sanctions are back, with new ones.
New Delhi worries more about a lack of clearer picture on Chabahar. A senior US state department official recently said that the United States has taken into "advisement" a case made by India for a carve out for the port complex. But, once again, the lack of a clear and unambiguous US position is troubling.
While the United States has stressed its objective to apply maximum pressure on Iran by driving away its importers such as India, it also wants to, unlike the Obama administration to ease the separation by finding alternate suppliers who are willing to sell at market rate and not exploit the desperation.
"We have gone to extra lengths really to try and find substitute sellers of oil so that there would be alternative suppliers at market price, and i think this was something the Obama administration was not doing at all," Bolton said.
But India says there is lack of clarity on waivers and the distinction made with the Obama administration's expectation of a gradual drawdown, helped every stage of the way though waivers granted by the state department.
Questions still remain about how much should "significant reduction" be by November 4 to escape the sanctions? How long will the administration give for buyers to go to zero, if that remains the objective? And who will measure and certify these reductions?
The Obama administration had a system in place — the state department was delegated the authority to measure and certify significant reduction that formed the basis for waivers. The Trump administration doesn't want to be seen different but has yet to announce a plan to prove it's serious about it.
Topics
Close Story
Personalise your news feed. Follow trending topics