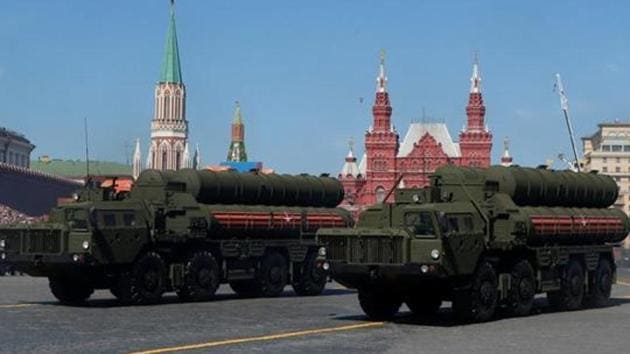 India makes case for sanctions waiver from US over Russia deal, Iran oil
New Delhi urges the US to make exception for its S-400 missile system deal with Russia and oil import from Iran
UPDATED ON OCT 05, 2018 09:07 AM IST
The Narendra Modi government has conveyed to the Trump administration that India is a fit case for a presidential waiver from the provisions of Countering America's Adversaries Through Sanctions Act (CATSA) on Russia and the sanctions on trade with Iran due to the legacy military relationship between New Delhi and Moscow, and a possible $6 per barrel rise in India's oil import basket if the country cuts supplies from Tehran without compensation.
"We hope our major strategic ally US will appreciate India's concerns and make an exception when it comes to the acquisition of S-400 missile system from Russia and oil supplies from Iran," said a senior Modi government official who has been talking to the Americans. India and Russia are expected to sign the deal for five units of S-400 missile system during official talks on Friday with a Russian team headed by President Vladimir Putin.
India is cautiously optimistic about the Trump administration granting a CATSA waiver on the basis of a positive three-hour-plus discussion between National Security Advisor Ajit Doval, US Secretary of State Mike Pompeo, Secretary Defence James Mattis and US NSA John Bolton on September 14 in Washington. Doval had a 90-minute intense discussion with Secretary Mattis on the need for India to acquire the S-400 missile system. The Indian NSA then went on to brief Secretary Pompeo for over an hour and NSA Bolton for around 45 minutes. NSA Doval conveyed to his US interlocutors that the decision to acquire the S-400 system from Russia was taken much before CATSA was enacted (the act was passed in August last year). However, India has made it clear through technical presentations that it will not allow sharing of signatures of US-built platforms with IAF through the S-400 system, one reason why the US, which recently a key military communication agreement with India have a dim view of this deal. It was also made known to the US principal advisor to President Trump that oil prices in India will shoot up if New Delhi totally stopped crude import from Tehran without any adequate compensation. While India has ass-ured the US that it will make all efforts to reduce its oil dependence on Iran and military hardware dependence on Russia, a sudden cut would also amount to breaking of diplomatic dialogue with countries having age old relations with New Delhi. The impact of CATSA was also discussed between NSA Doval and his Russian counterpart Nikolai Patrushev and Iranian counterpart Ali Shamkhani on sidelines of a meeting of NSAs from China, Iran, Russuia, Afghanistan and India in Tehran on September 26.
The Modi government is also keen that the US waiver happens quietly. India considers the US a very close strategic ally with which it has a convergence on a range of global affairs.
The US, on its part, also understands that sanctions on India will drive a wedge between the two natural allies and force the country to co-operate more with China and its ever-growing ally Russia. The picture gets further complicated if India reneges on the S-400 deal and oil imports,a move that could strengthen ties between Russia, China and Iran, unravelling New Delhi's long term support to Afghanistan and its carefully scripted strategy for the region.
Topics
Close