The article has been authored by Amar Patnaik is a Member of Parliament, Rajya Sabha, from Odisha

Gopal Baglay, the Indian envoy to Sri Lanka, delivered the donation from the southern Indian state of Tamil Nadu to Sri Lanka's Foreign Minister Gamini Peiris late Sunday.

'It is with a sense of dismay and concern that India notes WHO's recent exercise on all cause excess mortality, where our country specific authentic data published by the statutory authority has not been taken into account,' said Mandaviya.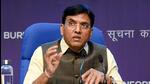 India and Japan are natural partners, sharing a relationship based on spirituality and cooperation, and the Japanese are playing in an important role in the country's infrastructure and development initiatives, Prime Minister Narendra Modi said on Monday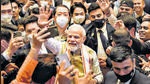 India joined a dozen other nations on Monday to launch the Indo-Pacific Economic Framework for Prosperity (IPEF), a US-led trade initiative meant to counter China's aggressive expansion in the region, with Prime Minister Narendra Modi emphasising the need to establish an "inclusive and flexible" structure.