A nostalgic sight in Indian interior decor, rattan is constantly being reinvented even in luxury home furniture and decor as the world is steadily moving towards an eco-friendly aesthetic. Here are a few tips to use rattan in indoor and outdoor home decor

With Sri Lanka, Pakistan and Nepal in economic doldrums, and Afghanistan under Islamist Taliban occupation, the future of SAARC is dark. This leaves India no option but to engage neighbourhood bilaterally and ensure that its national security is not compromised.

The train services between Kolkata and cities in Bangladesh were suspended in March 2020 as a precautionary measure against the spread of Covid-19.

India started receiving the delivery of the S-400 missile defence system from Russia in December last year.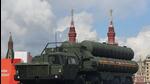 The BRICS meeting of the foreign ministers via video, to be hosted by China, will take place in the backdrop of the Russia's ongoing invasion of Ukraine and the dragging Covid-19 pandemic, which is showing signs of resurgence in pockets of the world.