Russia-Ukraine war: Military base attacked, American scribe killed. 5 big points
Mar 13, 2022 10:50 PM IST
Russia-Ukraine war: The fighting between both the forces continued for the 18th straight day, with civilians bearing the brunt of missile strikes and shellings
The fighting between the Russian and Ukrainian forces went on for the 18th straight day. Amid the missile strikes, artillery shellings and gunfires, the common citizens continued to bear the brunt, losing their dear ones. The three rounds of talks between the delegations of the warring nations have failed to produce a concrete results, as the war ravages the country.

From the killing of an American journalist in Irpin to the deaths of 35 people in Lviv after a military base came under Russian missiles attack, here are five big developments at this hour.

> At least 2,178 civilians have lost their lives in Mariupol since the fighting began on February 24, the city council said as per news agency AFP. The deaths reported a spike of 1,000 since Wednesday as the Russian forces continued their attacks on various Ukrainian cities.

> At least 35 people were killed and 134 injured after Russian rockets targeted a military base near Lviv in Ukraine. According to the Ukrainian authorities, Moscow fired 50 rockets out of which several of them were intercepted before they hit the targets.

> An American journalist Brent Renaud was shot dead in Irpin, a satellite city near Kyiv. Another journalist Juan Arredondo who accompanied the late 50-year-old journalist was wounded after the car they were travelling in came under attack after crossing a Ukraine-controlled checkpoint. The New York Times paid tribute to Renaud but maintained that the slain journalist was not on assignment in Ukraine.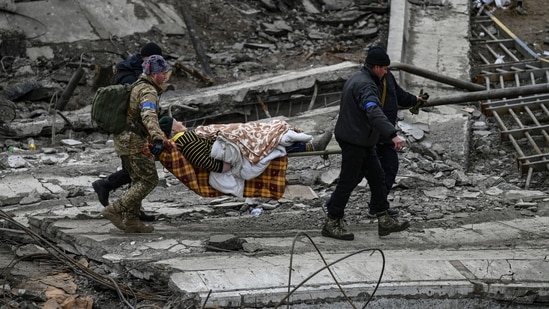 > The United States has warned Russia against targeting any member states of NATO alliance. White House National Security Adviser Jake Sullivan said that Moscow will face a stern response from NATO if the attacks hit any member state of the alliance. "President Joe Biden has been clear repeatedly that the United States will work with our allies to defend every inch of NATO territory and that means every inch," he told American TV channel CBS News.

> Pope Francis condemned the Russian invasion of Ukraine once again, calling it an 'armed aggression'. During his Sunday address, the Pope said, "In the name of god…stop the massacre." He termed the bombing of hospitals and civilian targets in Ukraine 'barbaric which must stop'.