Manzoor E Khuda: Katrina Kaif pulls off spectacular dance moves in new Thugs of Hindostan song
Updated on Oct 31, 2018 01:05 PM IST
Katrina Kaif strikes sultry poses in new song from Thugs of Hindostan, Manzoor E Khuda. Check it out: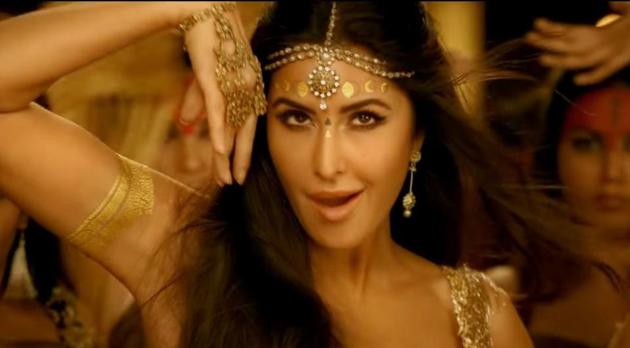 Depend on Katrina Kaif to make any outfit, any song look a thousand times better than expected. The Bollywood star looks ravishing in a new song from her upcoming movie Thugs of Hindostan.
Dressed in a sparkly outfit, Katrina shines bright in the song, Manzoor E Khuda. She reminds us of the sculptures from Ajanta Ellora Caves as she strikes poised dance poses and slides across floors. She is wearing jewellery on her forehead, torso and ankles and also has her feet painted in alta. Check it out:
Katrina will be joined by Fatima Sana Shaikh and Aamir Khan in the song. "Manzoor E Khuda comes at a very crucial turning point in the film and it had to be a moving, powerful song. I think its lyrics, composition and vocals have created an overwhelming effect, making this salute to being free an incredibly special song. We love the song and we are certain that the audiences will love the spirit of freedom in it," director Vijay Krishna Acharya said.
Katrina also recently shared a behind-the-scenes video of herself rehearsing for another song from the movie, Surraiya. She is seen pulling off some intense dance moves from the song in the video. "When I first saw the choreo for Suraiyya, I was like is it jazz ,is it ballet, is it folk ,,, but that's dancing with Prabhudeva ... u cannot define his style it's so unique, he gives the song such a unique personality with his choreography. He spent a lot of time with me in rehearsals helping me figure the style , I loved it all (apart from a few moments of tears of frustration)but in the end it was the hook step which we had so much fun with," she captioned the video.
In the video, both Katrina and Aamir are dressed in casual workout wear and are seen learning steps at a dance studio. The duo has earlier worked together in Dhoom 3. The makers have been piquing the curiosity of the audience by releasing behind the scene videos and teasers from the film. The first song from the movie titled Vashmalle, featuring Big B and Aamir, has already been released.
The film is set in 1975 when the East India Company ruled over India and is based on Philip Meadows Taylor's 1839 novel Confessions of a Thug. It is about a gang which posed a serious challenge to the British Empire in India during the early 19th century.
The movie is set to hit the theatres on November 8, 2018.
(With inputs from ANI)
Follow @htshowbiz for more
Personalise your news feed. Follow trending topics