Shah Rukh Khan and Twitter CEO Jack Dorsey banter online, SRK says his tardiness is 'fake news'
Updated on Nov 15, 2018 09:06 AM IST
Twitter CEO Jack Dorsey and Shah Rukh Khan had a meditative meeting in Mumbai on Wednesday, reportedly just before SRK jetted off for Deepika Padukone and Ranveer Singh's Italy wedding.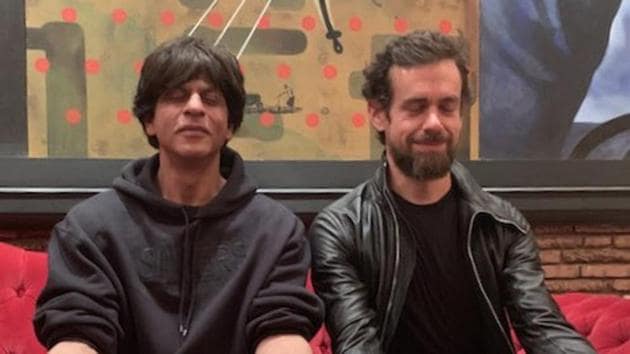 Twitter CEO Jack Dorsey, who is in India, has been meeting important figures from the world of politics. Jack tweeted images from his meeting with PM Narendra Modi on November 13. He also met Congress president Rahul Gandhi and the Dalai Lama. But on Wednesday, Jack flew to Mumbai to rub shoulders with celebrities. And the first person he reached out to was Shah Rukh Khan.
"U up?" he tweeted at SRK, to which Shah Rukh had a cheeky reply. "Up and Ready. And shockingly on time...if anybody has warned u about my tardiness they r just spreading 'fake news...'"
Jack's next update came from the gates of Shah Rukh's house, Mannat. Posting a picture from outside, Jack tweeted, "knock knock."
Shah Rukh shared an image from their meeting, which showed them in a meditative pose. "Today @jack made me realise with his calm demeanour & composed, nearly meditative mindset...'that all Work and no Pray, would make Jack a dull boy." Thx for dropping in & also team @Twitter for a lively evening. Have a happy stay in India," SRK wrote.
An India Today report says that the meeting took place shortly before Shah Rukh was scheduled to head off to Italy, where he will attend the second day of Ranveer Singh and Deepika Padukone's wedding at Lake Como. The couple were married in a traditional Konkani ceremony on Wednesday, with a Sindhi ceremony to follow today.
Jack, on his India visit, has spoken about Twitter's importance in the 2019 general elections. He wrote that PM Modi had some ideas for Twitter which he was thankful for. Addressing a town hall at Delhi's IIT, Jack stressed the importance of curbing fake news on the platform. "The real problem is not misinformation per se as jokes can also be categorised as misinfomation. But misinformation that is spread with the intent to mislead people is a real problem," he said. Jack also confirmed that plans for introducing an edit feature on Twitter are on, but they can't rush into it.
Follow @htshowbiz for more