Deepika Padukone-Ranveer Singh wedding highlights: Bollywood stars married in traditional Konkani ceremony
Ranveer Singh and Deepika Padukone, who are in Italy for their two-day wedding festivities, were married in a traditional Konkani ceremony today at Villa del Balbianello in Lake Como. An Anand Karaj ceremony, held in the Sikh tradition, will be held on Thursday. The Ranveer-Deepika wedding will be attended by their close friends and family.Security measures at the event locations have been compared to that provided for world leaders, with drone interceptors in the sky and guests being made to wear special wrist bands and scan unique QR codes on their phones to gain entry. Of course, pictures have been hard to come by. While photos may be elusive, a few details from Deepika and Ranveer's sangeet and mehendi ceremonies have begun to trickle out. For instance, Deepika teared up at the sangeet ceremony during a Shubha Mudgal performance, while Ranveer made a grand entry to his Gunday song, Tune Maari Entriyaan.With two important ceremonies to be conducted on Wednesday and Thursday, get all Deepika-Ranveer wedding highlights here.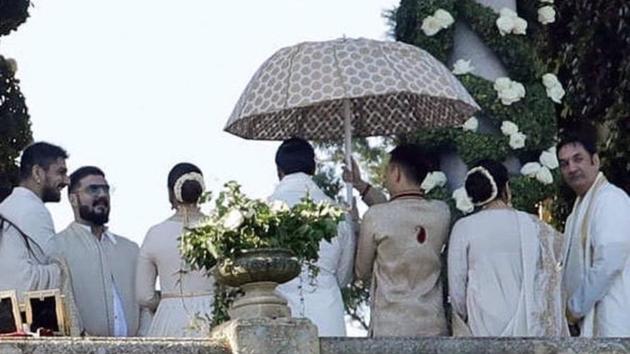 Updated on Nov 14, 2018 10:54 PM IST
10:36 pm IST
Smriti Irani gets impatient for pics
Textiles Minister Smiti Irani shared a meme on Instagram about how she has also grown impatient for Deepika Padukone's wedding pictures.
10:00 pm IST
Bollywood stars wish the newlyweds
Karan Johar, Kapil Sharma, Madhuri Dixit and more wished Deepika and Ranveer on their wedding. Read full story here.
9:35 pm IST
Guests seen leaving the wedding venue
ANI has shared a video of Deepika and other wedding guests leave the wedding venue.
#WATCH: Visuals from Villa del Balbianello at Lake Como, the wedding venue of Deepika Padukone & Ranveer Singh, in Italy's Lombardy pic.twitter.com/47Jk1MmU2j

— ANI (@ANI) November 14, 2018
9:10 pm IST
Riteish Deshmukh wishes the newlyweds
"Heartiest Congratulations to the newly weds @deepikapadukone & @RanveerOfficial - wishing you both a happy married life. It's blissful to see love culminate into marriage. Loads of love & big hug to you guys," he wrote in his tweet.
8:50 pm IST
New video shows Deepika in a red saree
A new video shows Deepika at the wedding venue in a red saree. She is covered in black umbrellas as she takes the boat to leave the villa.
8:30 pm IST
Madhuri Dixit wishes the newlyweds
Madhuri Dixit tweeted, "Wishing you guys a lifetime of togetherness, love and happiness @deepikapadukone & @RanveerOfficial May this be the best chapter of your life. Make the most of it. God bless!"
8:15 pm IST
Deepika's mother, sister seen in wedding pics
Deepika's mother Ujala and sister Anisha are seen walking to the venue after arriving in boats.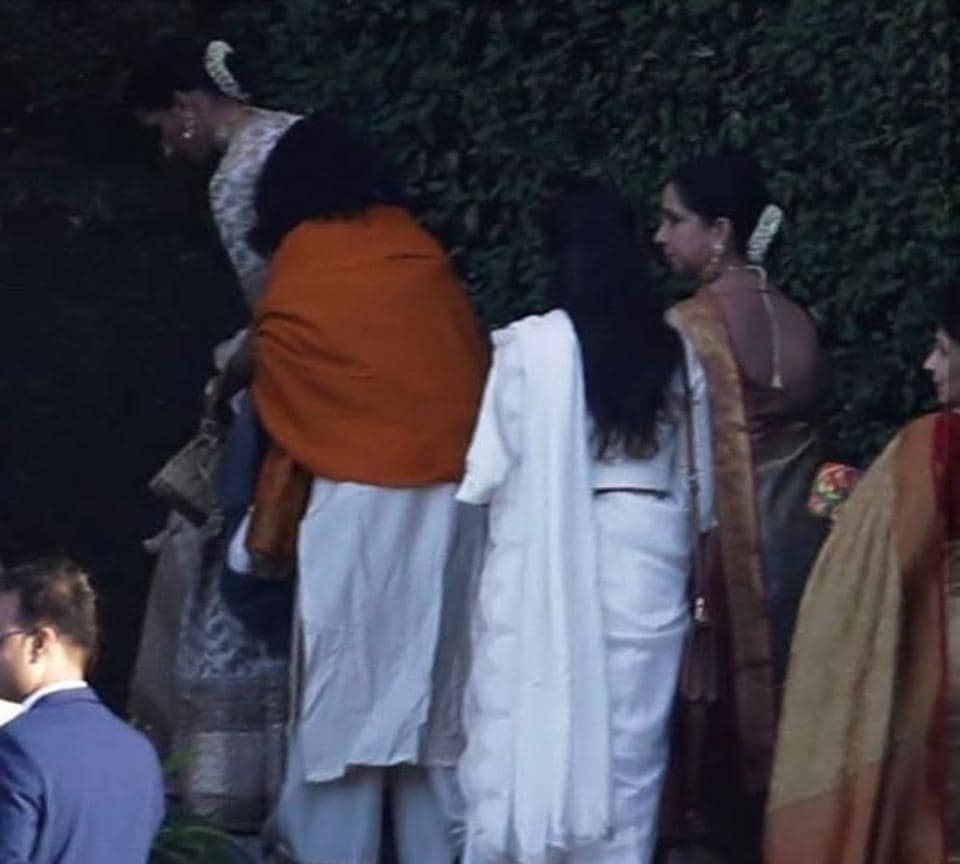 8:00 pm IST
New pic shows Ranveer's parents at the wedding
New pictures from the wedding show Ranveer's parents arriving at the patio of Villa del Balbianello.
7:50 pm IST
Watch Deepika, Ranveer at their wedding venue
Watch Deepika and Ranveer at their wedding venue in Italy's Lake Como. See more pics here.
7:34 pm IST
Karan Johar says he hasn't seen Ranveer, Deepika's wedding pics
Karan Johar has refuted rumours that he has already seen the wedding picture of Ranveer and Deepika. He took to Twitter to clarify on the rumours.
I have not seen ya! I want to see just like the rest of the nation does 😍 https://t.co/jTtX35z5n8

— Karan Johar (@karanjohar) November 14, 2018
7:24 pm IST
Simi Grewal wished Deepika, Ranveer
Veteran actor Simi Grewal wished Deepika and Ranveer on their wedding. She said to Ranveer that the 'princess in yours'.
Dearest @RanveerOfficial & @deepikapadukone .. as you embark on a journey of life together.. sending you oh! countless fab wishes! Have fun each day – love more – and make happiness together! Ranveer you can't ask for more - the princess is yours!!

— Simi Garewal (@Simi_Garewal) November 14, 2018
7:17 pm IST
Kapil Sharma wishes the newlyweds
Television host and comedian wished Ranveer Singh and Deepika Padukone on their wedding.
Heartiest congratulations dearest @RanveerOfficial n @deepikapadukone on ur wedding. The most beautiful couple of this world. May god bless u with all the happiness n love. Love u both 😘😘😘😘😘 #RanveerWedsDeepika pic.twitter.com/wU6HRQbvu6

— KAPIL (@KapilSharmaK9) November 14, 2018
6:47 pm IST
First photos of Deepika, Ranveer as bride and groom
Ranveer Singh and Deepika Padukone are seen as a bride and groom from their wedding ceremony in Italy in a new video. Ranveer and Deepika appear to be dressed in off-white with a gajra in Deepika's hair. Check out all their first pics here.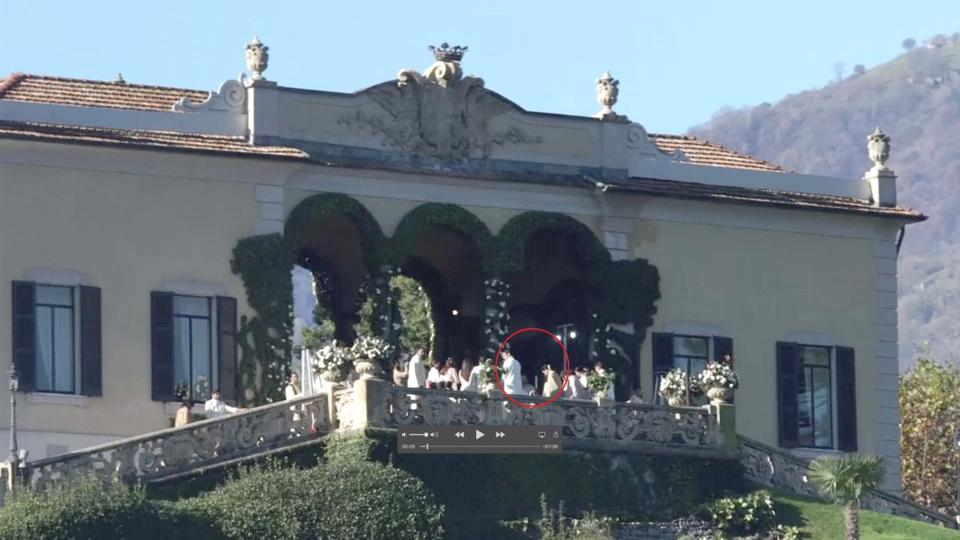 Deepika and Ranveer as bride and groom at their Konkani wedding.
6:02 pm IST
Ronit Roy wishes the couple
Television actor Ronit Roy has wished Ranveer and Deepika on their wedding.
@deepikapadukone and @RanveerOfficial CONGRATULATIONS!!!!! Good wishes and prayers for a life together filled with love luck and happiness.......and lots of babies!!!

— Ronit Bose Roy (@RonitBoseRoy) November 14, 2018
5:45 pm IST
Amul wishes Deepika, Ranveer with a new doodle
Dairy brand Amul has wished the newlyweds with a new doodle that claims Ranveer is not 'Singhle' anymore.
5:40 pm IST
Details from Ranveer-Deepika's wedding out
From guests' arrival to the priests' mantra, here is all that happened at the wedding.
5:22 pm IST
Watch Ranveer, Deepika's full interview at HTLS 2018
As you wait for their first wedding pictures, check out the full video of their interview at Hindustan Times Leadership Summit 2018.
5:18 pm IST
Check out the wedding venue for Deepika, Ranveer's wedding
A new video of the wedding venue of Deepika and Ranveer's wedding in Italy's Lake Como is going viral.
5:09 pm IST
Nimrat Kaur wishes the new couple
Actor Nimrat Kaur has shared her wishes for Ranveer and Deepika on Twitter.
Huge congratulations @deepikapadukone and @RanveerOfficial !! Here's to the blissful ever after of every step you walk together... 🤵🏻♥️👰🏻

— Nimrat Kaur (@NimratOfficial) November 14, 2018
4:40 pm IST
Fans change their display pictures to celebrate wedding
Deepika's fans are changing their display pictures on social media to Deepika's photos celebrate their favourite star's wedding.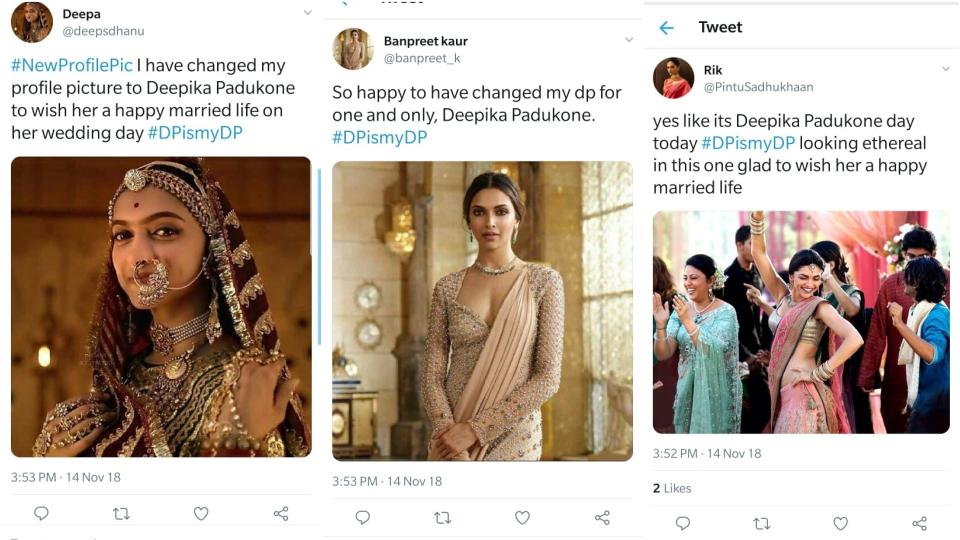 4:22 pm IST
Karan Johar wishes the newlyweds
Filmmaker Karan Johar tweeted his wishes for Ranveer and Deepika. He called them a 'beautiful couple'.
Such a stunning gorgeous and beautiful couple!!!! Nazar utar lo! @deepikapadukone and @RanveerOfficial !! Badhai ho !!! Love you both!!! Here's to a lifetime of love and joy!❤️❤️❤️❤️❤️

— Karan Johar (@karanjohar) November 14, 2018
4:17 pm IST
Durex shares a special post for Ranveer, Deepika
Condom brand Durex has shared a tongue-in-cheek congratulatory post for Ranveer and Deepika on their wedding. Ranveer is the brand ambassador of Durex.
We've got you covered. ;) #DeepVeer #DeepVeerKiShaadi pic.twitter.com/eRL4MnSEXC

— Durex India (@DurexIndia) November 14, 2018
4:15 pm IST
Fans wish Ranveer, Deepika on social media
Fans are sharing wishes for Ranveer Singh and Deepika Padukone on social media.
CONGRATULATION @deepikapadukone and @RanveerOfficial for Marriage!! ❤️

— She/Her 🔱 (@CalmaRanbir) November 14, 2018
@deepikapadukone @RanveerOfficial Are you guys married? my heart 😭❤️ I'm so happy for you two. I wish you guys a whole bunch of happiness and love, and a long successful marriage and friendship. Enjoy your day and this whole journey together 💕

— Ash (@kaninewest) November 14, 2018
4:00 pm IST
Deepika and Ranveer tie the knot
ANI reports that Deepika Padukone and Ranveer Singh are now married. A traditional Konkani ceremony was held on Wednesday.
3:45pm IST
Ranveer, Deepika wedding venue decorated with white roses
White has been the colour that Deepika and Ranveer appear to have chosen. The couple's wedding announcement and reception invite was in the same colour and now their wedding mandap has been decorated with white roses as well.
3:30pm IST
Deepika, Ranveer's mehendi followed by dinner with family
Deepika Padukone-Ranveer Singh mehendi function was followed by dinner with family and a dance party. Deepika was emotional throughout the day, says reports.
3:08 pm IST
Fans get impatient for pictures, shared jokes on Twitter
A strict no-photos policy and heavy security at the venue has left the fans are struggling to get their hands on wedding pictures. They are venting their frustration on social media. Check out more reactions here.
Instagram right now waiting for #DeepveerKiShaadi photos:- pic.twitter.com/rB1opCSyKt

— Pranjul Sharma 🌞 (@Pranjultweet) November 14, 2018
2:50 pm IST
The Konkani wedding ceremony has begun
According to India Today, Deepika and Ranveer's Konkani wedding ceremony has begun. The wedding havan is currently underway.
2:30 pm IST
Check out Ranveer-Deepika's wedding venue
Ranveer and Deepika will get married at Villa del Balbianello in Lake Como. Here's a picture. For more pics click here. The property, which has 75 rooms, has been booked till November 17, which is also the day that the resort closes for the season. It will reopen next year in March. The average cost of a room is 400 euros (around ₹33,000). For 75 rooms, Ranveer and Deepika are shelling out a whopping ₹24,75,000 per day. They would be spending ₹1,73,25,000 for the entire week.
2:05 pm IST
A primer on Konkani wedding rituals
Since Deepika and Ranveer are expected to get married in a Konkani wedding ceremony today, here are some rituals they can be expected to take part in.
1:45 pm IST
Shah Rukh, Sanjay Leela Bhansali will not attend wedding?
Contrary to earlier reports, Shah Rukh Khan, Sanjay Leela Bhansali and Farah Khan will not be attending the Italy wedding, but have been invited to attend the Mumbai reception, according to a Times of India report. However, Filmfare is reporting that the trio will, indeed, be present at the wedding.
1:35pm IST
Deepika, Ranveer wedding on Ram-Leela anniversary
Deepika Padukone and Ranveer Singh are tying the knot on the anniversary of their first film together, Goliyon Ki Rasleela: Ram-Leela. The two started dating on the sets of the Sanjay Leela Bhansali film.
1:20pm IST
Ranveer, Deepika wedding at dreamy Casta Diva Resort
New reports suggest that Ranveer and Deepika's wedding will happen at the picturesque Casta Diva Resort at Lake Como in Italy. The resort is on the banks of the lake.
1:00 pm IST
Ranveer demands kisses in exchange of feeding Deepika
A Bollywood Life report says that Ranveer had taken the responsibility of feeding Deepika while she was getting her mehendi done. But in exchange of feeding her, Ranveer demanded that she kiss him. Deepika played along.
12:50 pm IST
Ranveer sets the dance floor on fire, family surprises couple
A Pinkvilla report says that Ranveer made a dramatic entry to the wedding venue by dancing to his Gunday song, Tune Maari Entryaan. The same report also says that a special guitar performance was arranged for the couple by their families. The couple couldn't help but sing along when the Bajirao Masntani number, Aayat was played.
12:30pm IST
Revisit Deepika, Ranveer's cinematic love story
On the occasion of Deepika Padukone and Ranveer's Singh's wedding in Lake Como, revisit their cinematic love story, from Goliyon Ki Raasleela: Ram Leela to Padmaavat, here. The couple fell in love during Ram Leela and went on to do two more films together -- Bajirao Mastani and Padmaavat -- as well as a cameo together in Finding Fanny.
12:10 pm IST
Deepika's sister, Aneesha, changes Instagram profile bio
Aneesha Padukone, Deepika's sister, has found a neat way to tackle the 'no social media updates' rule at the wedding. She has changed her Instagram bio to '#ladkiwale', with a bride emoji attached.
12:05pm IST
Deepika to wear Sabyasachi for her Konkani wedding
Deepika Padukone is expected to wear a traditional saree for her Konkani wedding on Wednesday, which is designed by Sabyasachi Mukherji. The actor has chosen the same designer for her pre-wedding Nandi puja hosted by mother Ujjala in Bengaluru earlier.
11:50am IST
Deepika, Ranveer to host two wedding receptions
After their wedding ceremonies in Italy, Deepika and Ranveer will have a reception each in Bengaluru and Mumbai on November 21 and 28, respectively. The couple have urged their guests to direct gifts in the form of a donation to Deepika's The Live Love Laugh Foundation, which works towards spreading awareness on mental health.
11:30 am IST
Deepika and Ranveer welcome guests personally
Mid-Day reports that Deepika and Ranveer welcomed guests personally at Casta Diva, ahead of the two functions on Tuesday. They wore colour coordinated western outfits. Deepika wore a white dress while Ranveer wore a black suit. The venue was lit up beautifully.
11:00 am IST
Deepika, Ranveer Singh's wedding security at par with that for world leaders
The catchy beats of 'London Thumakda' and 'Dama Dum Mast Kalandar' reverberated around the idyllic surrounds of Lake Como on Tuesday as Bollywood super-couple Ranveer Singh and Deepika Padukone held their mehendi and sangeet ahead of their wedding on Wednesday. Security at both venues is on a par with that provided for a meeting of world leaders.
Ranveer's event took place at the ultra-luxurious CastaDiva Resort overlooking Lake Como while Deepika's ceremony took place at the even more glamorous Villa d' Este about 5 kilometers away.
At the CastaDiva resort for instance, any and all guests or visitors have to present a special wrist band while security guards cover up the camera lenses on mobile phones with stickers. The e-invite also bears a QR code to be scanned at the entry. On the lake itself, numerous security boats patrol just outside the perimeter of the property to deter snooping photographers or gossip hunters.
Close Story