Bigg Boss 12: Jasleen Matharu used me and I've said so to her father too, says Anup Jalota
Oct 30, 2018 03:15 PM IST
The story of Anup Jalota and Jasleen Matharu's alleged romance gets curiouser and curiouser. Their relationship was a talking point in the Bigg Boss 12 house when the show started and now the devotional singer is at pains to say it was all staged at Jasleen's behest.
Anup Jalota has been at pains to say that there was no romance with Jasleen Matharu and everything that kept the viewers hooked to Bigg Boss 12 was staged. Now, in a new interview, the devotional singer has gone ahead and said that he was "used" by Jasleen to get popular. he had earlier said Jasleen Matharu did so at the behest of Bigg Boss makers.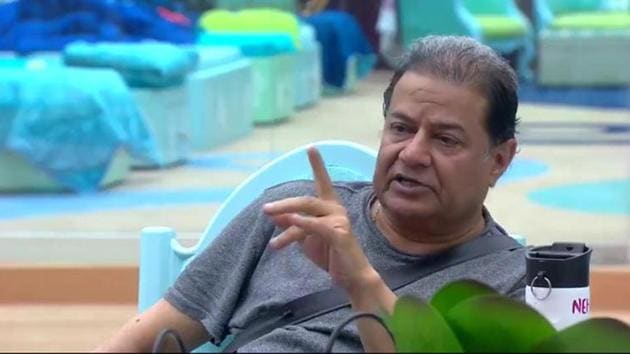 In an interview to Spotboye.com, Anup Jalota said that it was Jasleen who was supposed to enter the Bigg Boss house and her father requested him to go as his jodi in purely teacher-pupil capacity. The decision to showcase the relationship as a romance was Jasleen's, claimed Anup.
Accusing Jasleen of using him, Anup said "She wanted to ride on my popularity--- which she did. I am a very positive person and I feel if I can help someone, I should. If she has used me for the platform, I am happy that she succeeded in doing that." However, when Jasleen's father asked Anup Jalota about the truth of their relationship, the singer made it clear that it was the decision of his own daughter. To this, her father replied "Let her come out of the house, I will teach her a lesson."
Talking about Sreesanth, Anup Jalota told India Today in an interview that he would miss Sreesanth the most but expressed shock about how he changed after his comeback in the house. He said, "This thing cannot continue for long. I would advise him to either play or quit. There is no use giving threats of quitting. Once I showed him the exit and how he could get out, but he won't do that. He actually wants to stay in the house without playing. Because of him, we lost out luxury budget too."
On being asked if Jasleen could win the show, he didn't seem hopeful and named Romil Chaudhary or Megha Dhade as potential winners. Talking about the prospects of Deepak taking home the trophy, he called him immature said that he doesn't play his individual game and does what Romil asks him to do. He, however, called Somi Khan sharp.
As per the latest updates, two new guests are set to enter the house in tonight's episode – Bigg Boss 11 winner Shilpa Shinde and second runner-up Vikas Gupta. Vikas had earlier criticised Karanvir Bohra and Sreesanth in a social media post a few days ago for cracking homophobic jokes.
Follow @htshowbiz for more