Bigg Boss 12: Anup Jalota says relationship with Jasleen Matharu was cooked up by makers of Salman Khan's show
Oct 29, 2018 02:08 PM IST
Anup Jalota says Jasleen Matharu cooked up their relationship with producers of Salman Khan's Bigg Boss 12, and that there was no truth to it. He claims he was shocked when she claimed that they were dating.
Bhajan singer Anup Jalota, who during the course of his stint on reality show Bigg Boss 12 was linked up with his 'student' Jasleen Matharu, upon eviction has claimed that the relationship was cooked up by her and the show's producers. Anup was evicted from the show on Sunday.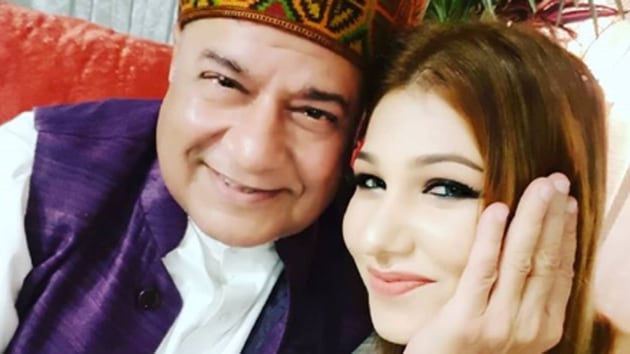 Speaking to Times Now, Jalota said that he was 'shocked' to learn of the relationship angle when he was introduced as a contestant on the show by host Salman Khan. "Soon after Jasleen was offered this show, she contacted me. She asked me if I could be her partner on the show. I told her, 'No, I don't have that much time. I am always very busy.' Then Jasleen's father (Kesar Matharu) insisted that I go with his daughter. When he requested me twice or thrice, I complied. It was decided that we would enter the show as Guru-Shishya (teacher-student). Six days before Bigg Boss 12, Jasleen was picked up the makers from her house, post which she lost contact with everyone," he said.
Jalota implied that during the week in the run-up to the show's premiere, Jasleen and the show's producers had come up with the relationship angle and did not inform him. Jalota, meanwhile, never denied being in a relationship with Jasleen on the show. However, he is now saying that because they never even held hands inside the Bigg Boss house, he had never given the impression that he was dating her.
"Upon entering the house, I stressed upon the fact that she was my student. Whenever questions on our relationship popped up, I always said that we were good friends. However, at no point during the show, we held each other's hands," he said.
During the show, the couple's alleged relationship routinely made headlines, with some reports even suggesting that Jasleen's father was upset with her over disclosing the relationship in such a manner. Singer Sukhwinder Singh was dragged into the story as a former lover of Jasleen's, which he has denied.
Jalota said that even his family was surprised when they watched the first episode of Bigg Boss, because they hadn't even met Jasleen in their lives. Anup, who was evicted with Saba Khan on Sunday's episode of the show, said in a recent interview, "People are not able to understand our relationship. We don't have any kind of love story. We just share a musical relationship. She is my student and I am her teacher. I help her in learning music. There is no girlfriend-boyfriend kind of relationship between us and we are also not involved in any romantic and physical relation."
Follow @htshowbiz for more