Why pulling out of Saarc meeting will not solve India's Pakistan problem
Updated on Sep 29, 2016 02:51 PM IST
India has a Pakistan problem. And not going to the November Saarc summit in Pakistan, while understandable, will not solve it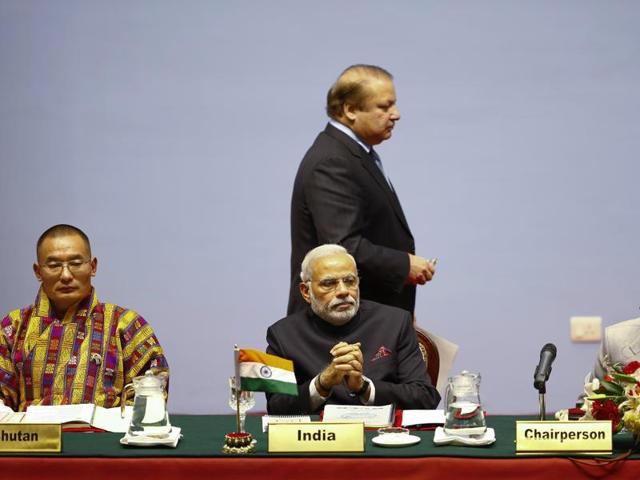 India has a Pakistan problem. And not going to the November Saarc summit in Pakistan, while understandable, will not solve it.
Here is the core policy goal - Delhi needs to get Islamabad-Rawalpindi to drop its support for terror groups who conduct strikes and attacks on Indian installations as well as civilian lives. This covert warfare has continued for over two and a half decades.
The challenge - India does not seem to either have the roadmap or the instruments to achieve this admittedly difficult goal.
Limited cards
As the response to Uri attack has shown, Delhi's options are severely limited.
If it conducts a military offensive, there will be an obvious Pakistani response and an escalation - a risk no responsible nuclear power can take, especially with an adversary that has sought to make up for conventional military disadvantages with nuclear blackmail.
It may not even fetch the desired goal of changing Pakistani behaviour, for the problem is in the political calculations of Rawalpindi, not the terror camps that exist right across the border. It is also becoming apparent that despite its size, India does not have the military capabilities to conduct a quick offensive.
Read | Not for war-mongers: PM Modi spells out what India can do with Pakistan
Despite his aggressive rhetoric in the past, Prime Minister Narendra Modi has understood this fact. His Kozikhode speech was a recognition of the limits of this approach. And no, he must not be mocked but appreciated for finding a language to convince his supporters of the need for a different approach.
But not doing anything is not an option either, especially for a government that has come to power riding on a promise of inflicting costs on Pakistan.
So we have seen Delhi contemplate other options. It has flirted with reworking terms of Indus Waters Treaty to extract more from it but this is a somewhat medium-term project. India has to do it in a way that hurts the establishment more than citizens, for Modi himself has sought to distinguish between the two.
Read | Bangladesh, Afghanistan and Bhutan follow India, pull out of Saarc summit
Abrogating the treaty is not an option for a responsible power, especially one which is seeking to enter global regimes and institutions on its track record as a rule abiding nation.
We have seen moves to reconsider the most favoured nation (MFN) status - but given that trade between the two countries is not massive, and the balance is in India's favour, it is difficult to see how Pakistan will change even with this move.
And then there has been a follow-up on the PM's Balochistan reference by foreign minister Sushma Swaraj at the UN General Assembly. This is an interesting move and a wild card of sorts.
It is not yet clear if India wants to instrumentally raise the issue on international platforms to counter accusations of human rights violations or if it is willing to get enmeshed in the movement in Balochistan by offering more direct operational, financial, logistical support to rebels.
Whether Pakistan will be forced to reconsider its tactics vis a vis India as a result, or whether it will go on the offensive further, is to be seen.
Read | Water as weapon: Risks in cutting off Indus waters to Pakistan
Mixed record of talks
Then there have been suggestions that India should talk to Pakistan. Desirable as it may be, it is important for those who advocate this to admit the limitations of dialogue.
India has often engaged in talks. That is because India has recognised that there was a distinction between the civilian and military establishment and the former must be engaged with. It also stemmed from the desire of the last two PMs - Manmohan Singh and Atal Bihari Vajpayee - to leave behind a legacy of peace with Pakistan.
There has been some success with dialogue. In 2004, Pakistan made a categorical commitment that it would not allow its territory to be used for terrorism in any manner on the sidelines of the Saarc summit. Infiltration dipped somewhat, so did violence over the following years and a substantive back-channel dialogue picked up.
However, the record has been mixed and even while a dialogue has been underway, terror did not stop altogether and there were attacks, including those in Mumbai.
Not talking may weaken the constituencies of peace in Pakistan but talking has not strengthened them to the extent that they can change state behaviour either. So, a dialogue is not wrong but is not a solution either necessarily.
Saarc pull-out
And now, we see Delhi officially boycott the Saarc summit to be held in Islamabad and this is a resounding diplomatic message, but whether it will change the incentives for the military ISI complex is doubtful.
For any country, it should be a deeply worrying fact that two neighbours - to the east and the west - do not even want to attend a summit it is hosting and that there is a regional coalition against it. Yet, the Indian, Afghan and Bangladeshi boycott will do little to force introspection in Islamabad.
Pakistan will act wounded, its own self-image as a victim of a grand Indian conspiracy will deepen. In terms of real power, it knows that as long as US, China and Saudi Arabia do not force any major changes, status quo can persist.
Indian impatience is understandable but changing the behaviour of another state is clearly a task beyond the capabilities of even the most powerful of countries. India can and should slowly increase costs for Pakistani actions but till that country recognises the perils of backing the 'good terrorists', it won't change. And, that is why Modi may be on to something when he urged the citizens of Pakistan to wake up.
Delhi has to show it is acting to deliver a message to the domestic audience. The Saarc pull-out is one more move in that direction but India knows well that achieving its policy goal - of changing Pakistani behaviour - is still a distant proposition.
Personalise your news feed. Follow trending topics