Thugs of Hindostan new poster: Katrina Kaif as Suraiyya will make you weak in the knees. Watch
Thugs of Hindostan's new poster introduces us to Katrina Kaif's character, called Suraiyya. The scene is from a musical theatre show and it looks seductive and magical.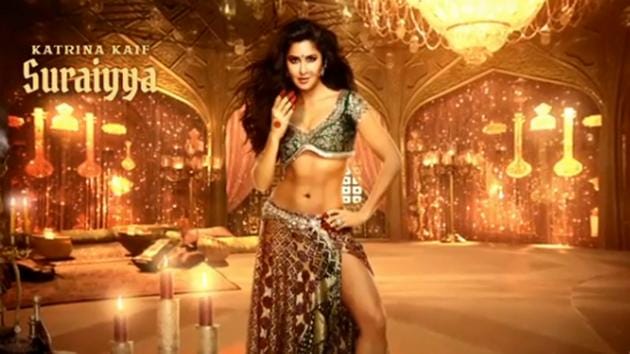 Updated on Sep 21, 2018 11:26 AM IST
A new poster from the ambitious new YRF film, Thugs of Hindostan, starring Aamir Khan and Amitabh Bachchan, was unveiled on Friday. Featuring Katrina Kaif as Suraiyya, the poster takes us to a musical theatre show ambience. In a shimmery lehenga choli combination, Katrina can be seen looking at the camera. The background looks rich: there are chandeliers, lamps in the shape of musical instruments, candles and comfortable seats on the floor. Seated in the audience are Britishers.
Sharing the poster, YRF wrote: "She's coming to make you go weak in the knees. @katrinakaif as #Suraiyya #ThugsOfHindostan @amitabhbachchan @_aamirkhan @fatimasanashaikh @vijaykrishnaacharyaofficial."
Since September 18, YRF and Aamir have been sharing the first look motion posters of the film, introducing its main characters. So far the posters have introduced Amitabh Bachchan, Fatima Sana Shaikh and Lloyd Owen (playing the villain).
They started with Amitabh, who will be seen as Khudabaksh. Sharing it, Aamir had called him the 'biggest thug of them all'. Sharing the same poster, YRF wrote: "Wading through storms & battles, the commander of Thugs has arrived. Amitabh Bachchan as #Khudabaksh."
The next was the poster featuring Fatima. Called Zafira, she is seen playing with fire. The poster gives a glimpse of Fatima's character, whose advantage is her skill with a bow and arrow, as emphasised in the poster. For added drama, she's seen floating mid-air in the middle of fire and total chaos. "Zafira is fiery and stunning. She is an extremely talented fighter and specialises in combat by bow and arrow. Zafira has perfect accuracy and she doesn't miss a target, ever. Fatima Sana Shaikh as Zafira brings vigour and freshness to Thugs of Hindostan," read the description along with a 25-second video. Aamir also shared the poster in a tweet that read, "The warrior thug! Iskey nishane se bach ke raho!!!"
The third poster to be shared was that of the villain of the Aamir and Amitabh film, character called John Clive. Aamir shared the poster and wrote, "John Clive..not to be confused with Robert Clive..as you can see he is one of the most gentle and kind souls. Loving, caring non violent, and generous. My idol!"
Thugs of Hindostan has been made on a massive budget. Earlier, a source told Hindustan Times, about the film's shoot and elaborate sets, "Since sea and ships play an integral part in the plot, Aamir as well as (producer) Aditya Chopra were sure that they would go all out to present the biggest spectacle that Hindi cinema has ever witnessed. The film's budgets are yet to be ascertained, but the cost for the two ships easily runs into several crores."
The two mammoth ships - weighing two lakh kilos - were built by over 1,000 people, including international designers and ship makers. "It took over a year to build these two ships off the coast of Malta (in Europe). Director Viktor (Vijay Krishna Acharya) wanted to go the whole hog in terms of scale and create a huge visual experience. Authenticity and aesthetics have both been kept in mind given the fact that it's a period film."
Thugs of Hindostan is based on Philip Meadows Taylor's 1839 novel, Confessions of a Thug. The film releases November 8 to coincide with the Diwali weekend.
Follow @htshowbiz for more
Close Story