Thugs of Hindostan: Aamir Khan introduces Amitabh Bachchan's Khudabaksh as the 'biggest thug. Watch video
Thugs of Hindostan motion poster showcases Amitabh Bachchan's look and character name from the film as co-star Aamir Khan termed him 'the biggest thug of all'.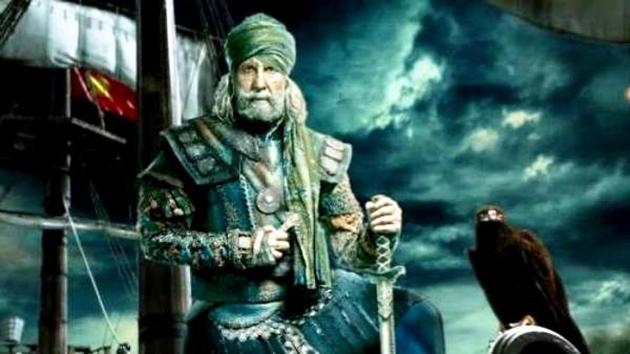 Updated on Sep 18, 2018 03:28 PM IST
Hindsutan Times |
HT Correspondent
Amitabh Bachchan's Khudabaksh is the 'biggest thug of them all' in Thugs of Hindostan and we have Aamir Khan's word for it. The motion poster revealing Aamir Khan's look from Thugs of Hindostan landed on Tuesday and you can be pardoned if it reminded you of Pirates of Caribbean. Amitabh is called Khudabaksh in the film and co-actor from Thugs, Aamir Khan, introduced the character as "The biggest thug of all !!! Love, a."
"Wading through storms & battles, the commander of Thugs has arrived. Amitabh Bachchan as #Khudabaksh," reads the description along the motion poster shared by YRF. Take a look at Thugs of Hindostan's Khudabaksh below:
Thugs of Hindostan, starring Aamir Khan, Amitabh Bachchan, Fatima Sana Shaikh and Katrina Kaif, is shaping up to be the studio's most ambitious film ever. YRF will release motion pictures for lead characters in the coming days, which will lead up to a teaser. The film is being played up as India's answer to Pirates of the Caribbean, and its animated logo -- released Monday -- had iconography quite similar to the Johnny Depp film, with swords and emblems merging into each other to reveal the steely title: Thugs of Hindostan.
Thugs of Hindostan has been budgeted at approximately Rs 300 crore. "Thugs of Hindostan is a big action-adventure film. There's no message in that. I am playing a character who cannot be trusted at all – [so it's the] very opposite of Dangal … He's a very slippery character. He has no scruples at all – for money he can sell his mother out. He's like that," Aamir earlier told South China Morning Post about the film.
Directed by Vijay Krishna Acharya, the film has been shot aboard ships, too. Said an insider, "Since sea and ships play an integral part in the plot, Aamir as well as (producer) Aditya Chopra were sure that they would go all out to present the biggest spectacle that Hindi cinema has ever witnessed. The film's budgets are yet to be ascertained, but the cost for the two ships easily runs into several crores."
Thugs of Hindostan is based on Philip Meadows Taylor's 1839 novel, Confessions of a Thug. It is about a gang who posed a serious challenge to the British Empire in India during the early 19th century. Yash Raj built two mammoth ships — weighing two lakh kilos — on which the film has been shot. "It took over a year to build these two ships off the coast of Malta (in Europe). Director Vijay Krishna Acharya wanted to go the whole hog in terms of scale and create a huge visual experience. Authenticity and aesthetics have both been kept in mind given the fact that it's a period film."
Follow @htshowbiz for more
Close Story