Thugs of Hindostan: Aamir Khan introduces Fatima Sana Shaikh's Zafira in fierce new motion poster. Watch video
Thugs of Hindostan: Fatima Sana Shaikh's first look has been introduced in a new character motion poster and it is 'fiery and stunning'. Watch video here.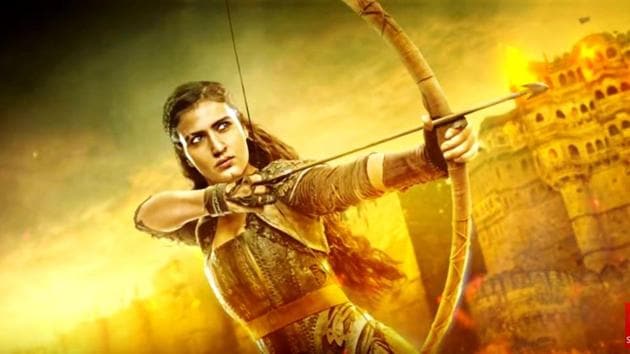 Updated on Sep 19, 2018 12:12 PM IST
Hindustan Times |
HT Correspondent
Thugs of Hindostan's new motion poster celebrating Fatima Sana Shaikh as Zafira, a "fiery and stunning" warrior was revealed on Wednesday. Right on the heels of Amitabh Bachchan's first look as Khudabaksh, the "biggest thug of them all" for Yash Raj Films's epic action-adventure film, comes the new animated poster introducing Fatima. The mysterious poster, shared by actor Aamir Khan, sees her playing with fire.
The new motion poster gives a glimpse of Fatima's character Zafira, whose advantage is her skill with with a bow and arrow, as emphasised in the poster. For added drama, she's seen floating mid-air in the middle of fire and total chaos. "Zafira is fiery and stunning. She is an extremely talented fighter and specialises in combat by bow and arrow. Zafira has perfect accuracy and she doesn't miss a target, ever. Fatima Sana Shaikh as Zafira brings vigour and freshness to Thugs of Hindostan," read the description along with a 25-second video. Aamir also shared the poster in a tweet that read, "The warrior thug! Iskey nishane se bach ke raho!!!"
Checkout Fatima's first look from Thug of Hindostan, below:
Thugs of Hindostan releases on Diwali, November 7 and its cast also features Katrina Kaif, Aamir Khan and Amitabh Bachchan (Khudabaksh). While Katrina and Aamir's characters are set to be introduced in motion posters in the coming days, Amitabh's character was the first to be teased. The 26-second long motion poster landed on Tuesday and shows Amitabh as "the commander of Thugs", Khudabaksh.
Read more: Thugs of Hindostan logo and release date out, Amitabh trumps Aamir for top-billing
"Wading through storms and battles, the commander of Thugs has arrived. Amitabh Bachchan as #Khudabaksh," read the description along the motion poster shared by YRF. If you haven't yet seen it, here it is:
Thugs of Hindostan is shaping up to be the studio's most ambitious film ever. The film is being played up as India's answer to Pirates of the Caribbean, and its animated logo - released Monday - had iconography quite similar to the Johnny Depp film, with swords and emblems merging into each other to reveal the steely title: Thugs of Hindostan.
Thugs of Hindostan has been budgeted at approximately ₹300 crore. "Thugs of Hindostan is a big action-adventure film. There's no message in that. I am playing a character who cannot be trusted at all – [so it's the] very opposite of Dangal … He's a very slippery character. He has no scruples at all – for money he can sell his mother out. He's like that," Aamir earlier told South China Morning Post about the film.

Follow @htshowbiz for more
Close Story