JK Rowling claims Fantastic Beasts' Nagini has Indonesian roots, Amish schools her in Indian 'naagins'
Sep 27, 2018 08:57 AM IST
Author Amish Tripathi has given a history lesson to Harry Potter writer JK Rowling, who claimed that 'The Nagas' - shape-shifting snake creatures have roots in Indonesian mythology. India has 'naagins', Amish pointed out.
JK Rowling, braving attacks from all sides over the revelation that a Harry Potter character previously believed to be a snake is, in fact, a shape-shifting woman, has been given a lesson in Indian 'naagins' by author Amish Tripathi.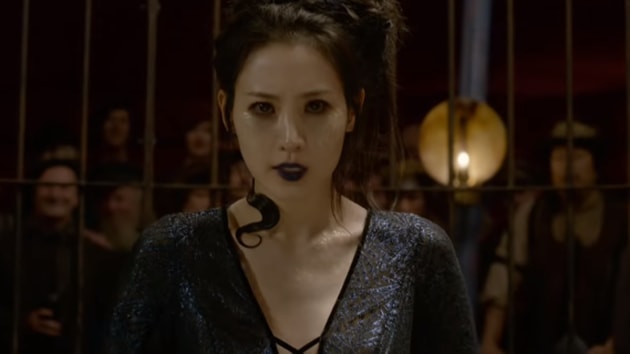 It was shown in the latest trailer for Fantastic Beasts: The Crimes of Grindelwald that Nagini, Lord Voldemort's snake companion in the Harry Potter series, was an Asian woman decades before the events of the books and films.
Addressing many fans' accusations and complaints about her tendency for 'retroactive representation', Rowling wrote to one incensed Potter fan that, "The Naga are snake-like mythical creatures of Indonesian mythology, hence the name 'Nagini.' They are sometimes depicted as winged, sometimes as half-human, half-snake. Indonesia comprises a few hundred ethnic groups, including Javanese, Chinese and Betawi. Have a lovely day."
Rowling had previously claimed that she'd planned Nagini's history for about 20 years, and that this wasn't an afterthought. Rowling has altered several details about her Harry Potter series after its conclusion, including the reveal that Albus Dumbledore is gay — a theme that will reportedly feature in Fantastic Beasts. Aside from her books, in her individual capacity, she has also been criticised for supporting alleged wife-beater Johnny Depp.
Replying to Rowling's tweet, author Amish Tripathi — writer of the best-selling Shiva trilogy — wrote that shape-shifting snake-women could actually find their roots in Indian mythology. "Actually @jk_rowling the Naga mythology emerged from India. It travelled to Indonesia with the Indic/Hindu empires that emerged there in the early Common Era, with the influence of Indian traders and Rishis/Rishikas who travelled there. Nagin is a Sanskrit language word," he wrote.
In fact, one of the most popular shows on Indian television is called Naagin, and features a modern version of the mythical creature.
Nagini is played by Claudia Kim in the movie. Fantastic Beasts: The Crimes of Grindelwald stars Eddie Redmayne, Jude Law, Johnny Depp, Katherine Waterston, Dan Fogler and Alison Sudol. The film is directed by Potter veteran David Yates and scheduled for a November 16 release.
Follow @htshowbiz for more