Harry Potter fans attack Johnny Depp after new Fantastic Beasts trailer
Jul 23, 2018 12:11 PM IST
Harry Potter fans online renewed their attack on Johnny Depp after the actor, accused of physical abuse by ex-wife Amber Heard, was paraded by Warner Bros for the launch of the new Fantastic Beasts: The Crimes of Gindelwald trailer.
Harry Potter fans are continuing their attack on Warner Bros and Johnny Depp after the debut of the latest Fantastic Beasts: The Crimes of Gindelwald trailer. The studio brought Depp - in full character - to the San Diego Comic Con to unveil new footage from the upcoming Harry Potter spin-off.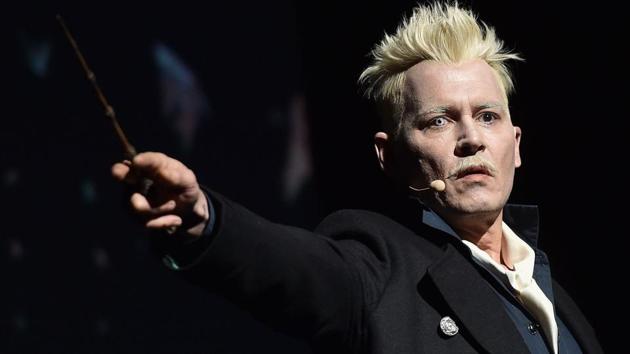 Depp has been accused of physical abuse by his ex-wife, actor Amber Heard, who was also present at the convention as part of the Aquaman cast. People.com reports that the two made a conscious decision to avoid crossing each other's paths and panels for Fantastic Beasts and Aquaman - both Warner Bros movies - were separated by an hour.
Fans didn't take kindly to Depp being paraded around to promote the film. Several petitions had been launched to have him recast in the titular role after news of his alleged abuse broke in 2016. By then he had already filmed a cameo for the first Fantastic Beasts film. Writer JK Rowling and director David Yates released statements in support of Depp following the allegations.
On Twitter, fans criticism of Warner Bros for retaining Depp was further fuelled by the recent firing of Guardians of the Galaxy director James Gunn for unearthed offensive tweets. Many also directed their attack on Disney and questioned how the studio could fire one man for having made bad jokes a decade ago and still pursue Depp to star in more Pirates of the Caribbean films.
Crucially, Depp did not take part in the panel discussion and nor did he answer questions following his appearance in character as the villainous Grindelwald.
Here are some online reactions:
Heard had asked for a domestic violence restraining order against Depp just a week after she filed to end their 15-month marriage in May 2016, claiming the actor had been abusive on several occasions, including one incident that she claimed left her in fear for her life.
Depp and Heard settled their divorce in January 2017 - with Depp paying Heard a $7 million settlement (all of which she vowed to donate to charity).
Follow @htshowbiz for more