Why moving Egyptian woman Eman Ahmed from Mumbai to Abu Dhabi is not a good idea
Hindustan Times |
, Mumbai
Sadaguru Pandit
Apr 27, 2017 01:06 PM IST
Eman Ahmed has a high risk of liver failure and severe weakness owing to her rapid weight loss
Transporting Egyptian woman Eman Ahmed — once the world's heaviest — to Abu Dhabi will only exacerbate her health problems, said bariatric surgeons from Mumbai on Thursday.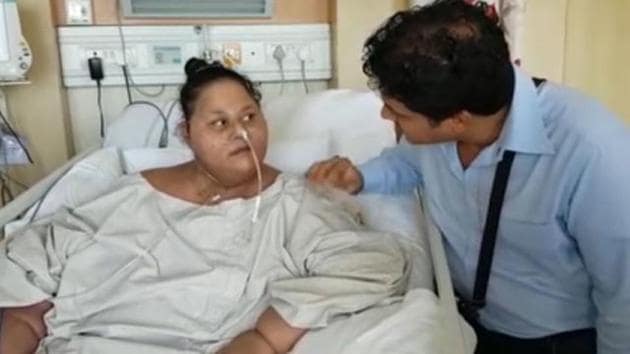 Surgeons raised concerns over Eman's physical ability to be airlifted and transported to Abu Dhabi, considering her rapid weight loss after surgery.
Eman lost 333 kg in two months, which increases her risk of liver failure and severe weakness, said experts. "Eman lost about 4kg a day. The figure is hardly close to normal," said a noted bariatric expert from the city.
"Going by the videos that were released, Eman's condition seems to be critical. She is being fed through a food pipe. There is a high risk of neurological complications developing, considering how stressful the journey will be," he added.
Dr Shashank Shah, Fortis Hospital, who has treated multiple cases of severe obesity, told HT that Eman's weight loss differed from that of his patients. "Patients usually lose 40kg to 50kg within two months of their surgery. But later, it takes them about one-and-a-half year to lose 150kg to 200kg, subject to their diet and metabolism. Rapid weight loss is always dangerous as it alters the body's functions without giving it time to adjust," he said.
He said the differences in Eman's case could stem from her rare monogenic disorder, which causes severe obesity.
On Wednesday, Eman's sister Shaimaa said she doesn't trust Egyptian or Indian doctors and had called specialists from VPS Healthcare to check Eman. "
The hospital's claims about Eman's weight loss are baseless. She hasn't lost more than 60kg and her condition is deteriorating rapidly," alleged Shaimaa.
Dr Muffazal Lakdawala said most of Eman's obesity-related problems such as severe hypothyroidism, lymphoedema, right-sided heart failure (or pulmonale), severe obstructive respiratory disease, renal failure and congestive liver are under control. However, Eman still needs to be on medication, he said.
"As a result of the stroke that left her right side paralysed, she still develops occasional seizures despite being on medication. She is still unable to swallow liquids or speak properly," he added.