Eman Ahmed, 'world's heaviest woman', may be shifted from Mumbai to Abu Dhabi
Hindustan Times |
, Mumbai
Sadaguru Pandit
Apr 26, 2017 10:21 PM IST
Eman's sister Shaimaa said she doesn't trust doctors from Egypt or India when it comes to her sister's health
Egyptian woman Eman Ahmed, who was once the world's heaviest woman, may be shifted from Mumbai to Abu Dhabi.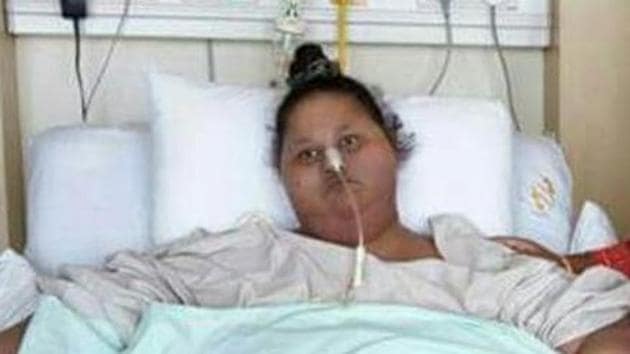 On Wednesday, doctors from VPS Healthcare in Abu Dhabi, who were contacted by Eman's sister Shaimaa Selim, checked her condition and discussed the case with her doctors from Mumbai's Saifee hospital.
On Monday, Selim called bariatric surgeon Dr Muffazal Lakdawala and other doctors from the team 'liars', refuting their claims that Eman, who was nearly 500kg when she arrived in Mumbai in February, has lost more than 330kg and now weighs 171kg.
Shaimaa said, "Shamsheer Vayalil, founder and managing director of VPS Healthcare, who had previously contacted the family to treat Eman, might be a good choice for her treatment now."
Doctors from Saifee hospital confirmed the possibility. "The doctors from VPS Healthcare are in the city, discussing the case with us. We are taking them to meet Eman to show her current medical condition," said Dr Aparna Govil Bhaskar, section chief of bariatric surgery at the Saifee Hospital.
Bhaskar said a team of doctors from VPS Healthcare visited Eman on Wednesday and were briefed by Dr. Lakdawala about her current status. "Her reports were shown to them. And then they visited her on the 9th floor while she was in physiotherapy session. As of this moment, we have asked for their opinion in writing, which is awaited," said Dr Aprna. Doctors from the hospital confirmed that the VPS team visited Eman on the request of her sister Shaimaa and they aren't aware if Eman will be shifted out of the hospital soon. Top officials from the hospital are positive to allow the transfer. "We are ready to do anything which will ensure Eman's well being," said the officials.
Officials from the hospital said a meeting was organised on Tuesday afternoon with Egyptian Counsel General in Mumbai, Ahmed Khalil, doctors from Saifee Hospital and Shaimaa to discuss the case.
"The embassy officials were thankful for the treatment and care of Indian doctors. They also spoke with Shaimaa to understand her issues and problems," said officials.
Talking to HT on Wednesday, Shaimaa said she doesn't trust doctors from Egypt or India when it comes to her sister's health. "I am thankful for all the treatment they have provided, but Eman's condition is degrading and I don't think they are equipped to handle it. She is not able to talk or eat food and they are going to discharge her saying she has lost weight," said Shaimaa.
"They said Eman will be discharged but they are not ready to share the date. This is totally unacceptable, she's my sister and I have the right to know what are they planning for her," said Shaimaa when asked about the meeting.