Mumbai hospital docs won't attend to Eman Ahmed, 'deeply hurt' by allegations
Hindustan Times |
, Mumbai
Aayushi Pratap
Apr 26, 2017 07:09 PM IST
Worst form of assault a doctor can face, says surgeon of Saifee Hospital as she resigns from the treating the Egyptian woman.
The spat between the sister of Eman Ahmed and doctors at Mumbai's Saifee Hospital, where the Egyptian woman has undergone weight-loss surgery, has taken a new turn.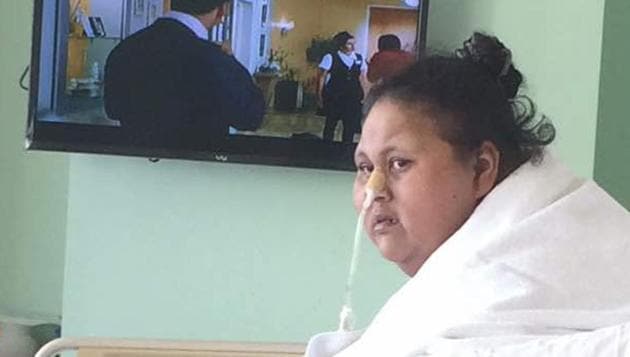 Doctors who performed bariatric surgery on Eman , 36, said on Tuesday they would no longer attend to her. Eman's sister Shaimaa Selim had a day ago criticised the hospital and called Dr Muffazal Lakdawala, who heads Eman's medical team, a liar and accused him of negligence. She also said the hospital had told her not to speak to the media.
Dr Aparna Govil Bhasker, the chief bariatric surgeon, officially resigned from the team on Tuesday morning in protest against Shaimaa's allegations. "What has happened is very sad. We are deeply hurt. This is the worst form of assault a doctor can face. An assault doesn't always have to be physical. By resigning from the team, I am protesting against this form of assault," she said.
But Dr Lakdawala, who spearheaded the 'Save Eman' campaign, will continue to treat her, hospital officials said. He was unavailable for comment.
In a video recorded on April 14, Shaimaa accused Eman's doctors of lying about her sister's weight loss. They have said that Eman's weight has dropped from nearly 500kg to 171kg. Shaimaa claimed the hospital was "not equipped for such a case" and "cared about show and propaganda only".
She added, "My sister's health is deteriorating. Eman has been critical for one-and-half months and she has been put on massive medication to stop her brain activity. Her face and hand are bluish."
The hospital has denied the allegations. Huzaifa Shehabi, its chief operating officer, said on Tuesday morning that Eman was "hale and hearty" and medically fit to travel back home. "Her weight has gone down miraculously, faster than expected. If a patient's treatment is over, we can't keep her in the hospital unnecessarily," he said.
Bhasker said Eman spoke four sentences in Arabic – for the first time in years – after a speech therapy session on Tuesday. "No promises were made that she will be completely alright; we are doctors, not gods," he added.
While the hospital said Eman was fit to be discharged in a fortnight, she has not been given a deadline. Doctors said Shaimaa could have made the allegations because Eman's family may not be able to afford her treatment back home. "They have not spent anything on treatment so far and do not intend to pay anything here," he said.
While is still unclear how much money the hospital spends a day on treating Eman, doctors estimated it has spent Rs 3 crore so far, including the cost of flying her to Mumbai, her surgeries, medical tests and the new infrastructure that the hospital built especially for her.
"About Rs 90 lakh was raised via crowd-funding; the rest of the cost has been borne by the hospital and doctors treating Eman," said Dr Bhasker.
Meanwhile, Eman underwent a computed tomography (CT) scan on Tuesday. "Our CT scan machine can't take more than 204kg. The fact that she underwent a successful scan today is proof that she has lost weight," Shehabi said.
Doctors said that the latest CT report suggested Eman had no new infarcts (a small localised area of dead tissue resulting from failure of blood supply) or intracranial haemorrhage (bleeding within the skull), which proved that her condition wasn't worsening. "The CT scan report proves she has not suffered a stroke since arriving at Saifee Hospital. The cause of her repeated seizures is scar epilepsy (epilepsy caused by scar tissue or a brain infection). Her medications and neurological rehabilitation therapy will need to be continued as before," said Dr Arun Shah, head of neurology at the hospital.