Is Egyptian woman Eman Ahmed's health deteriorating? Hospital videos differ
Hindustan Times |
, Mumbai
Sadaguru Pandit
May 01, 2017 09:45 AM IST
Eman's sister Shaimaa Selim called bariatric surgeon Dr Muffazal Lakdawala, who is one of the doctors treating her, and Saifee Hospital "liars"
Doctors treating Eman Ahmed, an Egyptian woman who is undergoing weight reduction treatment in Mumbai, have shared a video in order to prove she is healthy after her sister alleged the hospital's claims about her weight loss is a lie and that her health was deteriorating.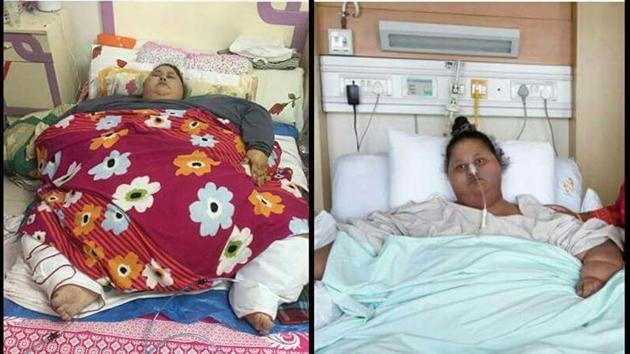 Shaimaa Selim called bariatric surgeon Dr Muffazal Lakdawala, who is one of the doctors treating Eman and Saifee Hospital "liars" , and claimed they had "put Eman on massive medication to stop her brain activity". "She suffered a stroke 10 days ago. She cries at night and she's not able to talk or move at all," Selim said.
Doctors shared a video of Eman's physiotherapy, where she is seen lifting weights and moving her arms effectively. Dr Aparna Govil Bhasker, the section chief of bariatric surgery at the hospital, also shared pictures of Eman's weighing machine showing the digits at 171kg.
"We do not need to prove anything to anyone as the truth is out there for all to see. I am appalled at the irony that today when Eman's health is the best that it has ever been in last 25 years, her sister chooses to go down this path," Dr Govil Bhasker said.
The Egyptian woman is being treated by Dr Lakdawala and a team of around 15 doctors from various disciplines since she was brought to the city from Alexandria on February 11. In March, Eman underwent her first bariatric surgery in which doctors reduced her stomach size by two-third.
Her genetic tests show she has a rare gene mutation that cannot be cured through surgery.
Eman's sister also alleged that the hospital said there is no open machine available in Mumbai when they demanded a CT scan to be conducted on her. Doctors had earlier said they were waiting for Eman's weight to reduce further so can she could fit in a CT scan machine.
The fact that she underwent a successful scan on Tuesday is proof that she has lost weight, they said.
Doctors said that the latest CT scan report suggested Eman had no new infarcts - a small localised areas of dead tissue resulting from a failure of blood supply - or intracranial haemorrhage (bleeding within the skull), which indicated that her condition wasn't worsening.
"The CT scan report proves she has not suffered a stroke since arriving at Saifee Hospital. The cause of her repeated seizures is scar epilepsy (epilepsy caused by scar tissue or a brain infection). Her medications and neurological rehabilitation therapy will need to be continued as before," Dr Arun Shah, head of neurology at the hospital, said.
A number of doctors, including Dr Govil Bhasker, have quit the team treating her in protest of Selim's allegations. However, Dr Lakdawala, who shot to fame as the doctor treating Eman, continues to treat her.
In a series of tweets on Tuesday to refute Selim's allegations, Dr Lakdawala said "truth shall eventually prevail." He also confirmed that Eman's current weight is 171kg and not 200kg as per the claims made by her sister.
Hospital officials have said this could be a tactic by the family to delay Eman's discharge because no facility in Egypt is willing to provide free medical services. The officials added they have spent more than Rs 2 crore of the Rs3 crore needed for Eman's travel, treatment and surgery and separately collected more money through donations around the world.