World's heaviest woman: Egyptian Eman Ahmed has done 'miraculously well', says her doctor
Doctors at Saifee Hospital said they expected Eman Ahmed to take six months to shed the weight she lost in two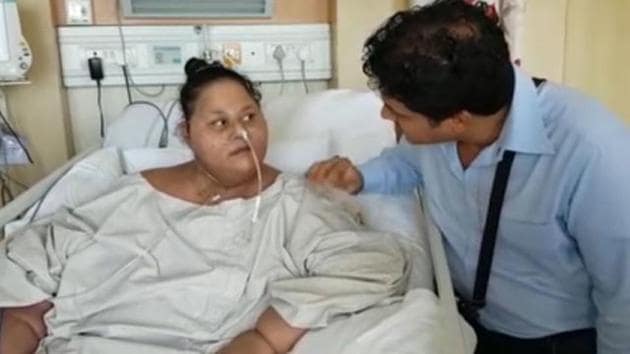 Updated on Apr 22, 2017 12:02 PM IST
Egyptian Eman Ahmed, 36, who was once considered 'the heaviest woman in the world', weighing more than 500 kg, surprised doctors by losing 250 kg in just two months.
"Eman has done miraculously well. We didn't expect such results. We had estimated that it would take her six months to lose 200 kg," said Dr Muffazal Lakdawala, surgeon at Saifee Hospital.
Photographs shot on April 18, show 242-kg Eman Ahmed sitting in a wheelchair for a long period of time, something that was impossible for her three months ago, say doctors.
"Eman's weight loss has dramatically improved her health. Her heart, kidneys and lungs are functioning better and her water retention levels are also under control," he added.
Most of Eman's obesity-related problems such as severe hypothyroidism, lymphoedema, right-sided heart failure, severe obstructive respiratory disease, renal failure and congestive liver problems are under control, although she is still on medication for those
"This case had a 99-percent risk rate. We took it up as a humanitarian cause as we could not bear to see Eman so helpless. Now, we have given her a chance to live," he added.
"We will weigh her in three to four weeks and are hoping her weight will drop below the 200-kg mark. She is a fighter," he said.
Close Story
Personalise your news feed. Follow trending topics