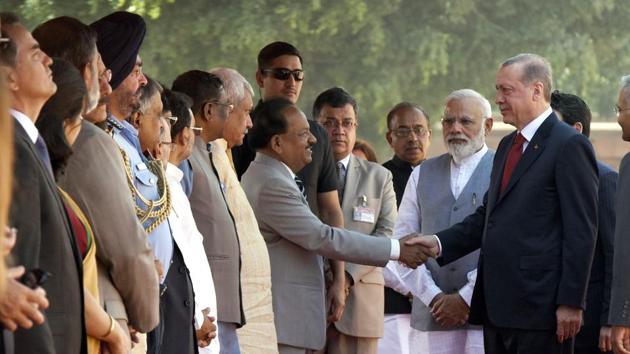 Turkish Prez Erdogan to meet PM Modi, Rahul Gandhi in Gujarat: Top stories this morning
Among the top news this morning, the Turkish President is going to hold talks with PM Modi while Congress vice president is in the PM's home state of Gujarat.
UPDATED ON MAY 01, 2017 12:19 PM IST
Turkish President Erdogan to meet PM Modi today
Turkish President Recep Tayyip Erdogan will hold wide-ranging talks with Prime Minister Narendra Modi on key bilateral and regional issues, including India's NSG membership bid and ways to strengthen cooperation in counter-terrorism and trade. This is Erdogan's first foreign visit after winning a controversial referendum on April 16 that further consolidated his executive powers. Apart from his wife Emine Erdogan, the Turkish President is accompanied by senior cabinet ministers and a 150-member business delegation that will take part in a meeting of the India-Turkey Business Forum. Ahead of his visit, India had played down proximity between Turkey and Pakistan as well as Ankara's statements on Jammu and Kashmir.
Read the story here.
Rahul Gandhi to address Adivasi rally in Gujarat
Congress vice president Rahul Gandhi will address a rally at Dediapada in Narmada district that is expected to be attended by a large number of Adivasis from the region. Ahmed Patel, political secretary to Congress chief Sonia Gandhi, who is supervising preparations for the rally said the event holds immense significance for his party. Chief Minister Vijay Rupani belittled the event saying that public meetings by the leader of the "sinking" Congress party will only benefit the BJP. "The Congress is a sinking boat. It is a proven fact that the Congress loses election wherever they organise Rahul Gandhi's rally. We urge the party to organise his rallies at maximum places in Gujarat during the next three months," said Rupani, taking a dig at Gandhi's rally.
ABCD to EPI: Narendra Modi's wordplay continues
When Prime Minister Narendra Modi announced the arrival of EPI – Every Person is Important – during Mann Ki Baat on Sunday, he added yet another acronym to a fast-growing list of such abbreviations. While campaigning for the Lok Sabha election, Modi came up with several acronyms to take on political opponents and to spell out his vision of governance. He took over as the Prime Minister in May 2014 but the wordplay continues.
Read the story for more Modi coinages such as ABCD, 3AK here.
Delhi's house of horror: Teen girls allege molestation, growth injection at shelter home
At least 10 teenage girls in a state-run west Delhi shelter home have accused its staff of molestation, forcibly injecting them with unexplained drugs, and beating them into submission if they tried to resist or complain. The government home is for girls who are either rape survivors or rescued from the city's streets, human traffickers and brothels. But their rehab has turned into a house of horror.
Read the story here.
Petrol, diesel prices to be revised daily in 5 cities from today
Petrol and diesel prices will be revised on a daily basis from Monday in five cities as a part of a pilot project. Puducherry, Visakhapatnam in Andhra Pradesh, Udaipur in Rajasthan, Jamshedpur in Jharkhand and Chandigarh will go through the daily change to be in sync with international rates, much like it happens in most advanced markets.
Read the story here.
Battling unrelenting drought, Kerala women dig 180 wells to quench thirst
Life is wilting in large swathes of southern India under an unrelenting drought, but a motley crowd of ordinary women are also helping hope to sprout with their doggedness in the face of adversity. Scores of them have come together to dig wells in Kerala's Palakkad district and rewrite their destiny amid the unprecedented dry spell. Successive monsoon failure has left their land parched and robbed them of their livelihood. Though many are going hungry, very few are thirsty, thanks to the unique initiative by the women's collective.
Read the story here.
Maharashtra govt wants to restrict hookah parlours, bring them under local cops
A cash-strapped state government is considering regulating hookah parlours by issuing licences for them in the state. The finance department of the state government has written to the home department to study if framing the rules to regulate the parlours and bring them under the ambit of the local police was possible. The home department will begin the process by seeking opinions from various departments, including the law and judiciary, urban development and police commissionerates of various cities.
Read the story here.
2.3 million pregnant women in Rajasthan 'missing' between 2011 and 2016
Rajasthan lost track of 2.3 million registered pregnant women in five years since 2011 after they went off the health department's radar, a comptroller and auditor general (CAG) report revealed. The CAG found fault with the government for failing to keep a track of all would-be mothers in a state struggling with high maternal and infant mortality rates. The gap between pregnant women registered for ante-natal checks and deliveries in the state was detected during a performance audit of the National Rural Health Mission (NRHM) was carried out.
Read the story here.
Attempt on my life, says BJP Delhi chief Manoj Tiwari after attack on house
BJP leader Manoj Tiwari's house in the national capital was ransacked late on Sunday night, with police arresting four suspects by Monday morning, ANI reported. The BJP 's Delhi unit chief posted about the attack at around 2 am on Twitter, claiming that eight to 10 people had attacked his house located on 159 North Avenue in central Delhi. He later claimed the incident was meant to be an attack on his life.
Read the story here.
J-K's firebrand CM Mehbooba's image is taking a beating over the current crisis
The clamour for governor's rule in violence-hit Kashmir is growing. Be it the opposition parties in Kashmir or a section of the BJP administration in Delhi, many seem to be in favour of chief minister Mehbooba Mufti stepping down. The once-firebrand Peoples Democratic Party (PDP) leader, who was credited with bringing her father Mufti Mohammad Sayeed back into the state's mainstream politics, has become irrelevant. People at both the state and central levels have expressed displeasure over the way she has handled the Kashmir situation.
Read the story here.
Close