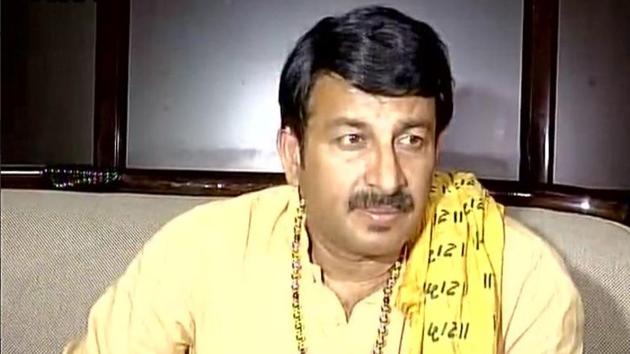 Road rage behind attack at Delhi BJP chief Manoj Tiwari's home, two arrested
The Delhi BJP president Manoj Tiwari's house in central Delhi was reportedly targeted late on Sunday night, an attack Tiwari claims was an attempt on his life
New Delhi | By Karn Pratap Singh and Parvez Sultan
UPDATED ON JUN 05, 2017 09:06 AM IST
A group of men allegedly broke into the house of Delhi BJP chief Manoj Tiwari and assaulted his staff shortly after midnight on Sunday in retaliation to a road rage dispute in central Delhi.
The Delhi Police have not ruled the possibility of a "deeper conspiracy", though their initial probe indicated that the attack was a fallout of the road rage.
Even Tiwari did not deny the possibility of a 'political conspiracy' against him following the Delhi municipal elections result that went in their party's favour.
According to Braja Kishore Singh, deputy commissioner of police (New Delhi), Tiwari's driver, while driving a Scorpio, allegedly hit the WagonR car while taking a turn towards the service lane some 10 metres before the MP's residence.
The WagonR, being driven by Jai Kumar, brother of a cook at the President's house, overturned and the driver was injured. Tiwari was not inside the car at the time.
An argument broke out between the occupants of the two cars. Tiwari's men reportedly left the scene and went inside the house. "Jai Kumar called his family members and associates. Together, they entered the house premises. The group assaulted Tiwari's personal assistant and a cook," said Singh, adding that a police team reached after Tiwari's staff called the police control room.
The attackers allegedly barged into Tiwari's house and ransacked his office and bedroom. Surprisingly, the alleged attackers were accompanied by a Delhi Police officer. The entire assault and ransacking that lasted for over 10 minutes was captured in the CCTV cameras installed in Tiwari's residence.
Tiwari, a parliamentarian from north-east Delhi, was not at his North Avenue home at the time of the attack. He first informed the district DCP Braja Kishore Singh and then tweeted about the incident at around 2 am, claiming it was meant to be an attack on his life. Later in the day, the Delhi BJP president held a press conference and claimed that it was an attempt to kill him, as the alleged intruders were looking for him after they made a forced entry into his house.
"The men who attacked my cook Ashok Pathak and staff Abhinav actually wanted to harm me. They were armed with iron rods and swords and had arrived in a tempo, cars and motorcycles. The attackers were hurling abuses when they entered my house. They were shouting 'Manoj Tiwari ko Bahar Nikalo (Take Manoj Tiwari out)'. My staff members were so terrified that they had to hide in my bedroom and other parts of the house," said Tiwari.
The parliamentarian alleged that a policeman in uniform was accompanying the intruders and helped them ransack his house. He denied having any knowledge about the road rage . "We have given the video footage to the police. I have full faith in Delhi Police. They will investigate and unravel the conspiracy," Tiwari added.
Jai Kumar, 38, and his brother Jaswant, 33, were arrested after being identified by the MP's employees. They made a counter-complaint of being assaulted as well, but the police did not file an FIR. The arrested men's brother Jagdish Kumar is a cook in Rashtrapati Bhawan. Police said they all live in government quarters in Rashtrapati Bhawan, close to Tiwari's bungalow.
A close aide of Tiwari said that they had written to the previous Delhi Police commissioner for better security. "After our request during ticket distribution for the municipal elections, an additional gunner was provided for three to four days. We have been asking for adequate security arrangements for him as currently, he has no security guard at home. He deserves a Y-grade security at least," he said.
Police security at Tiwari's house was increased after the incident. Senior police officers said that Tiwari's personal security will be reviewed and increased if needed.
Close