Failures won't stop us from playing attacking cricket: Harmanpreet Kaur
Jan 31, 2023 04:42 PM IST
Ahead of the T20 World Cup, the Indian skipper opens up on what drives her and her team
When India captain Harmanpreet Kaur made her debut in 2009, there was limited live coverage in women's cricket. The matches were too few and far in between. The sponsors thought twice before getting involved. Empty stands used to be the norm. Cut to 2023, India's U19 team has won the inaugural World Cup - India's first world title in women's cricket, the senior team gets the same match fees as men and the Women's Premier League (WPL) is slated to begin in March. In an interview, Harmanpreet shares her thoughts on the development of women's cricket, her expectations from the WPL and the change in mindset among Indian players keeping next month's T20 World Cup in South Africa in mind. Excerpts: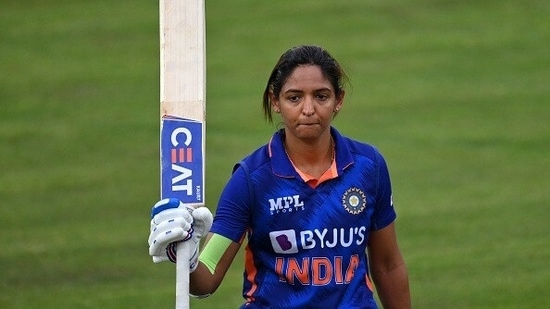 You played positive cricket against Australia and in the tri-series. Is there a conscious effort to play attacking cricket from ball one keeping next year's World Cup in mind?
We have been trying to play like this (attacking cricket) for some time now. I'm really pleased that, now, finally we are seeing the results. We regularly discuss in team meetings that we have to play aggressive cricket. It doesn't matter how the pitch is behaving, we have to remain positive in our approach. We have to back our abilities. We want to set certain targets while batting instead of just going with the flow. Previously, we have been caught on the wrong foot with that strategy. We want to rectify that. We need to be mindful of our strike rate.
But this approach might also backfire at times, is the team management prepared for that?
Yes, definitely. We are ready for failures. That is not going to stop us. When you are trying new things on the field, sometimes you don't get immediate success. But day by day we want to improve. There can be an odd day when things don't go according to our plans. We want to learn from that. Nowadays, we have a long batting line-up so that also gives us an extra cushion and motivates us to take those extra chances.
How important a role has the support staff led by Hrishikesh Kanitkar played in this?
We worked with him (Kanitkar) earlier at the National Cricket Academy (NCA) and on the Sri Lanka tour. The kind of confidence that he gives to us is something very important. Talking about skills and technique is not the primary thing (at this level) but giving confidence, and backing the players is the key. He totally understands that. We always wanted someone who will be calm, he brings that to the dressing room. It's very easy to panic or lose your focus (in difficult situations). He speaks very little but whenever he talks, we listen to him. Everyone on the team is attentive when he is talking as he spreads so much positivity. The way he speaks, and the words he uses stay with us.
Our bowling coach (Troy Cooley) is also very positive. Generally, they are the ones leading our training and backroom planning. They keep the atmosphere light yet serious. Everybody enjoys this thing. Sometimes when you are doing the same thing again and again, it can get boring but they keep it interesting. We are lucky to have such a support staff.
Young players Devika, Anjali, Amanjot have grabbed the opportunity with both hands...
It's very important to give them confidence and let them express themselves. It's hugely satisfying to see whoever is getting the opportunity, is utilising it. When you have the right attitude, more often than not you will get the results. Full credit to them. The way they are showing hunger for doing well for the country is something which makes my job easy as a captain. I can only give them a plan. I can only guide them (the rest is up to them). The confidence and positive attitude that they have brought to the team, is heartening to see and that is giving them the results.
How big a role does this tri-series in South Africa play in the preparation for the World Cup at the same place?
Getting used to the conditions before a tournament like World Cup always plays a big role. Credit goes to BCCI for planning our tours in such a way. We are playing against two teams (South Africa and West Indies) who are doing well at the world stage. This tri-series will help us gain momentum, and will give us an idea about the right team combination for the World Cup.
Let's talk about the women's IPL... How big will it be for not only the cricketers of India but also women's cricket in general?
We have seen in men's cricket, how they improved after the IPL. The emergence of talent that we have seen in men's cricket can be seen in women's cricket (After the WIPL). It's going to be very famous worldwide, not just in India. We will see a lot of young talent because of the tournament.
What will be the biggest difference the WPL can make?
The gap between domestic and international cricket can be cut down. It's very difficult for a young player to straightaway come into the team (from domestic cricket) and face those hurdles in international cricket. Sometimes for them, it is difficult to perform on the big stage but after the WPL, those things hopefully will change. Players will start feeling ready for international cricket.
We've seen the impact of WBBL and The Hundred on Australia and England's women's teams, can the WPL do the same to India?
If you straightaway try new things at the international level, the success ratio will be less. But when we get good quality matches in the WPL, face international cricketers, and share the dressing room, it will be different. We won't feel the extra pressure of facing those cricketers in crunch situations in international cricket. Till now, we play fewer quality matches so it becomes difficult to bridge the gap with the top teams but now we will get more experience. We can reduce the mistakes committed in pressure situations by playing more matches. When you will win games for your team in the IPL, you will be confident of replicating the same at the international level.
Will the monetary aspect be an added advantage?
Players always need that security. We've seen the lives of men's domestic cricketers change after the IPL. You have something to bank on. You get sponsors, and brands like Puma come forward to support you. We see only the men's cricketers getting the support of bigger brands but now things may be different. When you have that extra financial support, you strive to do more, you are not afraid to choose sports as a career.
Puma is known as a brand which supports athletes around the world. What will be your role as the new brand ambassador?
It's a big thing for me. I never thought, one day I will be associated with Puma. It always motivates you when you have support from a big brand like that. The partnership between me and Puma will grow stronger day by day. I'm sure this will motivate lot of young girls.
Your thoughts on the changing landscape of women's cricket...
When I look back, it gives me a lot of satisfaction. When I started, there was nothing really to look forward to. But the amount of support we are getting from fans, from the BCCI, and big brands is something that has changed our lives. I can only be thankful to the people who have supported me throughout my career, standing beside me through thick and thin.