Protesters seal Mohali's traffic lifeline YPS Chowk indefinitely
Jan 08, 2023 12:46 AM IST
Commuters suffer as protesters seeking release of Sikh prisoners erect tents at the YPS Chowk after being stopped from marching to Punjab CM's residence in Chandigarh
Traffic once again came to a screeching halt at the YPS Chowk, as yet another group of protesters laid siege to the major traffic lifeline, indefinitely sealing it from all sides by erecting tents and stationing trolleys.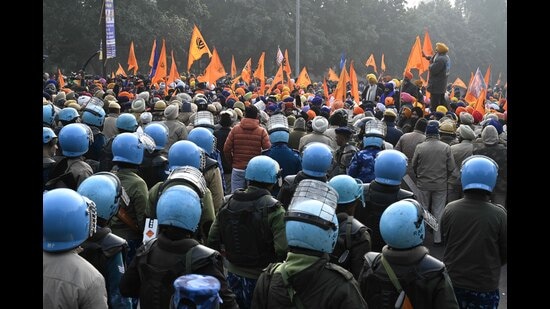 The protesters, who are seeking release of Sikh prisoners lodged in different jails despite completion of their jail sentences, refused to budge in spite of senior police officers' efforts to arrange for talks with the Punjab chief minister's office.
On the call of Kaumi Insaaf Morcha, protesters from across Punjab and some from Delhi initially gathered at Gurdwara Amb Sahib in Phase 8 around 10.30 am, before marching towards the Punjab chief minister's residence in Chandigarh.
The march was escorted by Mohali police till YPS Chowk, where it was blocked by the Chandigarh Police.
The march led to traffic chaos and serpentine queues near Gurdwara Amb Sahib and nearby sectors. With the road leading to YPS Chowk sealed, police were forced to divert vehicles, majorly affecting the pace of the traffic on various roads, including those leading to Sectors 43, 44, 49, 50, 51, 62, 69, 70, 71, 77 and 78.
Heavy force from both Chandigarh and Mohali police, including rapid action force and anti-riot force, besides fire brigade teams, along with heavy barricading, was deployed at the roundabout to restrain the protesters from entering Chandigarh.
Apart from tents, protesters also installed a stage for the orators to address the gathering at the site. With women and children in tow, they arrived at the site with trolleys loaded with ration for meals, bedding, blankets, quilts, chairs and water tanks.
Senior Punjab Police officers, including DIG Ropar Range Gurpreet Singh Bhullar, Mohali SSP Sandeep Kumar Garg, SP (Investigation) Amandeep Singh Brar, SP (Rural) Navreet Singh Virk and SP (Traffic) Jagjeet Singh remained in the field to supervise the force.
"We have made adequate arrangements for Mohali traffic. All roads, except those near YPS Chowk, are open," said the SP (Traffic).
Protesters' demands
Other than the demand for release of Sikh prisoners, protesters sought registration of a murder case against the officials and politicians allegedly responsible for the police action on Sikh protesters at Kotkapura and Behbal Kalan.
"We have gathered here to seek justice for the martyred Sikhs and to demand release of Sikhs still behind bars despite completing their jail term. Punjab has witnessed many governments, but no one gave justice to the Punjabis for the incidents of desecration of Guru Granthi Sahib. We wanted to talk to the Punjab chief minister and the governor, but since police didn't allow us to march ahead, we will continue to stage a protest here," said Gurcharan Singh, foster father of Jagtar Singh Hawara, one of the assassins of former Punjab chief minister Beant Singh.