Steve Smith would've learnt a lesson from DRS row with Virat Kohli: Steve Waugh
Updated on Mar 08, 2017 06:48 PM IST
Steve Smith's attempt to take the dressing room's help in taking a DRS call on Day 4 of the India vs Australia second Test irked Virat Kohli. Former Australia captain Steve Waugh said he believed Smith's statement that he had 'brain-fade' while taking that decision.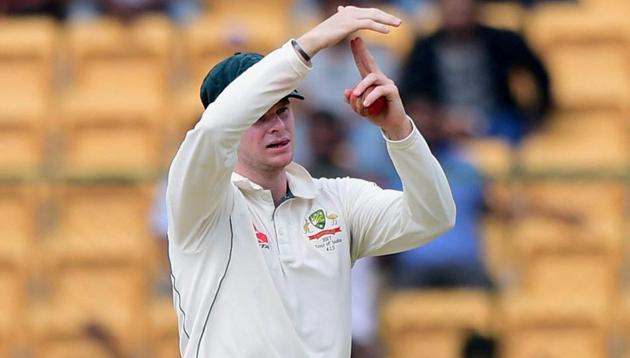 A few things are a given when India and Australia play on the cricket field -- fierce competition for starters, bouncers and sledging, monkey faces, and, last but not the least, a fancy phrase or word which would define the series. Remember 'Monkeygate' and 'Homework Gate'. The fancy phrase this season is 'Brain-Fade'.
On Tuesday, when Australia were chasing 188 for victory on a tricky Bangalore wicket -- losing wickets at regular intervals -- Steve Smith was seen looking at the Australian dressing room, awaiting on whether to seek DRS after he was given out leg before off Umesh Yadav.
Smith, later, explained the instance of indecision as the now-famous 'brain-fade' moment, while India skipper Virat Kohli was not amused. They even had an on-field exchange of words.
Read | Virat Kohli's DRS allegations against Steve Smith spark BCCI-CA face-off
While many from the cricketing world have already branded it as "fine cheating", former Australia skipper Steve Waugh said that having known Steve Smith, it's highly unlikely that he would have cheated deliberately.
"It was a great match, lot of ups and downs and a great contest, which is the hallmark of Test cricket," said Waugh, arguably the most successful Australian skipper in history. "It's a shame that we are focusing on just one incident from the four days of a great contest. When Smith says that he had suffered a 'brain-fade' and that it was not premeditated, I would take it for face value."
Read | ICC must investigate Steve Smith DRS fiasco, demand former India captains
Smith lingered on in the middle before the umpire patted on his shoulder asking him to be on his way as he had not called for a review. Waugh thought that the umpire's move diffused the situation.
"The good thing about the whole incident was that the umpires stepped in and made the decision straight away," added Waugh. "And that is where it should have stopped, but things went on after that. Whatever the outcome of this is, Smith would have learnt a lesson. Obviously, he shouldn't have done that and it's not in the spirit of the game."
Read | India complain to ICC on Australia's 'unfair' DRS act
Waugh said that the incident should be investigated and put to rest as it shouldn't overshadow the next two matches in the series, which is promising to be a great contest between two fiercely-competitive sides, led by two best batsmen in the world at the moment.
"It has to be investigated," said Waugh. It's a big issue altogether. It needs to come into finality quickly before the next Test match as it's not good to be talking about this. We need someone from the ICC level to make the decision. Looking back, I am sure Smith would be embarrassed by the moment. It was an high-intensity match and both captains were playing under a lot of pressure. Looking at them, you know they were pretty edgy and they didn't bat as well as they would have liked. In pressure situations captains can lose focus."
Read | Virat Kohli vs Steve Smith banter adds fuel to fiery India vs Australia Day 4
And Waugh is someone who would know a few things about pressure as a skipper. Looking back at the second Test match and analysing the innings of the two skippers -- Virat Kohli and Smith -- one can understand where the 'brain fade' could have come from.
Kohli just scored 12 and 15 in the match while Smith scored just 8 and 28, not to mention the DRS bloopers India skipper and his usually infallible Aussie counterpart committed. A lot was at stake when Smith decided to look for advice from his support staff.
And, we got 'brain-fade' to add to 'Monkeygate' and the likes.
Close Story
Personalise your news feed. Follow trending topics