India's 14 tiger reserves set global standard in tiger conservation
Published on Jul 29, 2021 05:05 PM IST
The aspects monitored for accreditation include the importance and status of a reserve, management, community participation, tourism, protection, habitat management, and tiger populations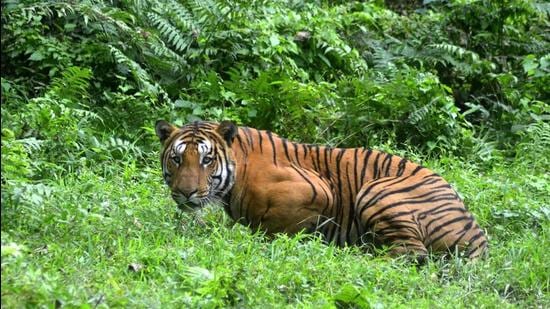 Fourteen out of India's 51 tiger reserves have received the Conservation Assured Tiger Standards (CATS) accreditation for meeting a set of standards for effective conservation of big cats, the Union environment ministry said on Thursday. An international group of experts and protected area managers have created the criteria.
CATS is a globally accepted conservation tool that sets best practices and standards to manage tigers and assessments to benchmark progress. It is being implemented across 125 sites, including 94 in India, in seven tiger range countries.
The accreditation has been granted to 14 reserves in India, one each in Nepal, Bhutan, and Russia, the ministry officials said. The 14 reserves are Manas, Kaziranga, and Orang (Assam); Sundarbans (West Bengal); Valmiki (Bihar); Dudhwa (Uttar Pradesh); Panna, Kanha, Satpuda and Pench (Madhya Pradesh); Anamalai and Mudumalai (Tamil Nadu); Parambikulam (Kerala) and Bandipur (Karnataka).
Officials said they underwent external evaluation for the accreditation.
Also Read | With 51 reserves in 18 states, India now home to 70% of world's tiger population
The Global Tiger Forum (GTF), an international NGO working on tiger conservation, and World Wildlife Fund India are the two implementing partners of the National Tiger Conservation Authority for CATS assessment in India.
The aspects monitored for accreditation include the importance and status of a reserve, management, community participation, tourism, protection, habitat management, and tiger populations.
"CATS accreditation is a global recognition of good tiger governance. This recognition means a lot in the context of adaptation to climate change, sustainability of ecosystem services, and safeguarding disruption of zoonotic cycles, through an umbrella species approach," said Rajesh Gopal, secretary-general, Global Tiger Forum.
Union environment minister Bhupender Yadav said all 51 tiger reserves should try to achieve the status. "Tiger conservation involves saving the entire ecosystem, not just the tiger. Tiger is a symbol. Topography or tiger landscape and tiger corridors also need to be protected. Tigers also use international corridors with neighbouring countries. We should renew dialogues with these countries. Finally, public participation is very important and forest departments should recognise local conservation practices," he said. "We have to be cautious about the impact of ecotourism. Ecotourism will increase but with improved sensitivity for nature."
RP Gupta, secretary (environment), said it is interesting that the three most popular tiger reserves—Bandhavgarh, Corbett, and Ranthambore--are not on the list of reserves that have been granted accreditation. "The three most popular ones also have the highest tourist footfalls which may be a factor," he said.
"As tiger population increases in India we need protection of sink areas. These are surrounding tiger landscape where tigers often sustain themselves when they move out of the source area or the core tiger habitat. Tiger corridors need to be conserved on priority so that they don't remain isolated. Tiger reserves need be disturbance-free, for example, a national highway is passing through the edge of Kaziranga national park. Kerala has been also asking for widening a highway along Bandipur reserve. Most importantly, we need a specialised team for conflict management to prevent and address conflict situations with local communities," said Sanjay Gubbi, conservation biologist.
On the occasion of International Tiger Day on Thursday, Prime Minister Narendra Modi also tweeted that India has achieved the target of doubling the tiger population four years ahead of the schedule under the St Petersburg Declaration.
In the 2010 declaration, 13 countries, including India, agreed to a Global Tiger Recovery Programme and pledged to strive to double the number of tigers by 2022 by "doing everything possible to effectively manage, preserve, protect, and enhance habitats."
"India is home to 51 tiger reserves spread across 18 states. The last tiger census of 2018 showed a rise in the tiger population. India achieved the target of doubling of tiger population 4 years ahead of schedule of the St. Petersburg Declaration on tiger Conservation," Modi tweeted.
In 2010, India had 1,706 tigers. They more than doubled to 2,967 by 2018, according to the National Tiger Conservation Authority.
Personalise your news feed. Follow trending topics